CG LED TV Price in Nepal
CG Digital Pvt. Ltd. is Nepal's first state-of-art model one stop multi-brand electronics online sales portal.CG Digital Pvt. Ltd got its birth with the purpose of providing world class electronics brands' products under one roof.
CG Digital Pvt. Ltd is one of the leading names in the field of consumer electronics, information technology, home appliances and entertainment in Nepal and is amongst the first transnational corporations with a well spread out network of 10 retail stores, more coming up shortly and service centers across Nepal.CG Digital Pvt. Ltd with established systems and procedures which are constantly tested and improved upon to best serve customer needs.
CG TV Price in Nepal
CG-65D7300S – 65″ 4K UHD Smart LED TV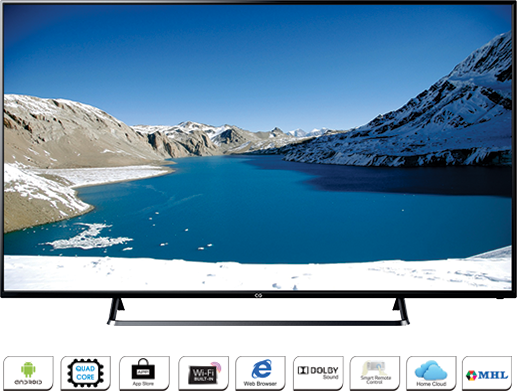 Brand CG
Screen Size 65″
Resolution 3840*2160p
Response time 8ms
USB Yes (Music+Photo+Movie)
Sound Output (RMS) 8W+8W
PC Input Yes
HDMI Yes (3)
Analog AV Out No
Android Smart TV
Power Supply 110~240V 50-60Hz
Ultra High Definition
1.07 Billion Colors
Wide Viewing Angle
ARM Cortex A53/1.5GHz/Dual-Core Processor
4 GB ROM/768 MB DDR3 RAM
Built-in Wifi, Supports 802.11 b/g/n
Google Browser
Android 4.4
Sleep Time Setting, MHL
Picture Freezing, 3D Comb Filter
Surround Sound

CG-65D7300S Price in Nepal : Rs.1,57,990
---
CG-55D1000S – 55″ 4K UHD Smart LED TV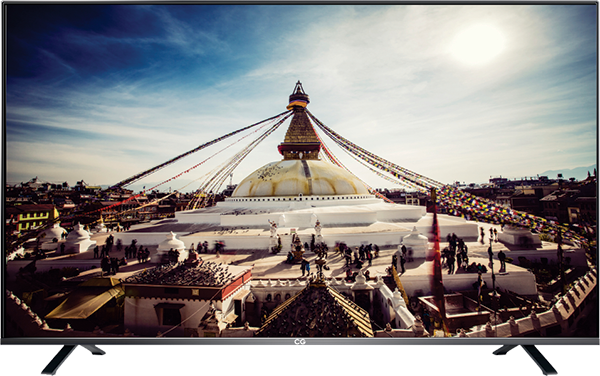 Brand CG
Screen Size 55″
Resolution 3840*2160p
Response time 8ms
USB Yes (Music+Photo+Movie)
Sound Output (RMS) 8W+8W
PC Input Yes
HDMI Yes (3)
Analog AV Out Yes
Power Supply 110~240V 50-60Hz
4K Ultra HD
Quad Core Processor
Android Platform
Bezel Less , Ultra Slim
MHL Compatible
App Store , Home Cloud
Dolby Sound
Smart Remote Control
Stylish Metal Bridge Stand
4 USP Ports

CG-55D1000S Price in Nepal : Rs.1,13,290
---
CG-49D1000S – 49″ 4K UHD Smart LED TV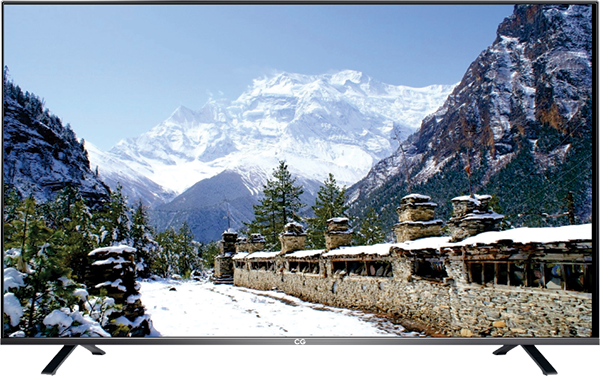 Brand CG
Screen Size 55″
Resolution 3840*2160p
Response time 8ms
USB Yes (Music+Photo+Movie)
Sound Output (RMS) 8W+8W
PC Input Yes
HDMI Yes (3)
Analog AV Out Yes
Power Supply 110~240V 50-60Hz
4K Ultra HD
Quad Core Processor
Android Platform
Bezel Less , Ultra Slim
MHL Compatible
App Store
Dolby Sound
Smart Remote Control
Home Cloud
Stylish Metal Bridge Stand
4 USP Ports

CG-CG49D1000S Price in Nepal : Rs.93,990
---
CG-55D7100S – 55″ Full HD Smart LED TV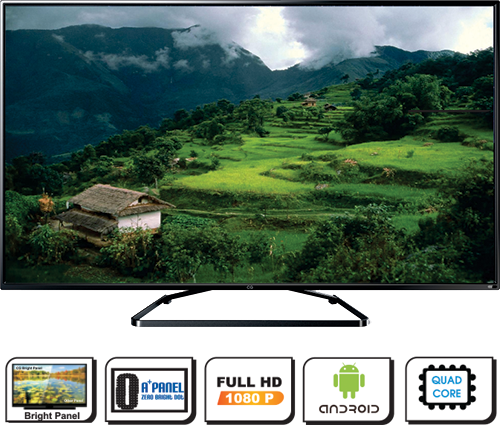 Brand CG
Screen Size 55″
Resolution 1920*1080p
Response time 8ms
USB Yes (Music+Photo+Movie)
Sound Output (RMS) 8W+8W
PC Input Yes
HDMI Yes (2)
Analog AV Out Yes
Power Supply 110~240V 50-60Hz
Sleek & Stylish Cabinet
A+ Panel Zero Bright Dot
Bright Panel
Wide Viewing Angle
16.7M Colors

CG-55D7100S Price in Nepal : Rs.91,590
---
CG-55D2102S – 55″ Smart LED TV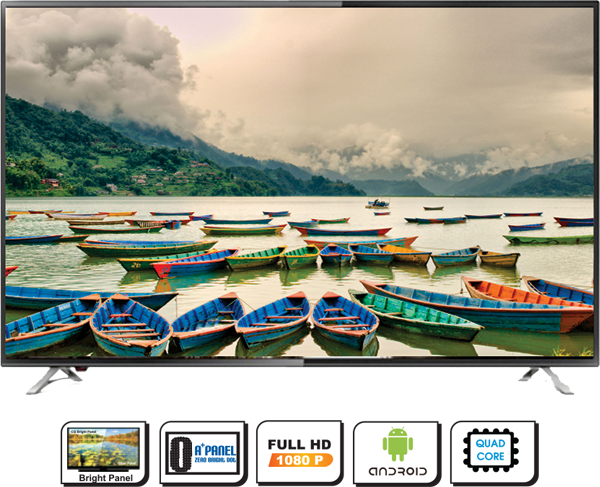 Brand CG
Screen Size 55″
Resolution 1920*1080p
Response time 8ms
Processor 1 GHz Quad Core A7
USB Yes (Music+Photo+Movie)
Sound Output (RMS) 8W+8W
PC Input Yes
HDMI Yes (3)
Analog AV Out Yes
Power Supply 110~240V 50-60Hz
Stunning Full HD Quality
Quad Core Processor
Android 4.4 Platform
6 GB DDR3/4 GB Flash
MHL Compatible / nScreen
Miracast – Smart Share
Slim TV
Narrow Bezel
Stylish Stand

CG-55D2102S Price in Nepal : Rs.85,690
---
CG-42S7164 – 42″ Smart 3D LED TV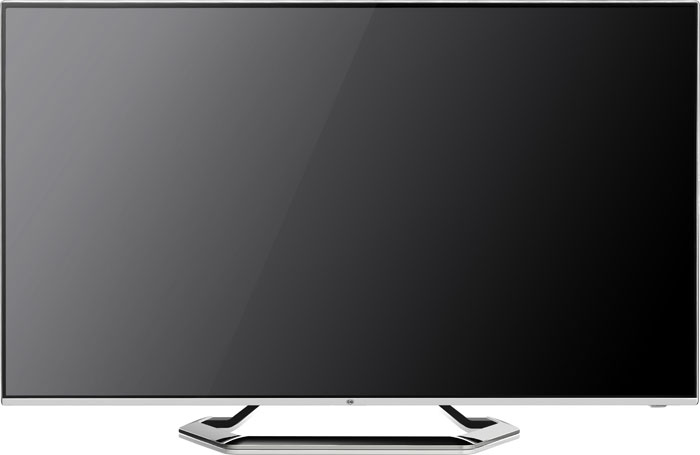 Brand CG
Screen Size 42″
Resolution 1920*1080p
Response time 6.5ms
USB Yes (Music+Photo+Movie)
Sound Output (RMS) 5W+5W
PC Input Yes
HDMI Yes (4)
Analog AV Out No
Power Supply 110~240V 50-60Hz
Sleep Timer , Auto Power Off
Auto Volume Leveler
Game mode
Child Lock/Parental Guidance
Extended PVR
Time Shift
[email protected] , WI-FI
DLNA , Browser
3D Shutter Polarization
3D-Noise Reduce

CG-LED42S7164 Price in Nepal : Rs.84,390
---
CG-55D7100 – 55″ LED TV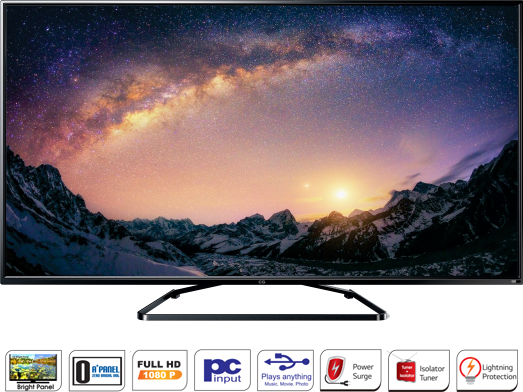 Brand CG
Screen Size 55″
Resolution 1920*1080p
Response time 8ms
USB Yes (Music+Photo+Movie)
Sound Output (RMS) 8W+8W
PC Input Yes
HDMI Yes (2)
Analog AV Out Yes
Power Supply 110~240V 50-60Hz
Sleek & Stylish Cabinet
A+ Panel Zero Bright Dot
Bright Panel
Wide Viewing Angle
16.7M Colors

CG-55D7100 Price in Nepal : Rs.76,990
---
CG-42E6801 – 42″ LED TV
Brand CG
Screen Size 42″
Resolution 1920*1080p
Response time 6.5ms
USB Yes (Music+Photo+Movie)
Sound Output (RMS) 8W+8W
PC Input Yes
HDMI Yes (2)
Analog AV Out No
Power Supply 110~240V 50-60Hz
3D Dynamic Noise Reduction
Cavity Reflex Speaker
Big Sound with Equalizer
3D Comb Filter
Stereo Sound
4 Sound Effects
4 Picture Effects
Hotel Mode

CG-LED42E6801 Price in Nepal : Rs.69,500
---
CG-49D2102S – 49″ Smart LED TV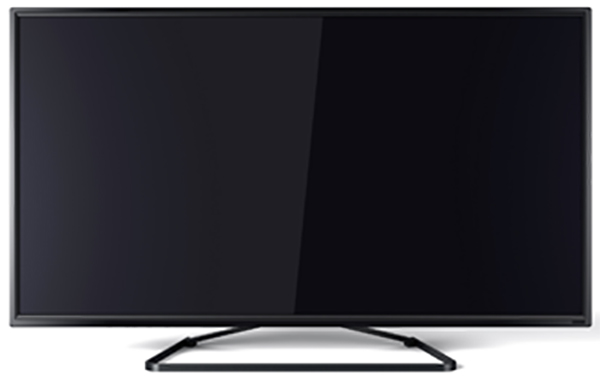 Brand CG
Screen Size 49″
Resolution 1920*1080p
Response time 8ms
USB Yes (Music+Photo+Movie)
Sound Output (RMS) 8W+8W
PC Input Yes
HDMI Yes (3)
Analog AV Out No
Power Supply 110~240V 50-60Hz
Stunning Full HD Quality
Quad Core Processor
Android Platform
MHL Compatible / nScreen
Miracast – Smart Share
Slim TV
Narrow Bezel
Stylish Stand

CG-49D2102S Price in Nepal : Rs.69,190
---
CG-49D7100 – 49″ LED TV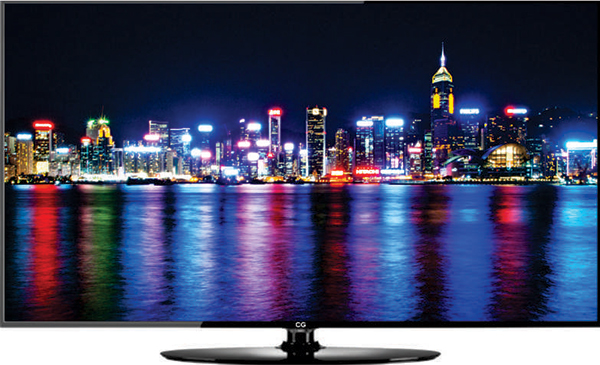 Brand CG
Screen Size 49″
Resolution 1920*1080p
Response time 8ms
USB Yes (Music+Photo+Movie)
Sound Output (RMS) 8W+8W
PC Input Yes
HDMI Yes (2)
Analog AV Out Yes
Power Supply 110~240V 50-60Hz
Sleek & Stylish Cabinet
A+ Panel Zero Bright Dot
Bright Panel
Wide Viewing Angle
16.7M Colors

CG-49D7100 Price in Nepal : Rs.68,090
---
CG-49D1602- 49″ LED TV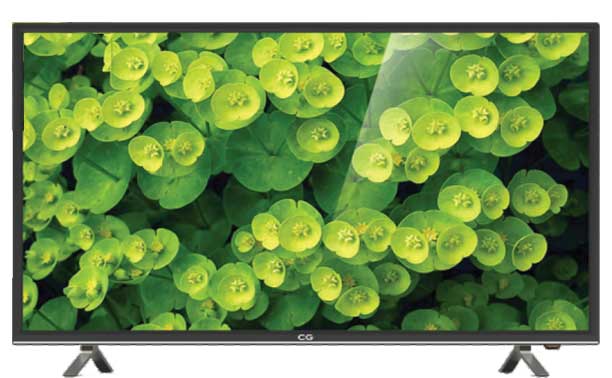 Brand CG
Screen Size 49″
Resolution 1920*1080p
Response time 8ms
USB Yes (Music+Photo+Movie)
Sound Output (RMS) 8W+8W
PC Input Yes
HDMI Yes (2)
Analog AV Out Yes
Power Supply 110~240V 50-60Hz
A+ Panel
Zero Bright Dot
16M Colors
Wide Viewing Angle
Full USB Support

CG-49D1602 Price in Nepal : Rs.58,890
CG-22D1602 Price in Nepal : Rs.17,890

---
CG-43D2102S- 43″ Smart LED TV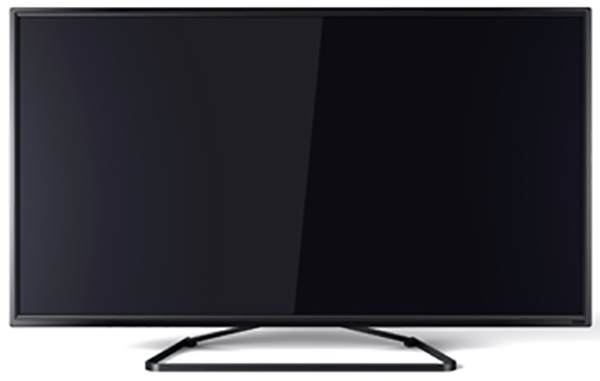 Brand CG
Screen Size 43″
Resolution 1920*1080p
Response time 8ms
Processor 1 GHz Quad Core A7
USB Yes (Music+Photo+Movie)
Sound Output (RMS) 8W+8W
PC Input Yes
HDMI Yes (3)
Analog AV Out No
Power Supply 110~240V 50-60Hz
Stunning Full HD Quality
Quad Core Processor
Android Platform
6GB DDR3/4 GB Flash
MHL Compatible / nScreen
Miracast – Smart Share
Slim TV
Narrow Bezel
Stylish Stand

CG-43D2102S Price in Nepal : Rs.56,090
---
CG-43D1502 – 43″ LED TV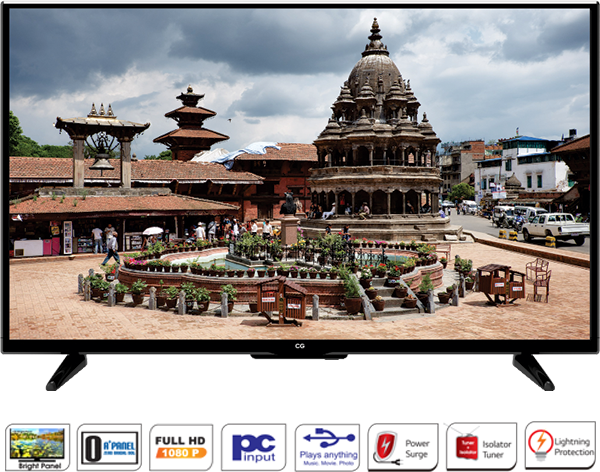 Brand CG
Screen Size 43″
Resolution 1920*1080p
Response time 6.5ms
USB Yes (Music+Photo+Movie)
Sound Output (RMS) 8W+8W
PC Input Yes
HDMI Yes (2)
Analog AV Out Yes
Power Supply 110~240V 50-60Hz
Dynamic Contrast Control
Backlit Adjustable
3D Comb Filter
16.7M Colors
3D Dynamic Noise Reduction
FHD
3D Adaptive Deinterlacing
Wide Viewing Angle
USB
HDMI

CG-43D1502 Price in Nepal : Rs.48,590
---
CG-43D7300 – 43″ LED TV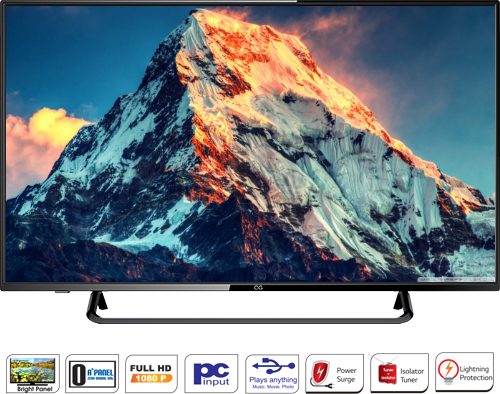 Brand CG
Screen Size 43″
Resolution 1920*1080p
Response time 8ms
USB Yes (Music+Photo+Movie)
Sound Output (RMS) 8W+8W
PC Input Yes
HDMI Yes (2)
Analog AV Out Yes
Power Supply 110~240V 50-60Hz
A+ Panel
Zero Bright dot
FHD
Wide Angle View
16.7M colors
Full USB Support
3D Comb Filter
Isolated TUner for protection from lightening
Surge Protection
HDMI
PC Input

CG-43D7300 Price in Nepal : Rs.48,590
---
CG-32D2702S – 32″ Smart LED TV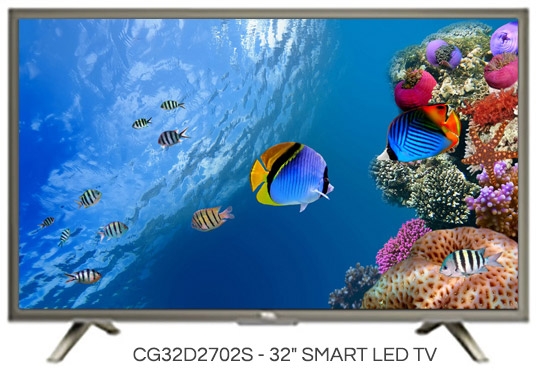 Brand CG
Screen Size 32″
Resolution 1366*768
Response time 6.5ms
USB Yes (Music+Photo+Movie)
Sound Output (RMS) 5W+5W
PC Input No
HDMI Yes (1)
Analog AV Out Yes
Power Supply 110~240V 50-60Hz
Quad Core A7 1GHz Processor
Android 4.4 Operating System
6 GB DDR3 / 4 GB Flash
Sleep Timer
MHL
Adjustable Backlight
Adjustable Color Temperature
Dynamic Contrast
Game Mode

CG-32D2702S Price in Nepal : Rs.35,290
---
CG-32E3200 – 32″ LED TV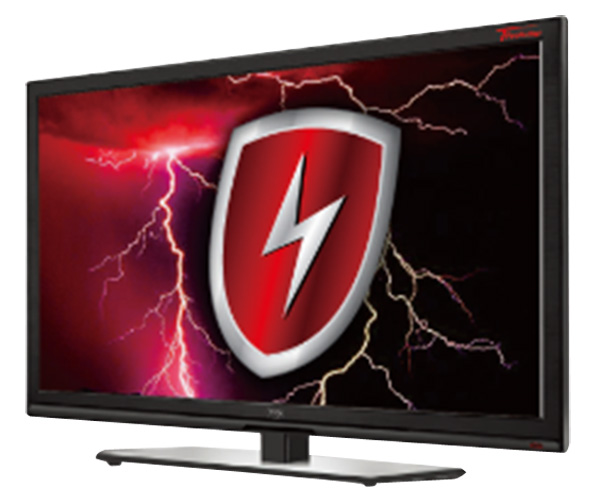 Brand CG
Screen Size 32″
Resolution 1366*768
Response time 8ms
USB Yes (Music+Photo+Movie)
Sound Output (RMS) 8W+8W
HDMI Yes (2)
Analog AV Out No
Power Supply 220-240V AC 50 Hz
• Noise Reduction
• 3D Digital Comb Filter
• Head Phone Jack
• Color temperature Adjustment
• Stereo Sound

CG-LED32E3200 Price in Nepal : Rs.34,190
---
CG-32E3602 / 32T3602 – 32″ LED TV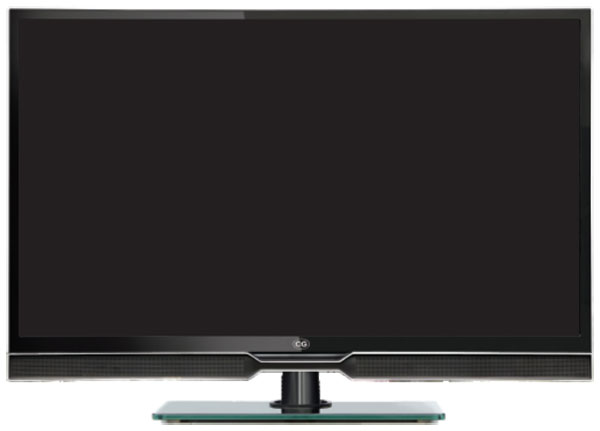 Brand CG
Screen Size 32″
Resolution 1366*768
Response time 6.5ms
USB Yes (Music+Photo+Movie)
Sound Output (RMS) 8W+8W
PC Input Yes
HDMI Yes (1)
Analog AV Out No
Power Supply 110~240V 50-60Hz
3D Dynamic Noise Reduction
Cavity Reflex Speaker
Big Sound with Equalizer
3D Comb Filter
Stereo Sound
4 Sound Effects
4 Picture Effects
Hotel Mode

Model: CGLED 32E3602/32T3602 Price in Nepal : Rs.33,800
---
CG-32D2812 – 32″ LED TV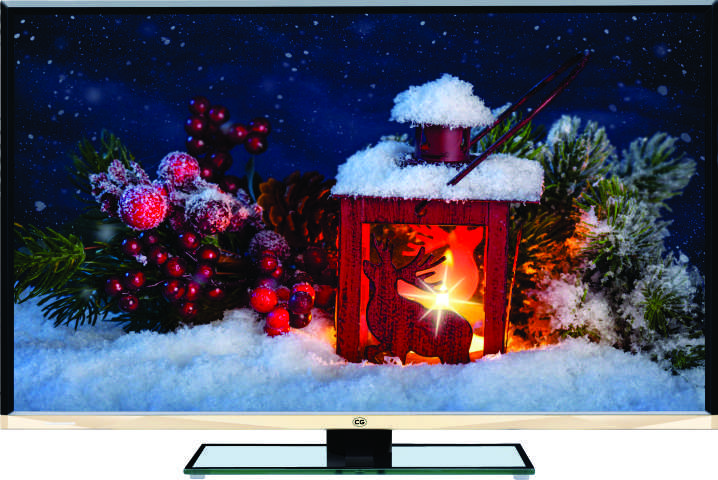 Brand CG
Screen Size 32″
Resolution 1366*768
Response time 6.5ms
USB Yes (Music+Photo+Movie)
Sound Output (RMS) 5W+5W
HDMI Yes (1)
Analog AV Out Yes
Power Supply 110~240V 50-60Hz
Wide Viewing Angle
3D Digital Comb Filter
HDMI Input
16.7M Colors
Superior Energy Efficiency

Model: CGLED32D2812 Price in Nepal : Rs.31,800
---
CG-32D2201 – 32″ LED TV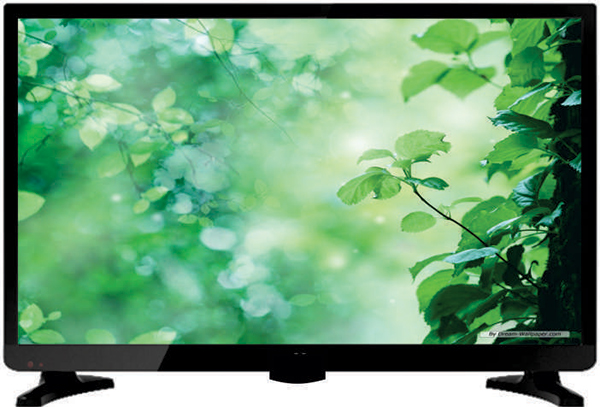 Brand CG
Screen Size 32″
Resolution 1366*768
Response time 5ms
USB Yes (Music+Photo+Movie)
Sound Output (RMS) 8W+8W
PC Input Yes
HDMI Yes (2)
Analog AV Out No
Power Supply 110~240V 50-60Hz
A+ Panel Zero Bright Dot
Bright Panel
Wide Viewing Angle
16.7M Colors
Full USB Support

CG-32D2201 Price in Nepal : Rs.31,090
---
CG-32D8100 – 32″ LED TV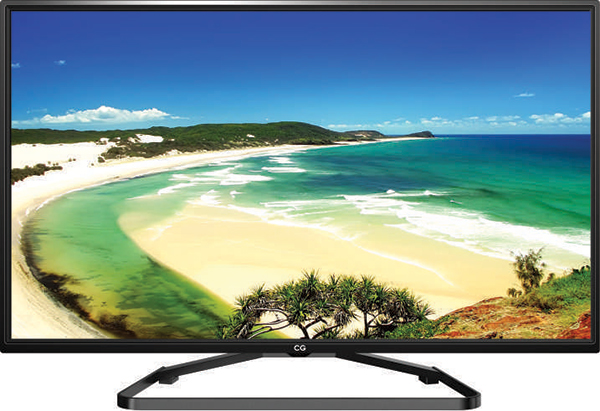 Brand CG
Screen Size 32″
Resolution 1366*768
Response time 8ms
USB Yes (Music+Photo+Movie)
Sound Output (RMS) 6W + 6W
PC Input Yes
HDMI Yes (2)
Analog AV Out Yes
Power Supply 110~240V 50-60Hz
A+ Panel Zero Bright Dot
Bright Panel
Wide Viewing Angle
16.7M Colors
Full USB Support

CG-32D8100 Price in Nepal : Rs.28,490
---
CG-32D0303 – 32″ LED TV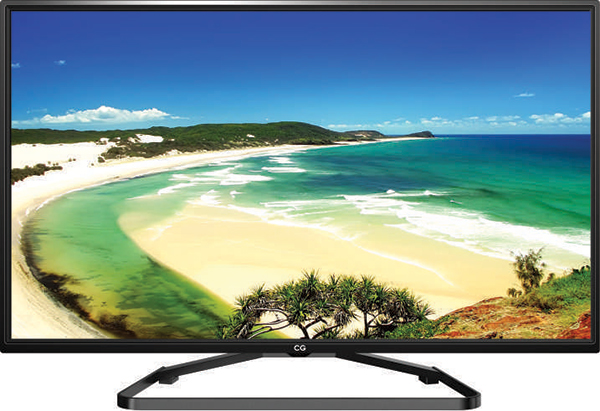 Brand CG
Screen Size 32″
Resolution 1366*768
Response time 8ms
USB Yes (Music+Photo+Movie)
Sound Output (RMS) 6W + 6W
PC Input Yes
HDMI Yes (2)
Analog AV Out Yes
Power Supply 110~240V 50-60Hz
HD Ready
Bright Panel
Wide Viewing Angle
16.7M Colors
Full USB Support

CG-32D0303 Price in Nepal : Rs.27,390
---
CG-32D1905 – 32″ LED TV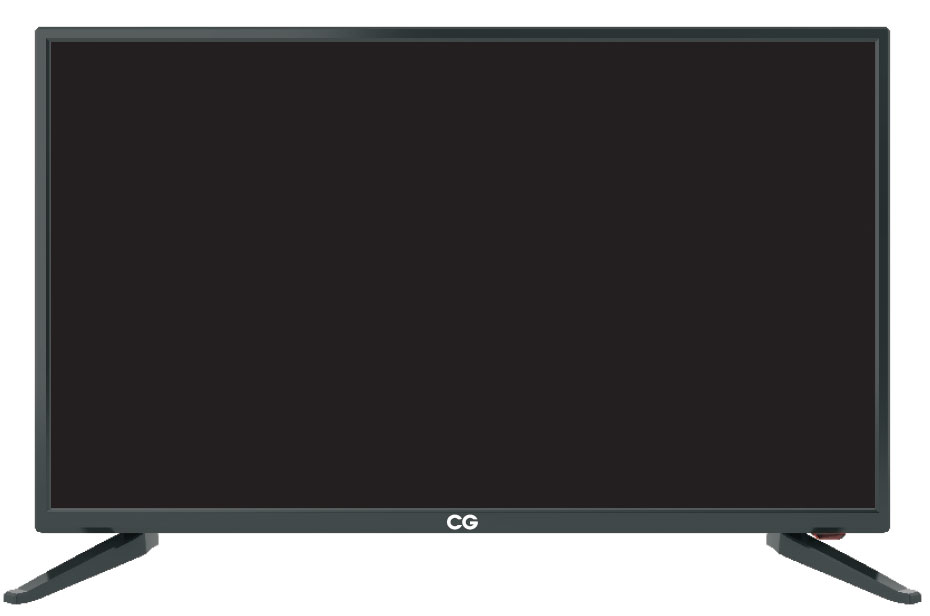 Brand CG
Screen Size 32″
Resolution 1366*768
Response time 8ms
USB Yes(2)
Sound Output (RMS) 10W+10W
PC Input Yes
HDMI Yes (2)
Analog AV Out No
Power Supply 110~240V 50-60Hz
HD Ready
Bright Panel
Wide Viewing Angle
16.7M Colors
Full USB Support
Auto Volume Leveler
Photo Capture
Picture Freeze
3D Comb Filter
Eco Function

CG-32D1905 Price in Nepal : Rs.26,690
---
CG-32D4006 – 32″ LED TV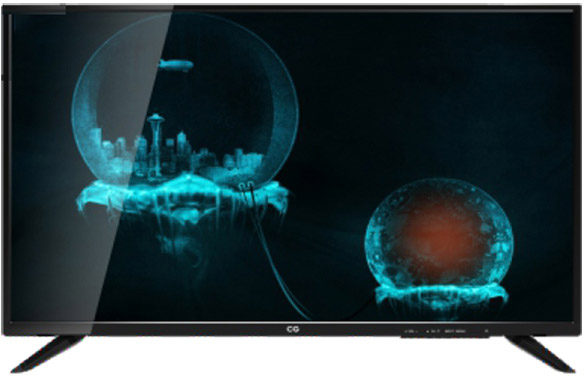 Brand CG
Screen Size 32″
Resolution 1366*768
Response time 8ms
USB Yes(2)
Sound Output (RMS) 8W+8W
PC Input Yes
HDMI Yes (2)
Analog AV Out Yes
Power Supply 110~240V 50-60Hz
Bright Panel
Wide Viewing Angle
Auto Volume Leveler
3D Comb Filter
Auto Channel Search

CG-32D4006 Price in Nepal : Rs.26,590
---
CG-32D1502 – 32″ LED TV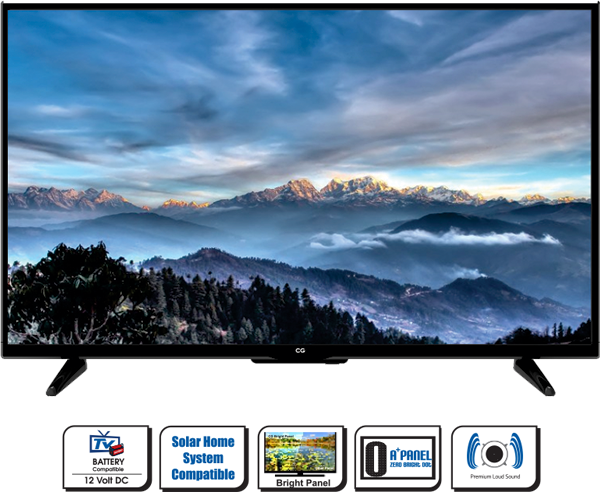 Brand CG
Screen Size 32″
Resolution 1366*768
Response time 6.5ms
USB Yes (Music+Photo+Movie)
Sound Output (RMS) 5W+5W
PC Input Yes
HDMI Yes (2)
Analog AV Out Yes
Power Supply 110~240V 50-60Hz, 12V DC
Battery Compatible(12V)
Dynamic Contrast Control
DLED Backlit Adjustable
3D Comb Filter
16.7M Colors
3D Dynamic Noise Reduction
3D Adaptive Deinterlacing
Wide Viewing Angle
USB,HDMI

CG-32D1502 Price in Nepal : Rs.26,490
---
CG-24E2812- 24″ LED TV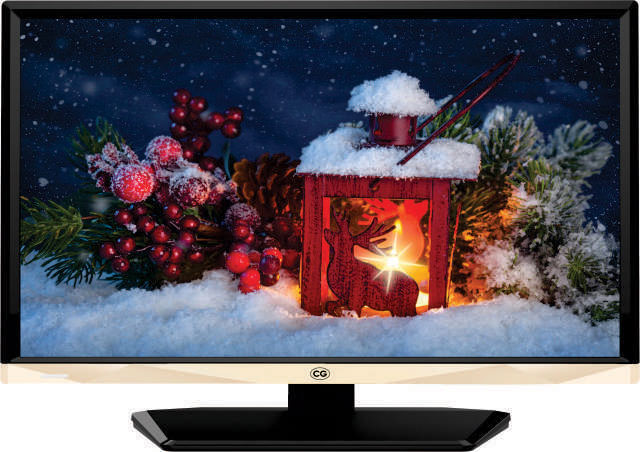 Brand CG
Screen Size 24″
Resolution 1366*768
Response time 8.5 ms
USB Yes (Music+Photo+Movie)
Sound Output (RMS) 5W+5W
PC Input Yes
HDMI Yes (1)
Analog AV Out Yes
Power Supply 110~240V 50-60Hz
Wide Viewing Angle
HDMI Input
AV Out
Plays Anything USB
Superior Energy Efficiency

CG-24E2812 Price in Nepal : Rs.24,890
---
CG-24D0303 – 24″ LED TV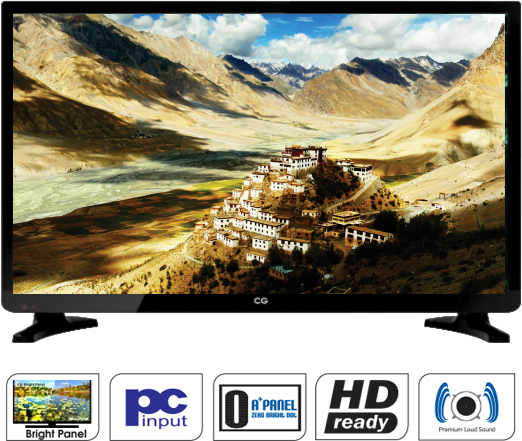 Brand CG
Screen Size 24″
Resolution 1366*768
Response time 6.5ms
USB Yes (Music+Photo+Movie)
Sound Output (RMS) 10W+10W
PC Input Yes
HDMI Yes (1)
Analog AV Out Yes
Power Supply 110~240V 50-60Hz
HD Ready
Bright Panel
Wide Viewing Angle
16.7M Colors
Full USB Support

CG-24D0303 Price in Nepal : Rs.20,590
CG-22D0303 Price in Nepal : Rs.17,490
CG-20D0303 Price in Nepal : Rs.15,990
---
CG-24D8100 – 24″ LED TV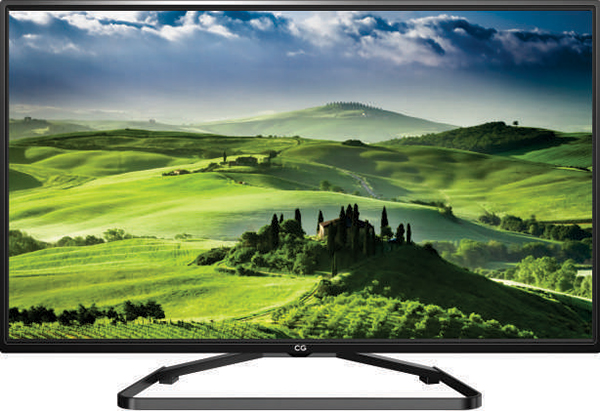 Brand CG
Screen Size 24″
Resolution 1366*768
Response time 8ms
USB Yes (Music+Photo+Movie)
Sound Output (RMS) 3W+3W
PC Input Yes
HDMI Yes (1)
Analog AV Out Yes
Power Supply 110~240V 50-60Hz
A+ Panel Zero Bright Dot
Bright Panel
Wide Viewing Angle
16.7M Colors
Full USB Support

CG-24D8100 Price in Nepal : Rs.20,790
---
CG-24D1004 – 24″ LED TV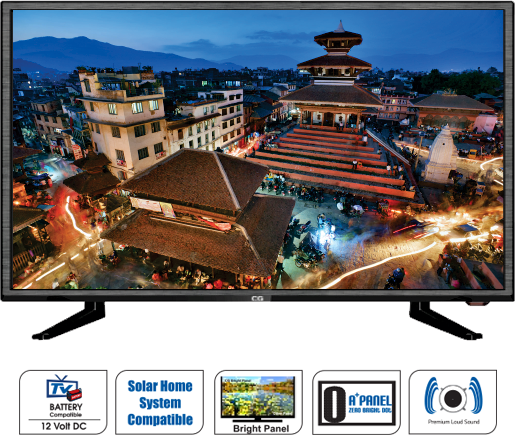 Battery Comaptible (12V)
Compatible with Solar Home System
A+ Panel
Zero Bright Dot
Box Speaker
Wide Viewing Angle
CG-24D1004 Price in Nepal : Rs.19,790
CG-22D1004 Price in Nepal : Rs.17,790
---
CG-24E1302 – 24″ LED TV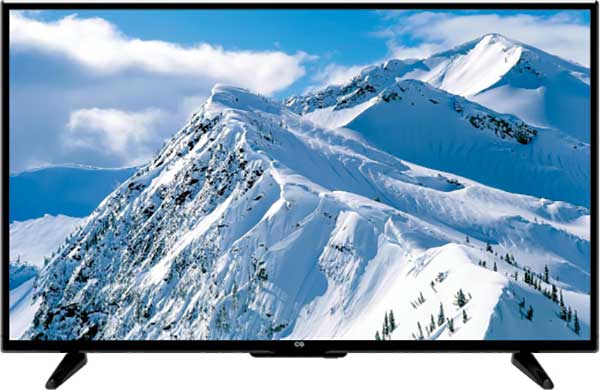 Brand CG
Screen Size 24″
Resolution 1366*768
Response time 6.5ms
USB Yes (Music+Photo+Movie)
Sound Output (RMS) 5W+5W
PC Input Yes
HDMI Yes (2)
Analog AV Out Yes
Power Supply 110~240V 50-60Hz, 12V DC
Battery Compatible (12V)
Compatible with Solar Home System
A+Panel
Zero Bright Dot
Box Speaker
Wide Viewing Angle

CG-24E1302 Price in Nepal : Rs.19,890
---
CG-24D1905 – 24″ LED TV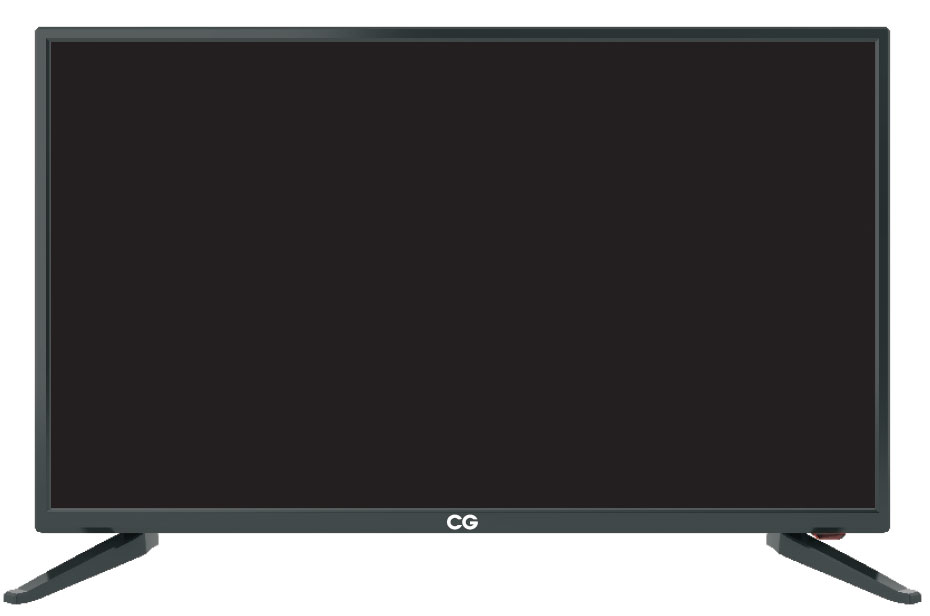 Brand CG
Screen Size 24″
Resolution 1366*768
Response time 8.5 ms
USB Yes (Music+Photo+Movie)
Sound Output (RMS) 5W+5W
PC Input Yes
HDMI Yes (1)
Analog AV Out No
Power Supply 110~240V 50-60Hz
HD Ready
Bright Panel
Wide Viewing Angle
16.7M Colors
Full USB Support
Auto Volume Leveler
Photo Capture
Picture Freeze
3D Comb Filter
Eco Function

CG-24D1905 Price in Nepal : Rs.18,390
---
CG-24D3006 – 24″ LED TV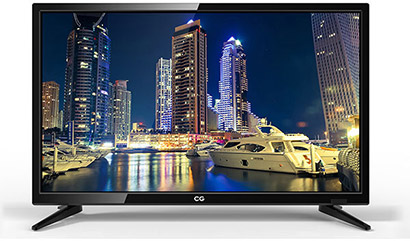 Brand CG
Screen Size 24″
Resolution 1366*768
Response time 8ms
USB Yes (Music+Photo+Movie)
Sound Output (RMS) 5W+5W
PC Input Yes
HDMI Yes (1)
Analog AV Out No
Power Supply 110~240V 50-60Hz
HD Ready
Bright Panel
Wide Viewing Angle
Full USB Support
Auto Volume Leveler
3D Comb Filter
Eco Function
Auto Channel Search

CG-24D3006 Price in Nepal : Rs.18,290
---
CG-22E3014 – 22″ LED TV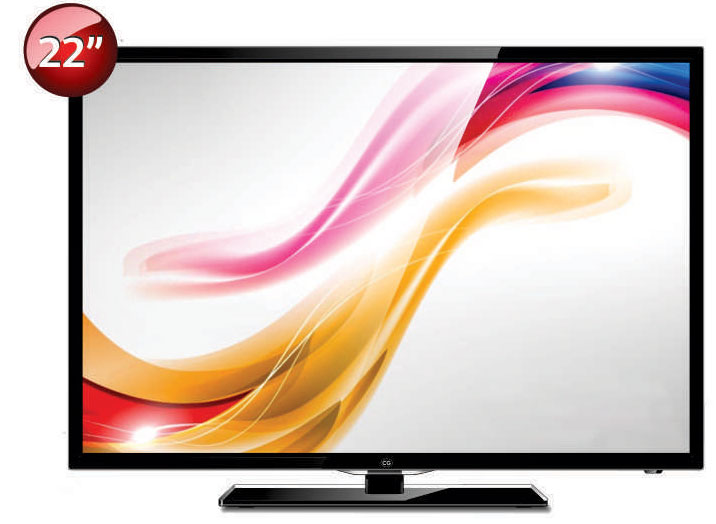 Brand CG
Screen Size 22″
Resolution 1920*1080p
Response time 5ms
USB Yes (Music+Photo+Movie)
Sound Output (RMS) 3W+3W
PC Input Yes
HDMI Yes (1)
Analog AV Out No
Power Supply 110~240V 50-60Hz
Sleep Timer
Auto Power Off
Auto Volume Leveler
Child Lock/Parental Guidance
3D Noise Reduction
3D Deinterlace
Picture Mode PreSet
Color Temperature

CG-22E3014 Price in Nepal : Rs.22,290
---
CG-22D0303 – 22″ LED TV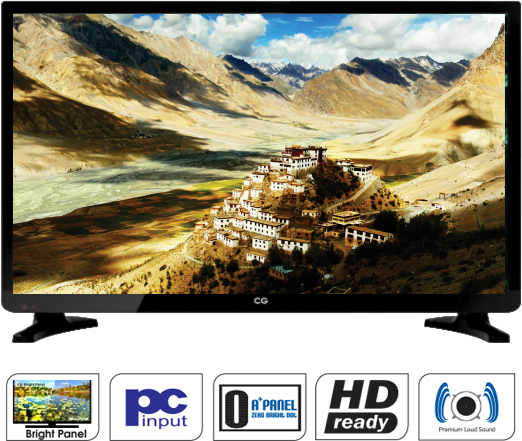 Brand CG
Screen Size 22″
Resolution 1366*768
Response time 6.5ms
USB Yes (Music+Photo+Movie)
Sound Output (RMS) 10W+10W
PC Input Yes
HDMI Yes (1)
Analog AV Out Yes
Power Supply 110~240V 50-60Hz
HD Ready
Bright Panel
Wide Viewing Angle
16.7M Colors
Full USB Support

CG-22D0303 Price in Nepal : Rs.17,490
---
CG-22E1300 – 22″ LED TV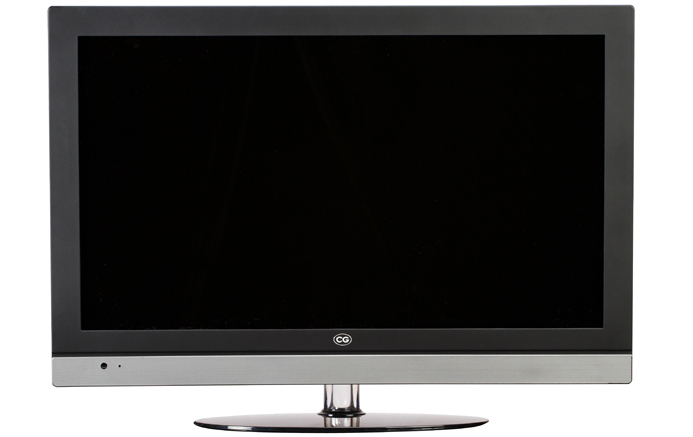 Brand CG
Screen Size 22″
Resolution 1366*768
Response time 5ms
USB Yes (Music+Photo+Movie)
Sound Output (RMS) 3W+3W
PC Input Yes
HDMI Yes (2)
Analog AV Out Yes
Power Supply 110~240V 50-60Hz
• 3D Noise Reduction
• 3D Digital Comb Filter
• Color temperature Adjustment
• Stereo Sound
• 4 Picture Effect
• 5 Sound Effect
• Stereo Sound
• Hotel Mode

CG-22E1300 Price in Nepal : Rs.22,090
---
CG-22D2001 – 22″ LED TV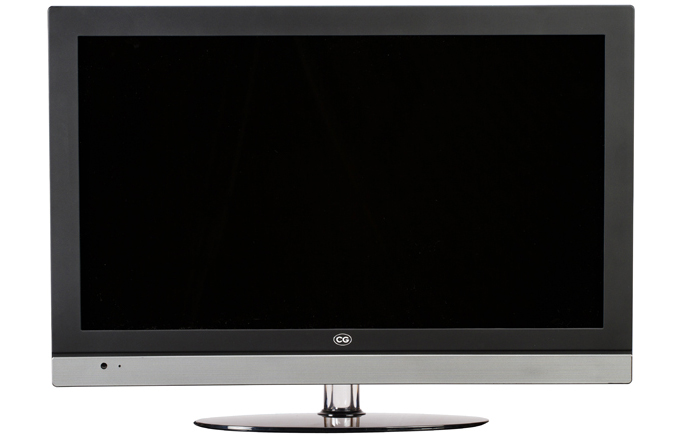 Brand CG
Screen Size 22″
Resolution 1366*768
Response time 5ms
USB Yes (Music+Photo+Movie)
Sound Output (RMS) 3W+3W
PC Input Yes
HDMI Yes (2)
Analog AV Out Yes
Power Supply 110~240V 50-60Hz
A+ Panel Zero Bright Dot
Bright Panel
Wide Viewing Angle
16.7M Colors
Full USB Support

CG-22D2001 Price in Nepal : Rs.21,390
---
CG-20D1504 – 20″ LED TV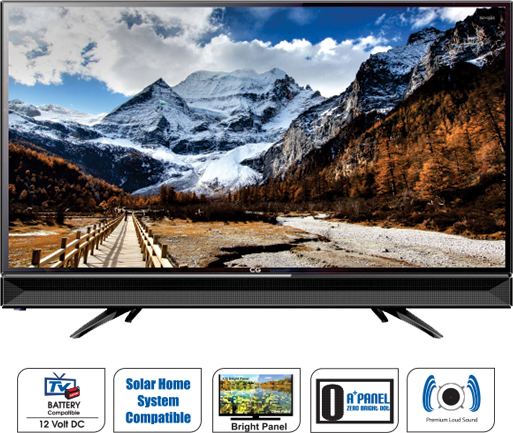 Battery Comaptible (12V)
Compatible with Solar Home System
A+ Panel
Zero Bright Dot
Front Facing Box Speaker
Wide Viewing Angle
CG-20D1504 Price in Nepal : Rs. 15,190
---
CG-20D0303 – 20″ LED TV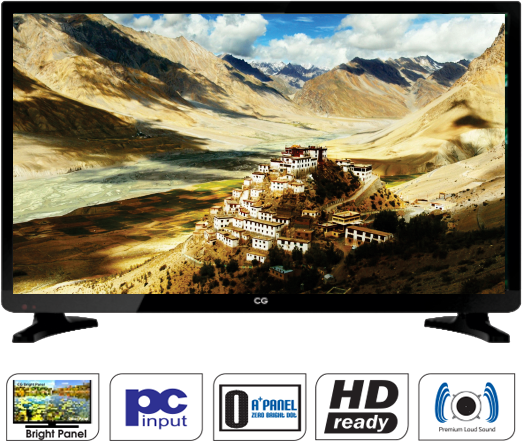 A+ Panel
Zero Bright Dot
Powerful Speaker
Wide Viewing Angle
CG-20D0303 Price in Nepal : Rs. 15,990
---
CG-20E1302 – 20″ LED TV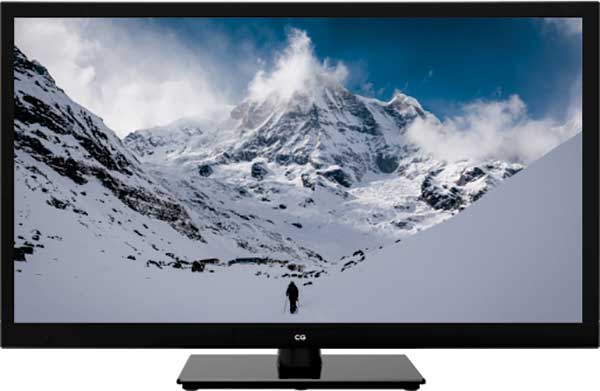 Brand CG
Screen Size 20″
Resolution 1366*768
Response time 8ms
USB Yes (Music+Photo+Movie)
Sound Output (RMS) 3W+3W
HDMI Yes (1)
Analog AV Out Yes
Power Supply 110~240V 50-60Hz, 12V DC
Battery Compatible (12V)
Compatible with Solar Home System
A+Panel
Zero Bright Dot
Box Speaker
Wide Viewing Angle

CG-20E1302 Price in Nepal : Rs.16,590
---
CG-19E4202 – 20″ LED TV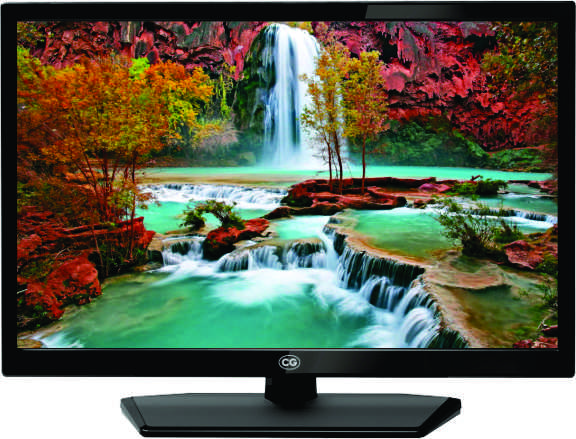 Brand CG
Screen Size 20″
Resolution 1366*768
Response time 8ms
USB Yes (Music+Photo+Movie)
Sound Output (RMS) 3W+3W
HDMI Yes (1)
Analog AV Out Yes
Power Supply 110~240V 50-60Hz, 12V DC
Battery Compatible (12V)
Compatible with Solar Home System
A+Panel
Zero Bright Dot
Front Facing Box Speaker
Wide Viewing Angle

CG-20D1504 Price in Nepal : Rs.16,190
---
CG-19E3272 – 19″ LED TV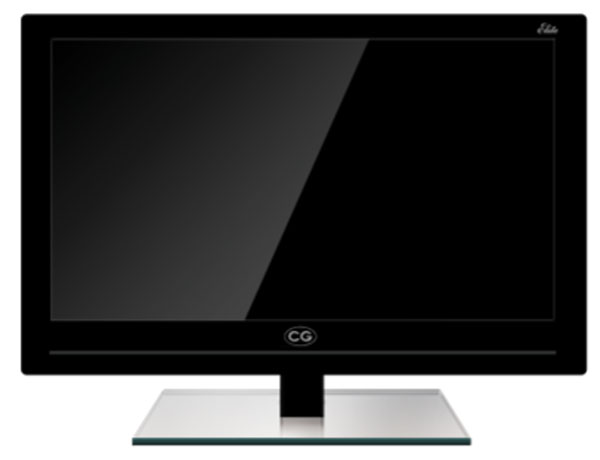 Brand CG
Screen Size 19″
Resolution 1366*768
Response time 3.5 ms
USB Yes (Music+Photo+Movie)
Sound Output (RMS) 5W+5W
HDMI Yes (1)
Analog AV Out No
Power Supply 110~240V 50-60Hz
3D Deinterlacing
3D Comb Filter
Color Temperature Adjustment
4 Picture Effect
4 Sound Effect
Dynamic Noise Reduction
Hotel Mode

CG-19E3272 Price in Nepal : Rs.18,590
---
CG-19E1300 – 19″ LED TV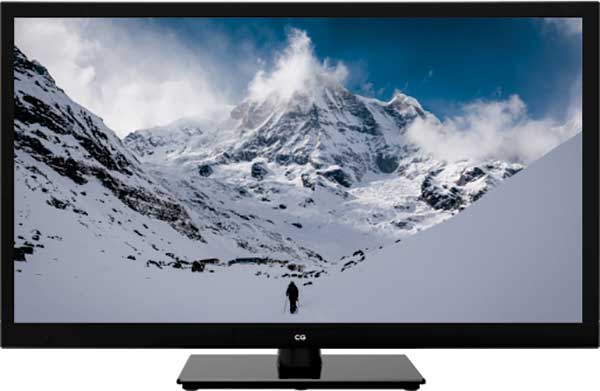 Brand CG
Screen Size 19″
Resolution 1366*768
Response time 5ms
USB Yes (Music+Photo+Movie)
Sound Output (RMS) 3W+3W
PC Input Yes
HDMI Yes (2)
Analog AV Out Yes
Power Supply 110~240V 50-60Hz
• 3D Noise Reduction
• 3D Digital Comb Filter
• Color temperature Adjustment
• Stereo Sound

CG-19E1300 Price in Nepal : Rs.18,190
---
CG-19E4202 – 19″ LED TV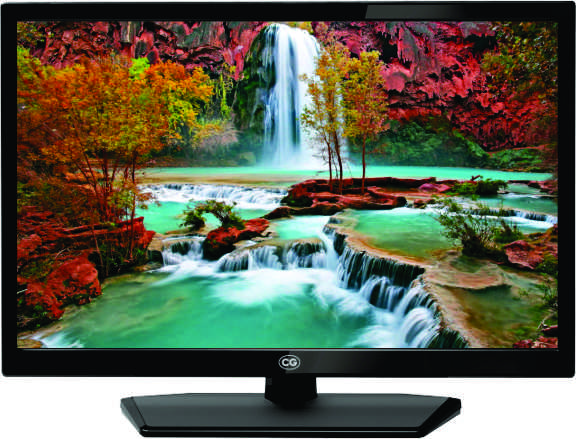 Brand CG
Screen Size 19″
Resolution 1366*768
Response time 8.5 ms
USB Yes (Music+Photo+Movie)
Sound Output (RMS) 5W+5W
PC Input Yes
HDMI Yes (1)
Analog AV Out Yes
Power Supply 110~240V 50-60Hz
HD Ready
Plays Anything USB
AV Out
16.7M Colors
Superior Energy Efficiency

CG-19E4202 Price in Nepal : Rs.17,390
---
CG-14E5702 – 14″ LED TV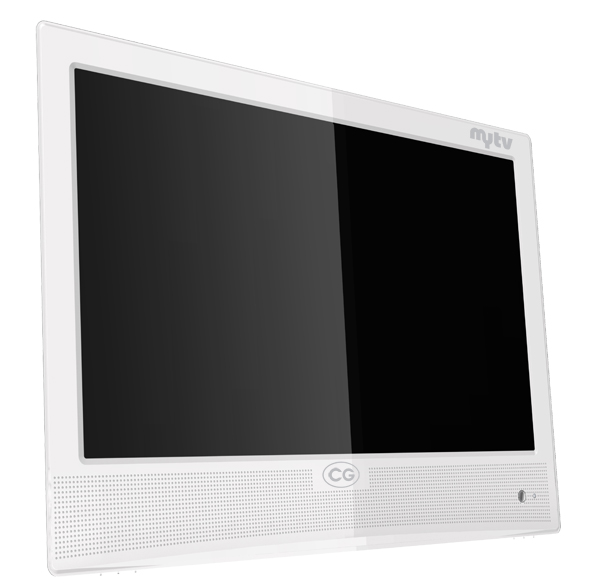 Brand CG
Screen Size 14″
Resolution 1366*768
Response time 8ms
USB Yes
Sound Output (RMS) 2W
PC Input No
HDMI Yes (1)
Analog AV Out No
Power Supply 110~240V 50-60Hz
True 14″ LED
Terra X Extreme Engine
HD Ready
Light Weight Design
Wide Viewing Angle
Energy Efficient
DC Power Supply
With USB

CG-14E5702 Price in Nepal : Rs.11,800
---