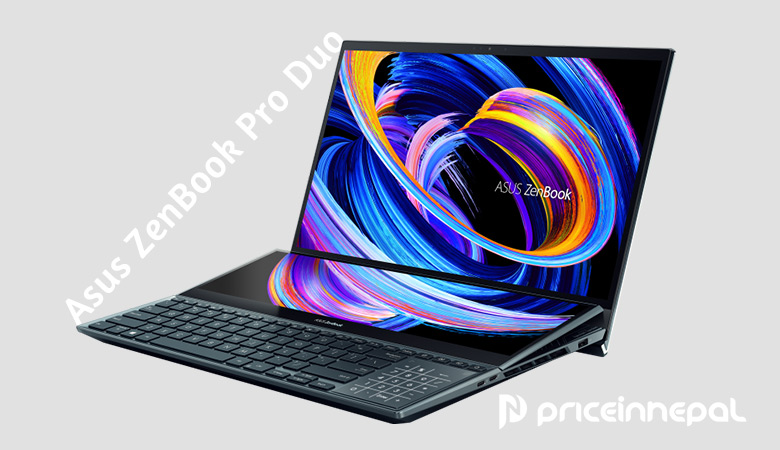 If you are a content creator or a gamer and are wondering what kind of laptop to buy, then Asus's Zenbook Pro Duo might be perfect for you.
Asus, which had earlier unveiled the Zenbook UX581, has recently launched the UX582 version. The Zenbook Duo, which is powered by the last generation Intel Core i9 10980 HK processor, uses Nvidia GeForce RTX3070 graphics.
The company says that this laptop with 1 terabyte SSD has been produced with special focus on digital users, creative people, content creators, gamers and business purposes.
It has a dual 4K OLED display screen. One has a 15.6-inch Nano Edge 4K OLED IPS touch screen while the other has a 14-inch 4K touch screen. The company says that this laptop will be a great help for high performance because of the dual screen.
The Zenbook Pro Duo offers connectivity without a dongle with the latest Thunderbolt 3 USB Type-A port. The company says that with the latest Intel WiFi 6, Bluetooth will speed up wireless speeds.
The Zenbook Duo has two USB 3.2 Generation 3.5mm combo jack ports. Its value in the Nepali market is Rs. 4,88,880. Made of metal, this laptop is available in dark blue color.
Model Number :. Asus ZenBook Pro Duo UX582LR Features
Brilliant Dual-Screen laptop that enhances your productivity
Primary Display: The primary display on the laptop employs a glossy 15.6-inch 4K UHD OLED panel from Samsung. And like most of the Samsung displays, this one looks vivid, contrasty, and truly packing the punch. With Ultra-HD resolution, the display looks ultra-crisp and the contents really pop here. Furthermore, this touch display consists of narrow bezels (89% screen to body ratio) and has a 100% DCI-P3 color coverage, meaning that it's one of the most color-accurate laptops out there. So it can be an ideal device for content creators.
Secondary Display: Unlike most of the laptops and ultrabooks out there, this beastly device features a second display, which is baptized as ScreenPad Plus. So you will have more screen real estate allowing you to multitask at ease. Talking about the Asus ZenBook Pro Duo secondary display, there is a 14-inch matte IPS display, unlike the primary one. Nonetheless, the resolution here is 4K UHD so you won't have to compromise on the sharpness.
Stylus: In addition to providing two touch screens, Asus has also included a Stylus with the laptop. With this pressure-sensitive stylus, you can jot down notes or do creative artwork, or design on the laptop at ease. And that's definitely a fancy feature.
Processor: When it comes to performance, the laptop is no slouch. It features the latest and one of the most powerful CPUs out there. The 10th gen Core i9-10980HK processor on the device handles any sorts of tasks you throw at it. Even while running demanding applications, the laptop does not slow down a bit.
RAM: Since there are two displays, you might find multitasking and frequent toggling between apps. So, to ensure fluidity while performing such tasks, Asus has provided a whopping 32GB of DDR4 RAM.
Graphics: On to the graphics department, Asus ZenBook Pro Duo UX582LR employs a genuinely powerful RTX 3070 GPU with 8GB of GDDR6 VRAM. So here, you perform any sort of hardcore gaming, to say at the least. Since the RTX graphics card is a special kind of GPU, you can also perform ray tracing and DLSS here.
Storage: Even on the storage front, the laptop isn't any less interesting. It features 1TB of PCIe NVMe SSD. So it not just covers your storage hunger but also provides faster read/write speed.
Mouse and TrackPad: The trackpad is located at the bottom-right corner of the device. And what's truly exciting here is that the trackpad doubles as a Numpad. While using the laptop, you can toggle between these two modes.
Audio: The laptop features a bottom-firing stereo audio system, which delivers punchy sound. Stereo Harman Kardon speakers with Dolby Audio, truly speaks for itself.
Ports and Connectivity: Wi-Fi 6(Gig+) (802.11ax), Bluetooth 5.0 (Dual band) 2*2, 1x Headphone-out & Audio-in Combo Jack; 1x HDMI; 2x USB3.1 Type A (Gen2); 1x USB3.1-Type C (Gen2) with Thunderbolt
Battery: You get an 8-cell 92Wh battery with this unit. Despite the dual high-res 4K UHD displays, you can still get around 3 to 5 hours of screen on time.
Dimensions: 14.17″ x 9.81″ x 0.85″
Weight: 2.34Kg
Price : Rs 4,80,000