Offers
Classictech Bada Dashain Offer, 100 Mbps internet at Rs 741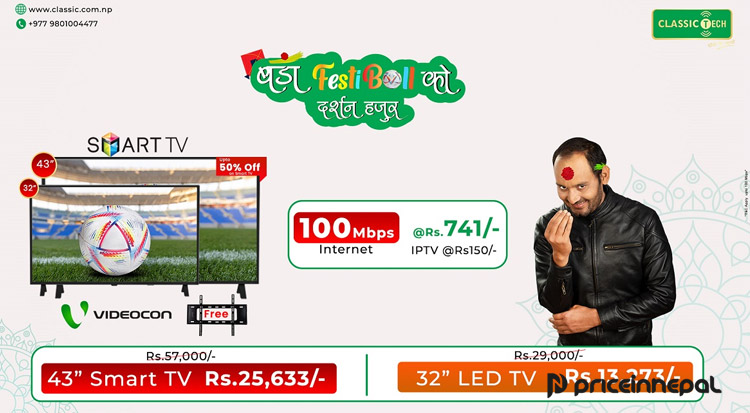 Internet service provider Classic Tech has brought a festive offer on the occasion of Bada Dashain.
Under this offer, 100 Mbps internet package is provided at Rs 741 per month, the company said.
In this package, you have to pay an additional 150 rupees per month for IPTV. 
Also, under this offer, customers can also purchase 32-inch and 43-inch Smart TVs of Videocon at a 50 percent discount. With a frameless design, 180 degree viewing angle, 1 GB RAM and 8 GB ROM, this Smart TV comes with a one-year warranty. 
Apart from this, the TV also has 3 ports for HDMI, WiFi/Ethernet, USB. Android version 9.0 based TV is also available with 20 watt speaker and table mount. With a display of 1920 * 1080, the panel rating is DLED A Plus panel dot free. 
Under this scheme, 32-inch LED TV will be available for Rs.13,273 and 43-inch smart TV will be available for Rs.25,663. 
The company claims that the customer will get the bundle offer at a price 50 percent lower than the market price.