DJI Mavic Pro Platinum Price in Nepal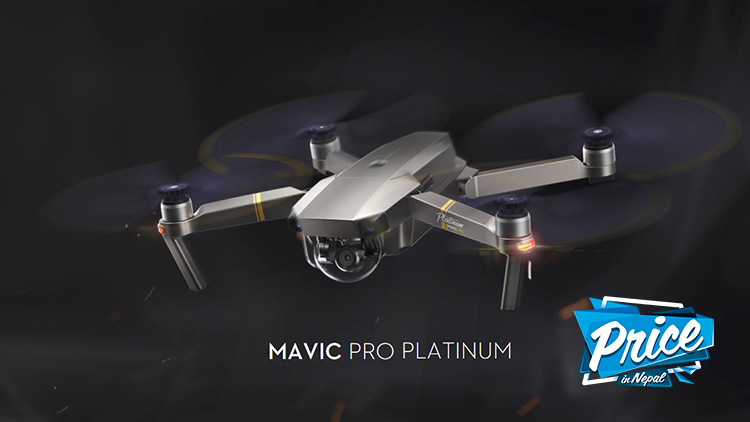 DJI, the world's most popular brand of consumer drones, is trying to do something about that. Its Mavic Pro Platinum, released back in August of this year, comes with a set of redesigned rotor blades that the company claims make the unit 60 percent quieter than the previous model. It tweaked the design of the blades by adding what's known as a "raked wingtip." The blades curve through the middle and angle back and up at the tip. To optimize for the new design, DJI also added electronic speed controllers that spin them at a different rate.
The Mavic Pro Platinum flies 3 minutes longer than the Mavic Pro, while also producing less sound.It's sleek chrome color and gold accent are indicative of an upgrade over the first version of this magnifcent drone. The Mavic represents the very best in drone technology, complete with a 4k camera, 3-axis mechanical gimbal, and smartphone controls.
 
Key Features
Shoot in 12mp and 4k with the Mavic Pro Platinum's 3-axis camera
5 vision sensors will help keep the Mavic Pro Platinum safe during flight
OcuSync transmission offers up to a 4.3 mile (7km) transmission range
Fly at up to 40mph (64kmh) or for as long as 30-minutes
Fly with your phone over Wi-Fi for even easier flight
Vision positioning with GPS and GLONASS gives precise flight both indoor and outdoor
ActiveTrack, TapFly, TripodMode and other smart features help you create professional looking video
PROS/CONS
PROS:

Longer Flight Time
60% Quieter
Great Folding Design

CONS:

Expensive
Not Radically Different from Original Mavic
PRICE
DJI Mavic Pro Platinum Price in Nepal : Rs. 132,000
---