Camera
GoPro Camera Price in Nepal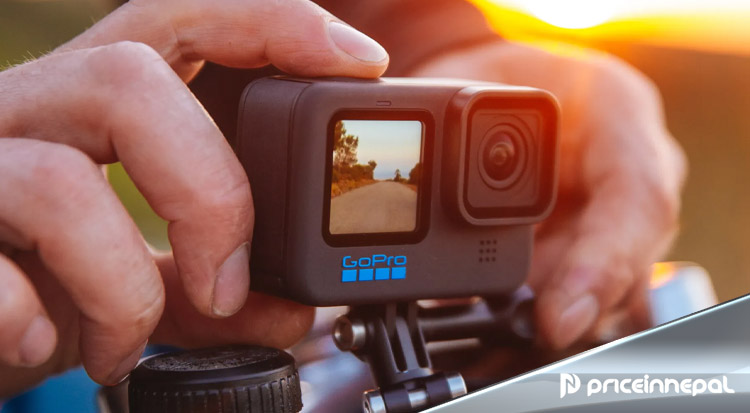 GoPro Camera Price in Nepal
Okay, so you've decided to invest in one of the top GoPro cameras. We can see why you've decided on a GoPro; it's the greatest action camera currently available. But how do you know which one to really purchase?
One might assume that "the latest model," in this example the GoPro Hero11 Black, would always be the best option, but this is not always the case. Why? Because the best GoPro camera doesn't have to be the best GoPro camera for you.
To begin, the price of some previously released models has been drastically decreased, so you may find that one of these is a more suitable option for you financially.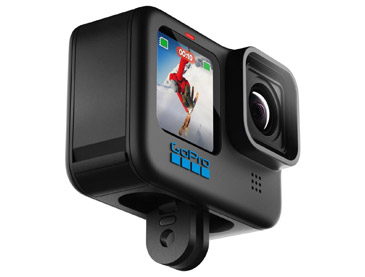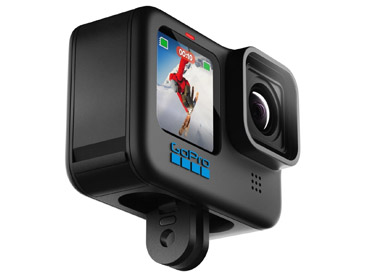 GoPro HERO10 Black
23MP GP2 Chip with Improved Performance ,5.3K60/4K120/2.7K240 Video,
23MP Photos
New Front Display/Rear Touchscreen,
Cloud Connected,
1080p Live Streaming
Enhanced Low-Light Performance,
HyperSmooth 4.0 Image Stabilization
33″ Waterproof without a Housing,
ime-Lapse & Night-Lapse, 8x Slo-Mo
Built-In Flip-Out 2-Prong Mount
1720mAh large Capacity Battery
The GoPro Hero10 Black retains the same design as the Hero9 Black, but its internal processor has been upgraded, allowing it to record at resolutions up to 5.3K/60 fps, 2K at 240 fps, and 4K at 120 fps. Furthermore, it is lighter and thinner than its predecessor while still sporting a larger 23MP image sensor.
The Hero10's improved picture stabilization is the device's crowning achievement; our tests showed that the camera could be angled by up to 45 degrees and still produce smooth results. On the other hand, this has a significant impact on battery life, which remains the same as in the Hero9. However, the same batteries and extras can be used as previously.
In addition, the Hero10 Black can now record longer clips in low-air-flow environments thanks to a firmware update made by GoPro last year.
According to the manufacturer, users can capture videos in 4K at 60 frames per second for up to 63 minutes.
Since its release, GoPro has offered significant price reductions on the Hero10, and now you can get one from the company for just $349 if you join up for a GoPro membership. Considering it is same in price to the Hero9 Black, picking one over the other is simple.
GoPro HERO10 Black Price in Nepal : Rs.75,500′
---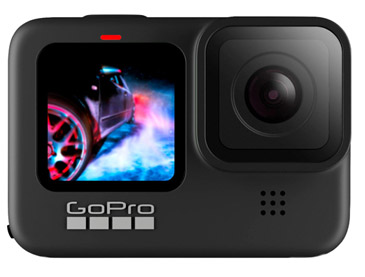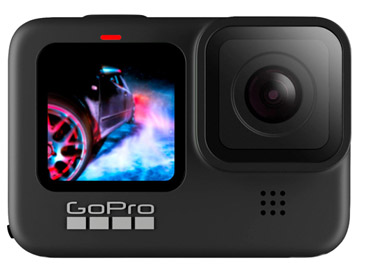 GoPro Hero 9 Black 
23.6MP Sensor, 5K30 Video & 20MP Photos
Live View Front Display/Rear Touchscreen
Webcam Mode & 1080p Live Streaming
HyperSmooth 3.0 Image Stabilization
33′ Waterproof without External Housing
PowerTools & Protune Feature Suites
Time-Lapse & Night-Lapse
8x Slo-Mo
Built-In Flip-Out 2-Prong Mount
30% Longer 1720mAh Capacity Battery
GoPro listened to user complaints about the Hero8 and implemented a much-requested feature, a front-facing display, into the Hero9 Black. Selfie artists and bloggers now have a much simpler time framing themselves in films and images thanks to this tiny screen's live preview.
Moreover, the lens on the Hero9 may be removed and replaced with other accessories, such as the new Max Lens Mod from GoPro, which allows you to record extremely wide and stable video.
Furthermore, it is capable of shooting in resolutions as high as 5K, and its larger battery holds up better in frigid climates.
After a lot of testing, we found that the only real downside was how hefty it was, which would be especially noticeable if you were to mount it on a helmet.
Overall, we still think this is one of the greatest GoPro cameras, but there's little need to buy it now that the Hero10 is available at the same price.
GoPro HERO9 Black Price in Nepal : Rs.65,500
---
GoPro HERO7 Black
Record 4K60, 2.7K120, and 1080p240 Video
Capture 12MP Photos at up to 30 fps
HyperSmooth Video Stabilization
Vertical Portrait Mode for Social Media
SuperPhoto Auto HDR Photo Enhancement
33′ Waterproof without a Housing
Touch Zoom Framing via Intuitive 2″ LCD
Face, Smile, and Scene Detection
Live Streaming, TimeWarp Video
Voice Control, Raw Photos, and Much More
Available in 3 colors – Black,Silver and White
GoPro is refocusing on its core competency after a failed foray into the drone industry. The new GoPro Hero7 Black is an excellent update to the market-leading GoPro camera, bringing it back to its former glory while introducing some exciting new features.
The Hero7 arrives for less than $400, yet it has a ton of new features, such as the ability to broadcast whatever the camera takes and improved image-capture abilities. However, the ultra-smooth footage captured by the Hero7 is what will really make this latest camera a must-have for adventure addicts, all owing to GoPro's attempts to build in stabilization technologies that function without an external gimbal.
GoPro HERO7 Black Price in Nepal : Rs. 51,500
---
GoPro HERO6 Black
Supports 4K60, 2.7K120, 1080p240 Video
Improved EIS, dynamic range and low light performance
Custom GP1 processor
HDR and RAW photography
Improved EIS, dynamic range and low light performance
Voice controls
Capture 12MP Photos at 30 fps
Ultra-Wide-Angle Glass Lens
Waterproof to 33′
Available in color – Black
GoPro HERO6 Black Price in Nepal : Rs 47,000
Pros
Improved stabilization
Large selection of slow-mo options
Greater manual control of exposure
Upgraded image processor
Cons
Pricier than the Hero 5 at launch
No update to the design
File compatibility issues on slow-mo videos
---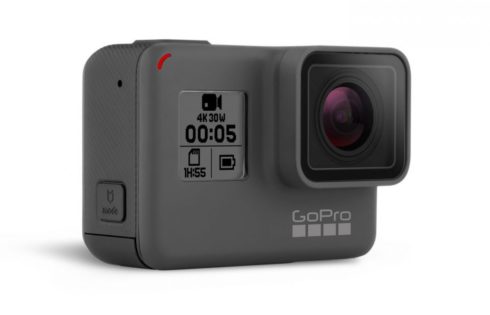 GoPro HERO5 Black
Stunning 4K video and 12MP photos in Single, Burst and Time Lapse modes.

Durable by design, HERO5 Black is waterproof to 33ft (10m) without a housing

Additional GoPro HERO5 Black Features + Benefits below on item page.

Preview and playback your shots, change settings and trim your footage, all on your GoPro.
GoPro HERO5 Black Price in Nepal : Rs 35,500
Pros
Includes a touchscreen
Responds to voice commands
Waterproof even without a case
Advanced photo modes
Cons
Touchscreen is occasionally unresponsive
New features will drain the battery fast
No support for third-party batteries
Incompatible with some legacy accessories
---
Discontinued Models :
GoPro Hero 4 – Rs. 30,000
GoPro Hero 3 – Rs. 22,000
Also Check: