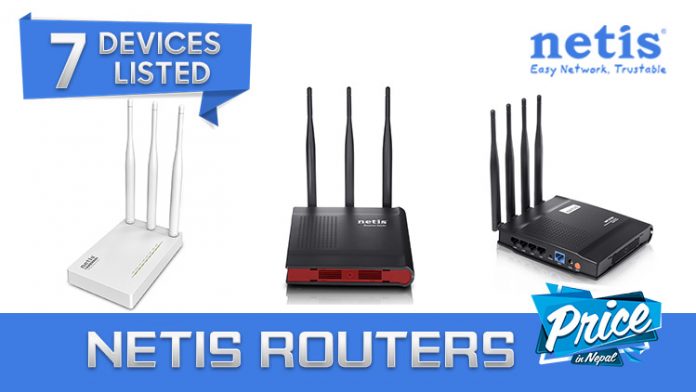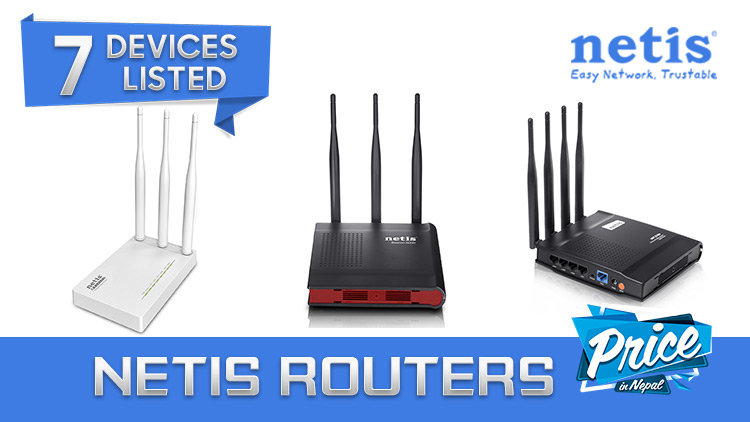 NETIS SYSTEMS is a part of the NETCORE Group, headquartered in Shenzhen, China.Founded in 2000, NETIS SYSTEMS is a global leading provider of networking products and solutions.
With state-of-the-art technology, outstanding product quality and satisfying customer service, NETIS SYSTEMS has become a major provider in the data communication industry, with a growing reputation for reliable products worldwide.
The NETIS SYSTEMS' product family includes wireless routers, wireless adapters, switches, DSL modems &routers, network adapters, EPON, GPON, etc.,and is evolving into products that related to storage, security, multimedia and other technologies.
Netis Routers Price in Nepal
---
Netis WF2409E – 300Mbps Wireless N Router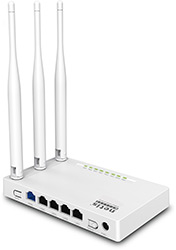 Incredible wireless high speed up to 300Mbps, great for faster downloading, Internet calling and HD video streaming
MIMO high gain 5dBi antennas providing maximum range and stable connections
Dual operation modes- Router, Bridge (pure access point)
Various WAN connection types in AP Router mode- DHCP, Static IP, PPPoE, L2TP, PPTP, Dual Access, WISP
Multiple wireless modes- AP, Repeater, AP+WDS, WDS, Client
Multi-SSID providing up to 3 additional separate networks for guests and friends
Easy wireless security setup at a push of the WPS button
Intelligent bandwidth control to manage the bandwidth usage for each computer reasonably
Internet Access Control- IP filtering, MAC Filtering, Domain Filtering based on time
Quick setup, with built-in multilingual management page
Netis WF2409E Price in Nepal : Rs.1850
---
Netis DL4323U – 300Mbps Wireless N ADSL2+ Modem Router
High speed ADSL2+ modem, 4-port NAT router and wireless N access point in one device
ADSL2/2+ standards ensuring high-speed Internet access up to 24Mbps downstream
Powerful wireless N speed up to 300Mbps
Port mapping function ensuring wonderful IPTV experience
Ethernet WAN offers additional connectivity option for Cable or Fiber modem
Built-in firewall to safeguard home network from potential Internet attacks
IPv6 supported for improved network usability and experience
4KV super lightning protection to avoid device damage caused by tough thunderstorms
Easy setup wizard providing quick and hassle free installation
Compatible with 3G USB Dongle for wireless network sharing
USB2.0 port support Storage Sharing, FTP Server and Print Server
Netis DL4323U Price in Nepal : Rs.3230
---
Netis WF2411E – 150Mbps Wireless N Router
Excellent wireless N speed up to 150Mbps, ideal for file sharing, online gaming and Internet calling
Dual operation modes- Router, Bridge (pure access point)
Various WAN connection types in AP Router mode- DHCP, Static IP, PPPoE, L2TP, PPTP, Dual Access, WISP
Multiple wireless modes- AP, Repeater, AP+WDS, WDS, Client
Multi-SSID providing up to 3 additional separate networks for guests and friends
5dBi external antenna ensuring better performance than internal antenna products
Easy wireless security setup at a push of the WPS button
Intelligent bandwidth control to manage the bandwidth usage for each computer reasonably
Internet Access Control- IP filtering, MAC Filtering, Domain Filtering based on time
Quick setup, with built-in multilingual management page
Netis WF2411E Price in Nepal : Rs. 1700
---
Netis DL4312 – 150Mbps Wireless N ADSL2+ Modem Router
High speed ADSL2+ modem, 4-port NAT router and wireless N access point in one device
ADSL2/2+ standards ensuring high-speed Internet access up to 24Mbps downstream
Excellent wireless N speed up to 150Mbps
Port mapping function ensuring wonderful IPTV experience
Ethernet WAN offers additional connectivity option for Cable or Fiber modem
Built-in firewall to safeguard home network from potential Internet attacks
IPv6 supported for improved network usability and experience
4KV super lightning protection to avoid device damage caused by tough thunderstorms
Easy setup wizard providing quick and hassle free installation
Netis WF4312 Price in Nepal : Rs. 2350
---
Netis WF2505 – 150Mbps Wireless N High Power USB Adapter
Excellent wireless N speed up to 150Mbps
High transmission power to boost wireless signal for further distance
5dBi detachable antenna design allowing for stronger antenna upgrade
Soft AP mode for local network sharing
1.8 meters USB extension cable with 2 USB 2.0 connection for full power function
Compatibilities: Windows XP/Vista/7/8/8.1/10, MAC OS 10.4~10.10, Linux
Netis WF2505 Price in Nepal : Rs. 1600
---
Netis WF2122 – 150Mbps Wireless N High Power USB Adapter
Powerful wireless N speed up to 300Mbps
Soft AP mode for local network sharing
USB 2.0 connector
2* 5dBi detachable antennas
Easy wireless connection with WPS button
USB cradle with 1.8 meters extension cable
Compatibilities: Windows XP/Vista/7/8/8.1/10, MAC OS 10.4~10.11, Linux
Netis WF2122 Price in Nepal : Rs. 2200
---
Netis E1+ – 300Mbps Wireless N Range Extender
Excellent wireless N speed up to 300Mbps
Range Extender mode extending your existing wireless coverage to eliminate Wi-Fi dead zones
Travel Router mode for secured internal network setup from a DSL or cable modem
Smart Signal indicator helps to locate the range extender in a right place
WPS button for quick extender setup to connect your main router within seconds
Ethernet port providing additional connection to wired devices for Internet access
Stylish portable design with built-in power adapter, ideal for travel and home use
US, EU, UK standard plugs available
Netis E1+ Price in Nepal : Rs. 2400
---