Gadgets
Apple AirPods Pro 2022 Price in Nepal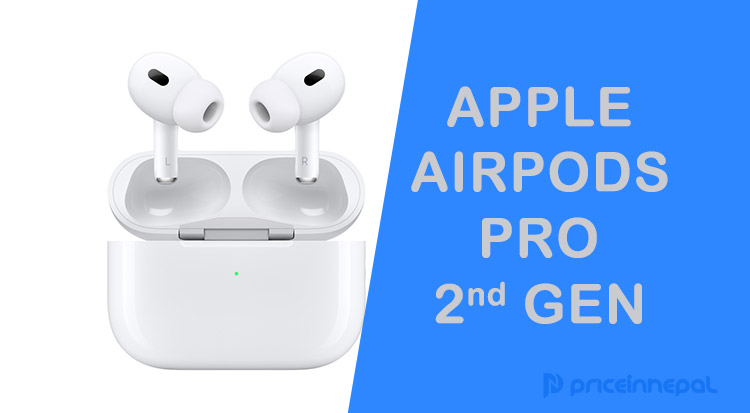 Apple AirPods Pro 2022 Price in Nepal
As expected, Apple also unveiled AirPods Pro 2 alongside the new iPhone 14 series. Even though it looks the same, Apple has improved the internals, specifically the sound and the battery life.
To that end, I'd want to go through the technical details of the Apple AirPods Pro (2nd Gen), as well as their expected features, release date, and pricing in Nepal.
Also Check :
Design
As was previously mentioned, the new AirPods Pro seem quite similar to the original model. The silicone ear tips and stem design are identical. If your ears are very little, don't worry; the new version of AirPods comes with a fourth, extra-small ear tip in addition to the three sizes that were previously available.
Minor cosmetic adjustments have been made to the charging case. It can withstand moisture and sweat and comes with a lanyard loop so you can always have it on hand. In addition, it incorporates an U1 chip, which means that iPhone owners who have upgraded to iOS 11 can utilize the navigation features, including turn-by-turn directions, to locate their case. As if that weren't enough, it also features a built-in speaker for easy location.
Users may add their own Memoji, Animoji, and stickers on the charging case of their AirPods Pro to make it more unique.
Audio
The audio is where Apple really upped their game this year, so let's go to that. The new H2 chip that powers it allows for superior ANC. Apple claims that the new AirPods Pro are twice as effective at blocking outside noise as the original AirPods.
A new transparency option actively seeks for and mutes potentially distracting background noise. Similar to how a construction site looks, as the firm alluded to at the unveiling.
Additionally, Apple has included a new low-distortion audio driver and bespoke amplifier to the AirPods Pro (2nd Gen), allowing the earbuds to cover a larger frequency range. Making your own custom spatial audio space is a great way to improve your listening experience.
In addition, Apple has equipped the AirPods Pro (2nd Gen) with a new low-distortion audio driver and bespoke amplifier, allowing them to reproduce a broader spectrum of audio frequencies. Now you can construct your own unique spatial audio space to improve the listening experience.
According to Apple, "Users experience sound individually, based on the size and shape of their head and ears," making this an improvement above the standard spatial audio capability.
Now you may design an adaptive listening environment that perfectly suits your taste. The actual depth camera on the iPhone is required for users to set up a personalized profile for Spatial Audio.
Interfaces with touch screens
In addition, a new and noteworthy addition to this year's AirPods Pro is the ability to control the volume via a series of taps and swipes on the earbuds' stem. The volume cannot be adjusted using the touch controls on the original model.
Battery
In comparison to the first generation, the AirPods Pro (2nd Generation) are said to offer an additional 1.5 hours of playback time. With Active Noise Cancellation activated, you may listen to music for a whopping six hours straight.
When using Active Noise Cancellation and connected with the case, users can get up to 30 hours of listening time. The case may be charged using either a standard wall outlet or a Qi-enabled charging mat.
Price in Nepal and Availability
Beginning September 9, you may place a pre-order for the TWS earbuds at a discount of $50, with regular sales beginning on September 23. When the Apple AirPods Pro (2nd Generation) finally make it to Nepal, we expect the price to be in the range of Rs 45,000.
| | | |
| --- | --- | --- |
| Model | Price in the US  | Price in Nepal (Expected) |
| Apple AirPods Pro (2nd Gen) | US$ 249 | NRs 45,000 |