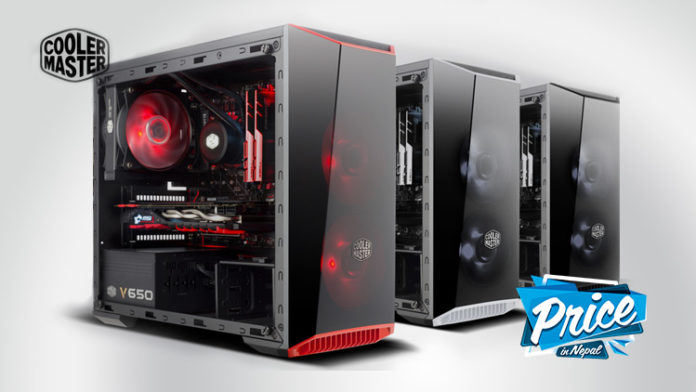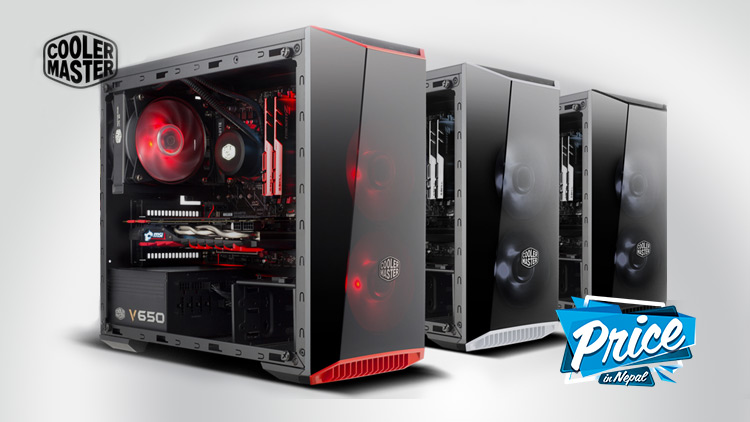 CoolerMaster Casings Price in Nepal
Cooler Master Co., Ltd. is a computer hardware manufacturer based in Taiwan. Founded in 1992, the company produces components for personal computers such as the computer chassis, PSU, coolers, cooling pads, and other accessories.Alongside the retail business, Cooler Master is also a cooling solution OEM vendor for different brand names of the computer industry including nVIDIA (VGA coolers), AMD (CPU cooler), and EVGA (motherboard heatsinks). In recent years the company expanded its operation and brand exposure into gaming communities and sponsored major events such as KODE5. Some of Cooler Master's products also won awards such as the iF product design award.
The company headquarters of Cooler Master is located in Zhonghe District, New Taipei City, Taiwan and has a manufacturing facility in Huizhou, China. To support international operations, the company also has branch offices in various continents, including United States (Fremont, California and Chino, California), the Netherlands (Venlo), Germany (Augsburg), Russia (Moscow), and Brazil (São Paulo). Other than the mother brand, Cooler Master, the company also launched subsidiary brands into different market segments, including the gaming oriented "CM Storm" and the life-style product line "Choiix".
 CP 250 ATX – Rs 4,875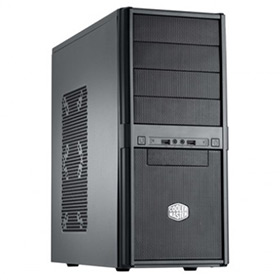 Superior Thermal Solution
Pre-Installed 120mm Fan in the Front
Top-Mounted Design of PSU
Superb Airflow Design
Can Accommodate Two 80/90/120mm Fans on the Side Panel
Item Weight    4.8 Kg
1 Year Replacement Warranty
---
ELITE 311 Blue – Rs 6,187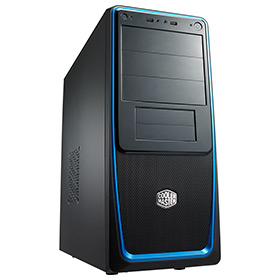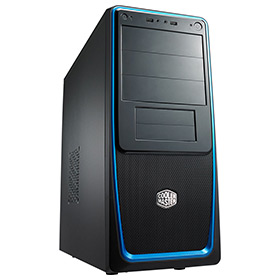 The air vent in the front provides superior ventilation
Multi-color front panel for individual preferences
Supports long graphics cards including AMD HD5970 (*Need to removed the HDD cage when installing a graphics card in the 4th slot and below)
Supports an optional 120mm fan on the side panel to cool the graphics cards
The 120mm fan in the rear helps to keep the constant cooling
Bottom-mounted PSU placement and removable HDD cage for improved cable management
1 Year Warranty
---
Cooler Master K380 – Rs 8,625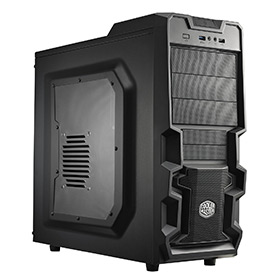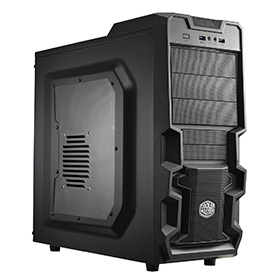 Mesh and honeycomb vent on front panel for superior cooling
Large windowed side panel with fan mounting to cool graphics cards
Supports up to 4 fans One silent 120mm red LED fan behind the front panel is included
Super speed USB 30 port for 10x faster file transfer and 2x faster phone/tablet charging
7 HDD bays (3 tool-less) for increased expandability.
Colour – Black with red LED fan
Item Weight 6 Kg
1 Year Replacement Warranty
---
ELITE 311 Red – Rs 6,187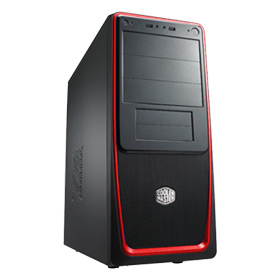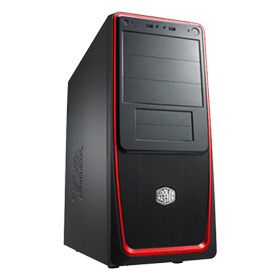 The air vent in the front provides superior ventilation.
Multi-color front panel for individual preferences.
Supports long graphics cards including AMD HD5970 (*Need to removed the HDD cage when installing a graphics card in the 4th slot and below)
Supports an optional 120mm fan on the side panel to cool the graphics cards.
The 120mm fan in the rear helps to keep the constant cooling.
Bottom-mounted PSU placement and removable HDD cage for improved cable management.
1 Year Warranty
---
CM 693 GREEN – Rs 19,375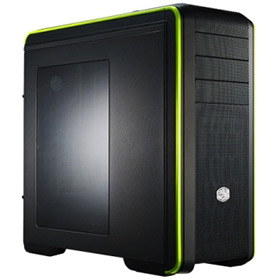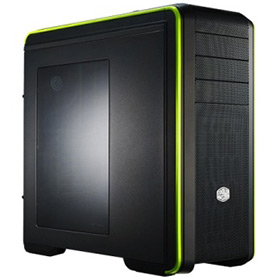 Full mesh on the front panel and top with large vents on the side panel for superior cooling
3 designated places for radiators: 240mm: top, front; 120mm: rear
Supports up to three 200mm large fans for extreme  airflow with support for up to 9 total fans (KKN1: 9 fans, KWN1: 7 fans, WWN1-V2: 7 fans)
New ODD tool-less design "EZ tray" for quick installation
Supports up to 10 SSDs (4 in the removable HDD/SSD combo cage, 1 behind the M/B tray) and 7 HDDs with HDD/SSD combo trays
Dual Super Speed USB 3.0
High-end component support – long graphics cards up to 423mm and tall CPU coolers up to 171mm
Multiple removable dust filters (top, front, PSU) for improved system maintenance
Top compartment with cover to place personal belongings
1 Year Warranty
---
MasterBox 5 MSI Edition – Rs 17,500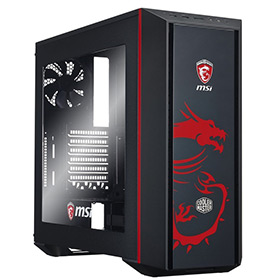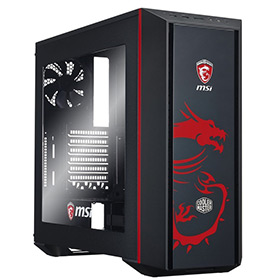 ColorBlack & Red with MSI logoMaterialsSteel Body
Plastic Mesh Bezel
Dimensions (LxWxH)500 x 220 x 475 mmMotherboard SupportATX, Micro-ATX, Mini-ITX
Motherboard SupportATX, Micro-ATX, Mini-ITX
I/O Panel = USB 3.0 x 2, Audio in / out
Pre-installed Fan(s), Fan Support, Liquid Cooling Support, Cable RoutingBehind Motherboard Tray25mm – 35mm
Dust Filters
1 Year Warranty
---
TROOPER – Rs 33,125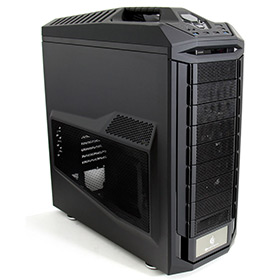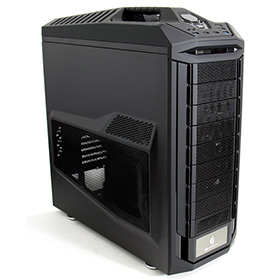 Type Full Tower ( Micro-ATX, ATX, XL-ATX )
Material : Steel, plastic, mesh
Internal Color : Black
5.25" Device Bays : 9 external
3.5" Device Bays : 8 convertible from 3x 5.25″ to 4x 3.5″ cages
2.5" Device Bays : 5 internal, 8 convertible from 3.5″ bays
Front I/O Panel : USB 3.0 x 2, USB 2.0 x2, eSATA x1
Audio In & Out x1
Special Features Carrying Handle
1 Year Warranty
---
MASTER BOX 5 – Rs 14,375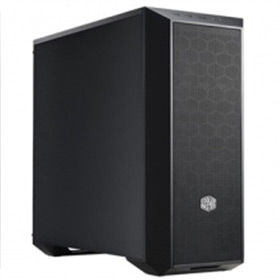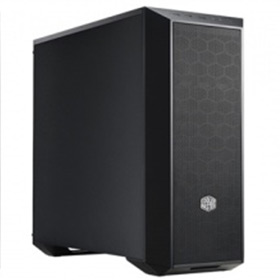 Available : Color Black
Materials : Steel body, Plastic mesh bezel
Expansion Slots :   7
Pre-installed Fan(s)  : Front 120mm x 1, Rear 120mm x 1
Fan Support  : Front 120mm/140mm x 2,Rear 120mm x 1
Liquid Cooling Support :   Front 240mm / 280mm radiator, up to 50mm thickness without fan,Rear 120mm
Cable Routing : Behind Motherboard Tray    25mm – 35mm
Dust Filters : Front, bottom
Power Supply Support : Bottom mount, ATX
1 Year Replacement Warranty
---
MASTER BOX 5 TRANSPARENT – Rs 16,873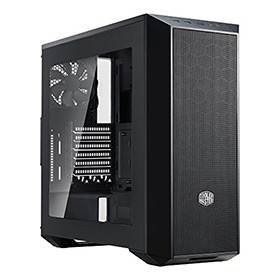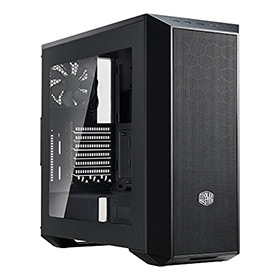 Available : Color Black
Materials : Steel body, Plastic ( Transparent window )
Expansion Slots  :  7
Pre-installed Fan(s)  :  Front    120mm x 1, Rear    120mm x 1
Liquid Cooling Support  :  Front    240mm / 280mm radiator, up to 50mm thickness without fan
Rear    120mm
Cable Routing : Behind Motherboard Tray    25mm – 35mm
Dust Filters : Front, bottom
Power Supply Support : Bottom mount, ATX
1 Year Replacement Warranty
---
MASTER CASE 5 – Rs 21,875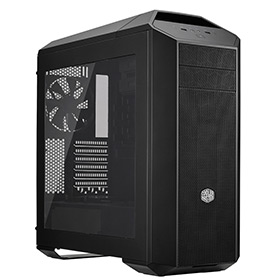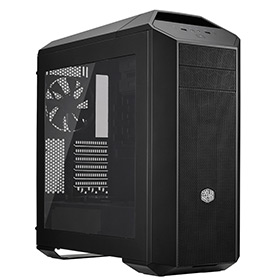 Available Color : Dark metallic grey exterior with black interior
Materials : SECC, Plastic
Weight : 10.6 kg
Mother Board Type : ATX, microATX, Mini-ITX
Expansion Slots : 7
I/O Panel  :  USB 3.0 x 2, Audio In & Out (supports HD-Audio)
Cooling Support  : Front    140mm x1 (pre-Installed)
Rear : 140mm x1 (pre-Installed)
Radiator Support : Front 240mm/280mm
Rear : 120mm/140mm
CPU Air Cooling Support : 190mm/ 7.5 inch
Cable Management : 25mm
Dust Filters : Front/ Top/ Bottom
1 Year Replacement Warranty
---
STRYKER – Rs 33,125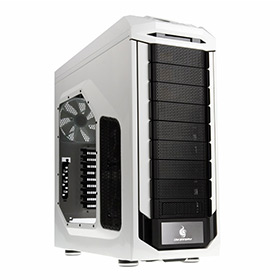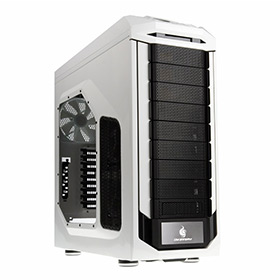 Motherboard : Form Factor : Micro- ATX, ATX, XL-ATX
Material : Steel, plastic, mesh
Colors: White
Front I/O Panel    USB 3.0 x2 USB 2.0 x2
Audio : In & Out x1
Rear Expansion Slots : 9+1
Fan Cooling Mounts :    Front : 120mm x2
Top : 200mm x1, or 140mm x2, or 120mm x2
Rear : 140mm x1, or 120mm x1
Included Cooling Devices : Front: 120mm White LED fan x2, 1200 RPM, 17 dBA
Special Features : Carrying Handle
1 Year Replacement Warranty

---
Also Check: