Gadgets
Insta360 ONE RS 1-inch 360 Edition Price in Nepal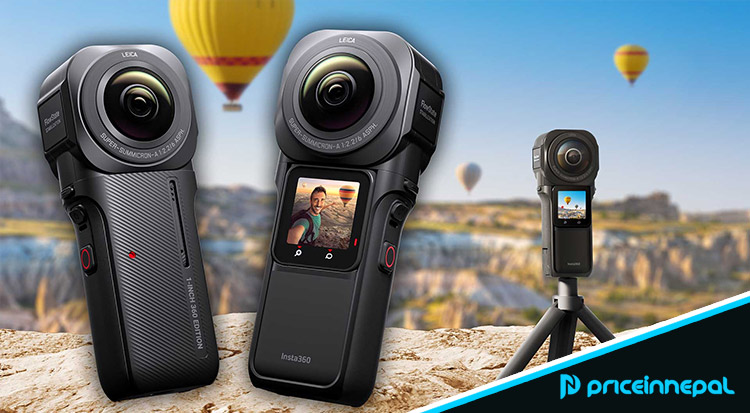 Insta360 ONE RS 1-inch 360 Edition Price in Nepal
One can purchase the Insta360 ONE RS 1-inch 360 Edition in Nepal for NPR 125,000.
The Insta360 ONE RS 1-inch 360 Edition is the first 360-degree camera to use dual 1-inch CMOS sensors. The camera's sensor is 21 megapixels and it can shoot 360-degree video in 6K resolution. It's small and portable, with a built-in display in the grip and a camera lens on top.
Also Check : Insta360 Action Camera Price In Nepal
Important to the Insta360 ONE RS 1-inch 360 Edition is the sensor. The firm collaborated with Leica to develop this 1-inch sensor. The modular camera is essentially a 360 degree improvement over the One RS action camera due to its replaceable lenses.
The camera's dual 1-inch 360 mod lenses allow for HDR stills and video recording at 6K at 30 frames per second. Even if you have an older ONE R or RS base, you can still use the mod by installing the included update kit.
Additionally, the Insta360 One RS 1-inch Edition can be interacted with because to its integrated color touchscreen. The screen displays both the controls and a real-time preview of the recording.
Insta360 ONE RS 1-inch 360 Edition Specifications:
Connectivity: BLE5.0, Wi-Fi 802.11ac
IP Rating: IPX3 Water Resistant
Port: USB Type-C
Storage: exFAT microSD card up to 1TB
Battery: 1350mAh
Charging Time: 90 minutes
Run time: 62 minutes
Video: Up to 5888×2944 videos @30fps
Stabilization: 6-axis Gyroscope
Dimensions: 53.2×49.5×129.3mm
Weight: 239g
Price : Rs. 1,25,000
Also Check :