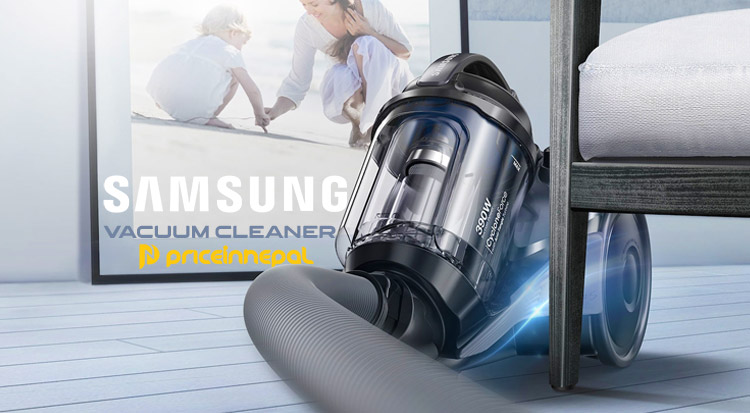 Samsung Vacuum Cleaner Price in Nepal
Vacuum cleaners were first considered a luxury item, but their price dropped so significantly after WWII that even the middle class could afford one. Most homes in the rest of the world don't have wall-to-wall carpeting and instead have tile or hardwood floors, which can be swept, wiped, or mopped without the need for a vacuum cleaner.
Technologies including filterless cyclonic dirt separation, central vacuum systems, and rechargeable handheld vacuums all found increased use in the latter decades of the 20th century. Further, the advent of tiny computers and better batteries ushered in the creation of a novel sort of machine: the autonomous robotic vacuum cleaner.
The Swedish company Electrolux debuted the world's first fully autonomous cordless robotic vacuum cleaner, the Electrolux Trilobite, in 2001 after demonstrating it in 1997 on the BBC-TV program Tomorrow's World.
Out of the many brands that sell vacuum cleaners in nepali market, Samsung is one of the trusted brand which offers several models in different price range. The company currently offers basically two types of vacuum cleaners : bagged and bagless.
The newer bagless vacuum cleaners are quite easy to empty during cleaning process compared to the bagged models. Below you will find several models currently offered by the company in different price range.
Samsung Vacuum Cleaner VC18M2120SB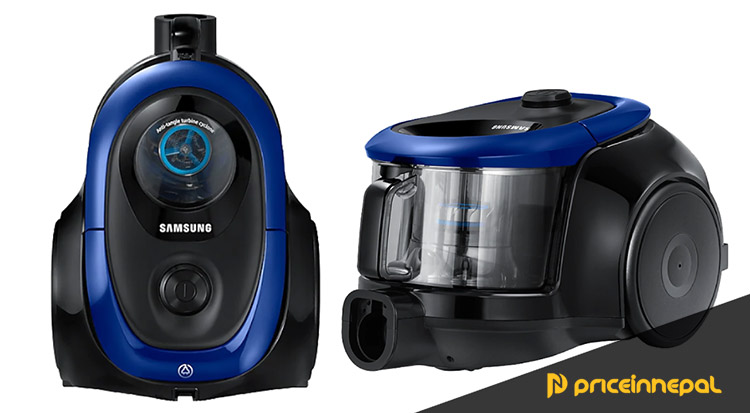 Dust Collection :- 1.5 Litres, Cyclone Force with Anti-Tangle Turbine
Performance :- 1800W Power Consumption
General Features :- Auto Cord Rewinder, HEPA Exhaust Filter with Pre-Motor, Stainless Pipe
Price : 

Rs. 16,990
Samsung Vacuum Cleaner VC18M31A0HP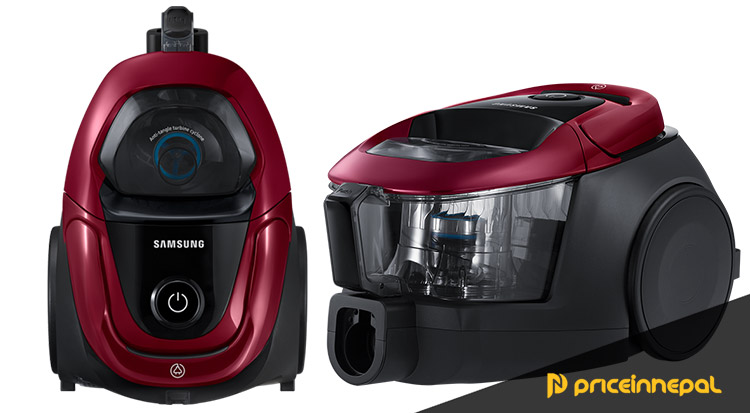 Dust Collection :- 2 Litres, Cyclone Force with Anti-Tangle Turbine
Performance :- 1800W Power Consumption, 87 dBA Noise Level, 370W Suction Power
General Information :- Handle Control, Merlot Purple Cover Color, 2-Step NB300 Main Brush, 2-in-1 Accesorry, 2-Way Parking
Other Features :- Auto Cord Rewinder, HEPA Exhaust Filter with Pre-Motor, Stainless Pipe
Price : 

Rs. 15,490
Samsung Vacuum Cleaner VC18M3110VB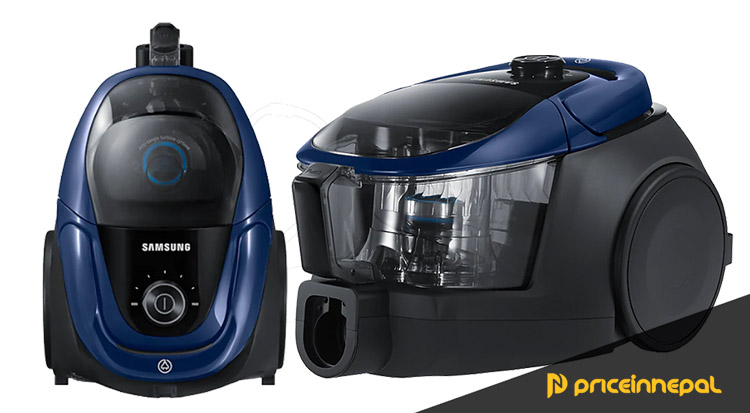 Performance :- 1800 Watt
Type :- Bagless
Features :- Steel pipe, Cyclone force with anti- tangle turbine
Price : 

Rs. 14,190
Samsung Vacuum Cleaner VCC4540S36/SML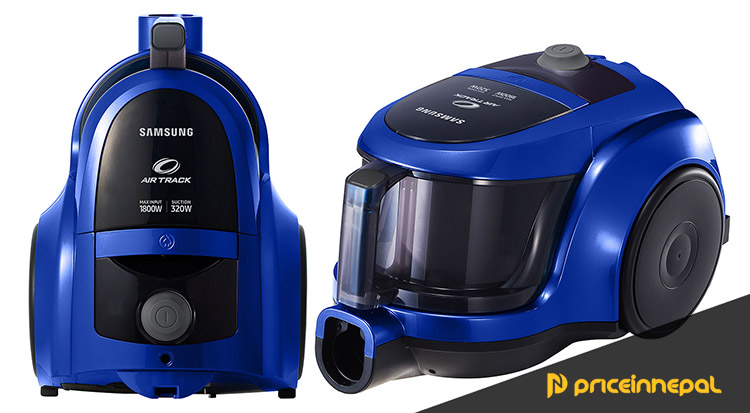 Dust Collection :- 1.3 Litres, Twin Chamber
Performance :- 1800W power consumption, 83 dBA noise level, 360W suction power
General Information :- Deep Blue Point Color, 2-Step NB250 Main Brush, 2-in-1 Accesorry
Other Features :- Auto Cord Rewinder, HEPA Exhaust Filter with Pre-Motor, Stainless Pipe
Price : 

Rs. 13,490
Samsung Vacuum Cleaner VCC4130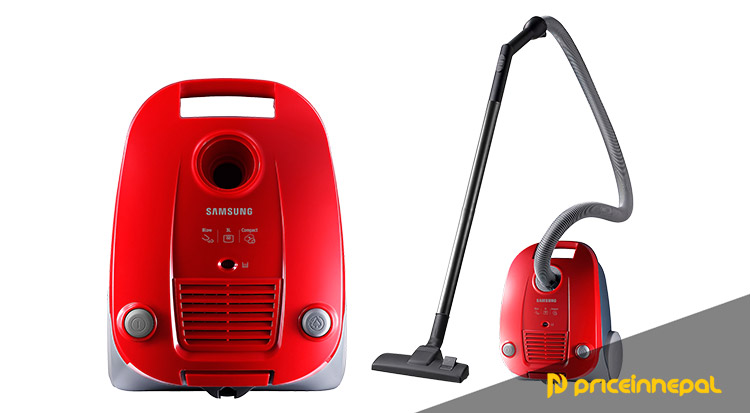 Dust Cover  Iron RED
Dust Collection :- 3 Litres Bagged
Suction Power 320 W
Performance :- 1600W Power Consumption, 83 dBA noise level, 320W Suction Power
General Informarion :- Iron Red Point Color, 2-Step UB650 Main Brush, 2-in-1 Accessory
Other Features :- Auto Cord Rewinder with Filter Check, HEPA Exhaust Filter with Pre-Motor, ST*2 Pipe, 360 Swivel Hose
Price : 

Rs. 11,990
Samsung Vacuum Cleaner VCC4190V37


Dust Collection :- 3 Litres Bagged
Performance :- 2000W power consumption, 84 dBA noise level, 370W suction power
General Information :- Iron Red Cover Color, 2-Step NB250 Main Brush, 2-in-1 Accesorry, 2-Way parking
Other Features :- Auto Cord Rewinder with Filter Check, HEPA Exhaust Filter with Pre-Motor, Stainless Pipe
Price : 

Rs. 11,990