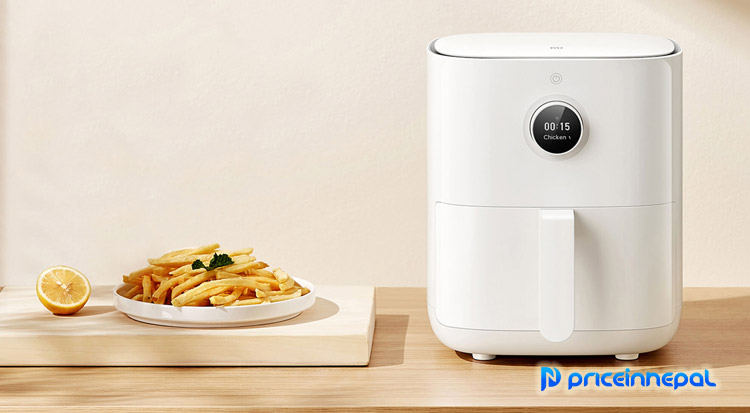 Xiaomi Smart Air Fryer Price in Nepal
In Nepal, Xiaomi has released a slew of new items. The Nepali market has seen the introduction of products such as new and latest models of smartphone, smart televisions, and home appliances. A standout was the Xiaomi Smart Air Fryer.
Features like adjusting the temperature, using your voice to command it, being able to fry, thaw, and ferment, and more are all welcome additions. What follows is a discussion of the air fryer's overall features and dimensions.
Also Read : Samsung Vacuum Cleaner Price in Nepal
Features of the Xiaomi Smart Air Fryer:
Depending on the model, the Xiaomi smart air fryer can weigh up to 4.9 kg and comes in white color option. The smart air fryer measures 37 by 29.5 by 34 centimeters.
Like the outer pot, the inner pot has a maximum capacity of 3.5 liters and is constructed from an aluminum plate. The fryer has a 3.5-liter capacity and features a special grill that maximizes the inside cooking area. With its dual-layer PTFE nonstick coating, the seven-layer composite frying basket is both durable and simple to maintain.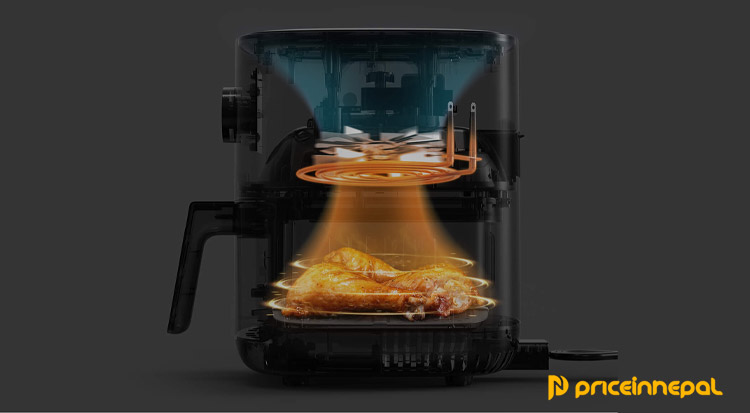 The air fryer has a touch screen OLED display that works with Google Assistant. The OLED screen's touch interface not only shows the time and temperature at which food has been cooking, but also indicates when it is time to flip the food.
The air fryer's operational time can be extended to 24 hours at lower temperatures. Adjustable heat settings are available between 40 and +200 degrees Celsius. Low temperatures are automatically coupled with the dual-speed motor's low-speed fan, to allow for a slow increase in temperature.
Additionally, Xiaomi cloud recipes features over 50 additional smart recipes for people who need even more inspiration. The Xiaomi Smart Air Fryer allows users to create their own cooking modes to suit their individual preferences. In addition, Google Assistant is available to offer improved service through voice command for tasks like turning the air fryer on and off.
Xiaomi Smart Air Fryer Price in Nepal
Xiaomi's smart air fryer can now be purchased in Nepal for the price of Rs.12,499.
| | |
| --- | --- |
| Xiaomi Home Appliance | Price  |
| Xiaomi Smart Air Fryer | Rs. 12,499 |