Offers
Vianet's Dashain Offer : Free Mesh Router for Ultra-Fi Customers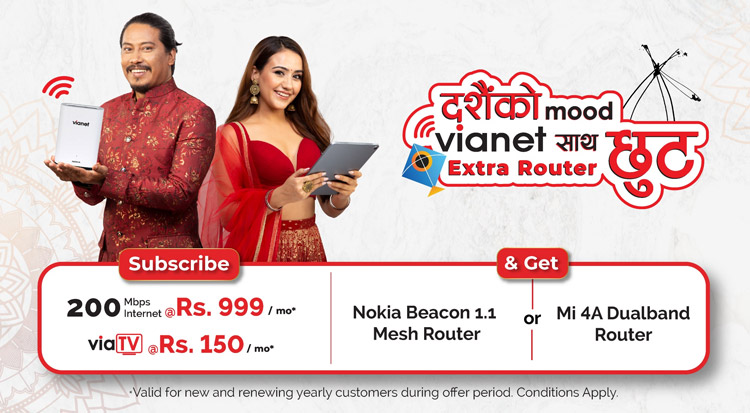 Vianet Dashain Offer 2022
Aiming at the approaching Dashain festival, internet service provider company Vianet has launched an attractive offer.
Under this offer, customers who connect Vianet's Ultra-Fi Internet will get a 'Nokia Beacon 1.1 Mesh' router or a 'Mi 4.A Dual Band' router free of charge.
Vianet has been providing Ultra-Fi 200 Mbps internet for Rs 999 per month. However, for this, the customer has to connect for one year at a time. In this package, the customer can choose between a dual band ONU as well as Nokia's Beacon 1.1 mesh router or Mi 4.a dual band router.
For this, the customer has to pay a deposit fee. According to the company, the customer has to deposit Rs 4,000 to get the Mesh router and Rs 1,500 for the Mi 4.A router. The amount deposited in this way will be refunded back to the customer at the time of disconnection of the internet connection.
The company has launched this offer with the aim of helping to increase Wi-Fi coverage throughout the customer's home.
In addition, Vianet will also provide ViaTV for 150 rupees per month. However, for this too, it is necessary to become an annual customer. It is said that the first set-top-box required for TV will be available for 500 rupees.
Also Check: