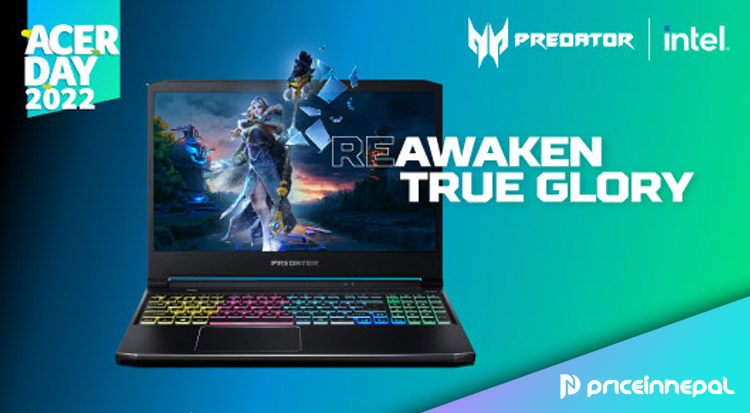 Acer Laptops Price in Nepal
| | |
| --- | --- |
| Aspire 3 Series | Price NPR. |
| Aspire 3 2020 (15.6" FHD, Intel i5-10210U, MX230, 8GB RAM, 128GB SSD + 1TB HDD) | Rs. 82,990 |
| Aspire 3 2021 (15.6" FHD, Intel i5-1135G7, MX350, 8GB RAM, 1TB HDD) | Rs. 83,990 |
| Aspire 3 2021 (15.6″ FHD, Intel i5-1135G7, MX350, 8GB RAM, 512GB SSD) | Rs. 89,990 |
| Aspire 5  Series | |
| Aspire 5 2020 (15.6″ FHD, Intel i3-1005G1, Intel UHD, 4GB RAM, 1TB HDD) | Rs. 60,000 |
| Aspire 5 2020 (15.6″ HD Touch, Intel i3-1035G1, Intel UHD, 8GB RAM, 256GB SSD) | Rs. 76,990 |
| Aspire 5 2021 (15.6" FHD, Intel i3-1115G4, Intel UHD, 4GB RAM, 128GB SSD) | Rs. 59,990 |
| Aspire 5 2021 (15.6″ FHD, Intel i5-1135G7, MX350, 4GB RAM, 256GB SSD) | Rs. 85,000 |
| Aspire 5 2021 (15.6″ FHD, Intel i5-1135G7, Iris Xe, 8GB RAM, 512GB SSD) | Rs. 94,000 |
| Aspire 5 2021 (15.6″ FHD, Intel i5-1135G7, MX350, 8GB RAM, 1TB HDD) | Rs. 93,000 |
| Aspire 5 2021 (15.6″ FHD, Intel i5-1135G7, MX350, 8GB RAM, 256GB SSD) | Rs. 95,000 |
| Aspire 5 2021 (15.6″ FHD, Intel i7-1165G7, MX350, 8GB RAM, 1TB HDD) | Rs. 112,000 |
| Aspire 5 2021 (15.6″ FHD, Intel i7-1165G7, MX350, 8GB RAM, 1TB HDD) | Rs. 117,000 |
| Aspire 5 2021 (15.6″ FHD, Ryzen 7 5700U, Radeon, 8GB RAM, 256GB SSD) | Rs. 89,000 |
| (New) Aspire 5 2022 (15.6″ FHD, Intel i3-1135G7, 4GB RAM, 256GB SSD) | Rs. 67,000 |
| (New) Aspire 5 2022 (15.6″ FHD, Intel i5-1235U, Intel Iris Xe, 8GB RAM, 256GB SSD) | Rs. 92,000 |
| Aspire Fun Series | |
| Aspire Fun S40 2021 (14" FHD, Intel i5-1135G7, Iris Xe, 16GB RAM, 512GB SSD) | Rs. 85,000 |
| Swift Series | |
| Swift 3 2020 (14″ FHD, Ryzen 5 4500U, Radeon, 8GB, 256GB SSD) | Rs. 89,000 |
| Swift 3 2020 (14″ FHD, Ryzen 5 4500U, Radeon, 16GB, 512GB SSD) | Rs. 100,000 |
| Swift 3 2020 (14″ FHD, Ryzen 7 4700U, Radeon, 8GB, 512GB SSD) | Rs. 102,000 |
| Swift 3 2021 (14″ FHD, Ryzen 3 5300U, Radeon, 8GB, 256GB SSD) | Rs. 82,000 |
| Swift 3 2021 (14″ FHD, Ryzen 5 5500U, Radeon, 8GB, 512GB SSD) | Rs. 94,000 |
| Swift 3 2021 (14″ FHD, Ryzen 7 5700U, Radeon, 8GB, 512GB SSD) | Rs. 129,000 |
| Swift 3 2021 (14" FHD, Intel i5-1135G7, Iris Xe, 8GB RAM, 512GB SSD) | Rs. 88,800 |
| Swift 3 2021 (13.3" QHD, Intel i7-1165G7, Iris Xe, 8GB RAM, 512GB SSD) | Rs. 129,000 |
| Swift 3 Pro 2021 (14″ FHD, Intel i7-1165G7, Iris Xe, 16GB, 512GB SSD) | Rs. 135,000 |
| Swift 3X 2021 (14″ FHD, Intel i7-1165G7, Iris Xe Max, 16GB RAM, 1TB SSD) | Rs. 148,000 |
| Swift 5 2020 (14" FHD Touch, Intel i7-1065G7, Iris Xe, 8GB RAM, 512GB SSD) | Rs. 145,000 |
| Swift X Pro 2021 (14" FHD, Ryzen 7 5800U, RTX 3050 Ti, 16GB RAM, 512GB SSD) | Rs. 168,000 |
| Nitro Series | |
| Nitro 5 2020 (15.6″ FHD 144Hz, Intel i5-10300H, GTX 1650, 8GB, 256GB SSD) | Rs. 112,000 |
| Nitro 5 2020 (15.6″ FHD , Intel i5-10300H, RTX 2060, 8GB, 1TB HDD) | Rs. 148,000 |
| Nitro 5 2020 (15.6″ FHD, Intel i7-10750H, GTX 1650 Ti, 8GB, 512GB SSD) | Rs. 145,000 |
| Nitro 5 2020 (15.6″ FHD 144Hz, Intel i7-10750H, GTX 1650 Ti, 8GB, 512GB SSD) | Rs. 152,000 |
| Nitro 5 2020 (15.6" FHD 144Hz, Ryzen 4800H, GTX 1650 Ti, 8GB, 512GB SSD) | Rs. 148,000 |
| Nitro 5 2020 (15.6" FHD 144Hz, Ryzen 4600H, GTX 1650, 8GB, 512GB SSD) | Rs. 180,000 |
| Nitro 5 2021 (15.6" FHD 144Hz, Intel i5-11300H, GTX 1650. 8GB, 512GB SSD) | Rs. 128,000 |
| Nitro 5 2021 (15.6" FHD 144Hz, Intel i5-10300H, RTX 3050, 8GB RAM, 256GB SSD) | Rs. 130,000 |
| Nitro 5 2021 (15.6" FHD 144Hz, Intel i5-10300H, RTX 3060, 8GB RAM, 512GB SSD) | Rs. 165,000 |
| Nitro 5 2021 (15.6" FHD 144Hz, Intel i5-11300H, GTX 1650, 8GB RAM, 512GB SSD) | Rs. 128,000 |
| Nitro 5 2021 (15.6" FHD 144Hz, Intel i5-11300H, RTX 3050, 8GB RAM, 512GB SSD) | Rs. 135,000 |
| Nitro 5 2021 (15.6″ FHD 144Hz, Ryzen 5 5600H, RTX 3060, 8GB, 512GB SSD) | Rs. 159,000 |
| Nitro 5 2021 (15.6″ FHD 144Hz, Ryzen 7 5800H, RTX 3070, 8GB, 1TB SSD) | Rs. 220,000 |
| Predator Helios, Triton Series | |
| Helios 300 2020 (15.6″ FHD 144Hz, Intel i7-10750H, GTX 1660 Ti, 16GB, 512GB SSD) | Rs. 190,000 |
| Helios 300 2020 (15.6″ FHD 144Hz, Intel i5-10750H, RTX 3060, 16GB, 1B SSD) | Rs. 210,000 |
| Helios 300 2021 (15.6″ QHD 165Hz, Intel i5-11400H, RTX 3060, 8GB, 512GB SSD) | Rs. 198,000 |
| Helios 300 2021 (15.6″ QHD 165Hz, Intel i7-11800H, RTX 3050 Ti, 16GB, 1TB SSD) | Rs. 199,000 |
| Helios 300 2021 (15.6″ FHD 144Hz, Intel i7-11800H, RTX 3060, 16GB, 512GB SSD) | Rs. 219,990 |
| Helios 300 2021 (15.6″ QHD 165Hz, Intel i7-11800H, RTX 3060, 16GB, 1TB SSD) | Rs. 230,000 |
| Triton 300 2020 (15.6″ FHD 120Hz, Intel i7-10750H, RTX 2060, 8GB, 512GB SSD) | Rs. 185,000 |
| Triton 300 2020 (15.6″ FHD 120Hz, Intel i7-10750H, RTX 2060, 16GB, 512GB SSD) | Rs. 192,000 |
| Triton 300 2020 (15.6″ FHD 144Hz, Intel i7-10750H, RTX 2060, 16GB, 512GB SSD) | Rs. 199,000 |
| Triton 300 SE 2021 (14" FHD 144Hz, Intel i7-11370H, RTX 3050 Ti, 16GB, 512GB SSD | Rs. 180,000 |
| Triton 300 SE 2021 (14" FHD 144Hz, Intel i7-11370H, RTX 3060, 16GB, 512GB SSD | Rs. 225,000 |
| Triton 500 2020(15.6″ FHD 144Hz, Intel i7-10750H, RTX 2070, 16GB, 512GB SSD) | Rs. 265,000 |
Official Showroom and Dealer Info:
Mercantile Office System is the exclusive distributor of Acer laptops in Nepal. You can find the official dealership for all Acer laptops located in Durbarmarg. These laptops are also accessible through numerous local vendors, especially in Putalisadak and Newroad. However, the laptop models offered via Mercantile is rather limited.
Acer offers a wide selection of laptops, from affordable to ultra-high-end gaming. Take the Aspire and Swift series, for example, they aren't the sturdiest but the specs are enticing when you consider the price tag. Similarly, the Nitro and Helios series includes some of the greatest cheap and midrange gaming laptops. In this post, we have produced a list of all the Acer laptops that you can buy in Nepal right now, along with their specs, price, and availability.