Car
Cars under 25 Lakhs Price In Nepal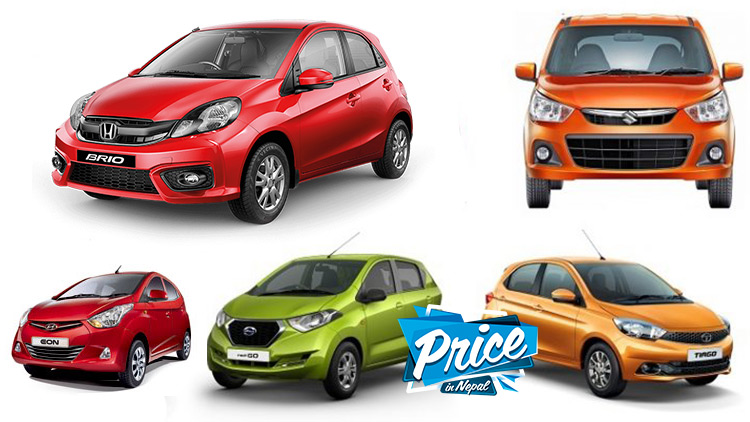 Cars under 25 Lakhs Price In Nepal
The costs of car usage, which may include the cost of: acquiring the vehicle, repairs and auto maintenance, fuel, depreciation, driving time, parking fees, taxes, and insurance, are weighed against the cost of the alternatives, and the value of the benefits – perceived and real – of vehicle usage. The benefits may include on-demand transportation, mobility, independence and convenience.
Different companies gave launched cars for medium class in the Nepali market and that includes brands from Datsun,Renault,Tata,Hyundai,Maruti Suzuki and Honda.
Due to fluctuation in currency and fierce competition amongst auto brands the pricing of automobiles is not always the same. Companies try to clear their old models by offering huge discounts and in some other cases target customers in different seasons to increase sales such as Dashain and New Year.
One can buy cars under 25 Lakhs rupees in Nepali market. Most people want to inquire the prices and don't have enough time to visit showrooms locally. To overcome this situation we are bringing you the latest pricing of cars available in Nepali market which costs under 25 Lakhs.
Following is the list of cars which are currently available in the market for under 25 Lakh rupees.
CARS PRICE IN NEPAL
HYUNDAI
| | | |
| --- | --- | --- |
| Model | CC | Price in Rs. |
| Eon DLite | 814 | 16,96,000 |
| Eon Dlite Plus | 814 | 17,96,000 |
| Eon Magna | 998 | 22,96,000 |
---
MARUTI SUZUKI
| | | |
| --- | --- | --- |
| Model | CC | Price in Rs. |
| Alto 800 STD | 796 | 15,49,000 |
| Alto 800 AC | 796 | 16,99,000 |
| Alto 800 Lxi | 796 | 17,99,000 |
| Alto K10 Vxi | 998 | 20,99,000 |
| New Wagon R Vxi | 998 | 22,59,000 |
---
TATA
| | | |
| --- | --- | --- |
| Model | CC | Price in Rs. |
| Indica LX CR4 | 1396 | 23,95,000 |
| E-Zeta GLX | 1192 | 20,95,000 |
| Tigor RT XE | 1199 | 24,95,000 |
| Tigor XE | 1199 | 23,95,000 |
---
KIA
| | |
| --- | --- |
| Model | Price in Rs. |
| Picanto 1.0 LXi | 24,99,000 |
---
DATSUN
| | |
| --- | --- |
| Model | Price in Rs. |
| Go – T | 22,69,000 |
| Go – T (O) | 23,69,000 |
| Redi-GO D | 15,25,000 |
| Redi-GO A | 16,79,000 |
| Redi-GO T | 17,79,000 |
| Redi-GO T(O) | 17,99,000 |
| Redi-GO S | 18,70,000 |
| Redi-GO T(O) 1.0 | 19,49,000 |
| Redi-GO S 1.0 | 20,49,000 |
---
RENAULT
| | | |
| --- | --- | --- |
| Model | CC | Price in Rs. |
| Kwid 0.8 RXL Petrol | 799 | 19,84,900 |
| Kwid 0.8 RXT Petrol | 799 | 21,02,300 |
| Kwid 0.8 RXT (O) Petrol | 799 | 21,48,900 |
| Kwid 1.0 RXT Petrol | 998 | 21,69,480 |
| Kwid 1.0 RXT (O) Petrol | 998 | 22,17,455 |
| Kwid 1.0 AMT RXL Petrol | 998 | 21,17,465 |
| Kwid 1.0 AMT RXT(O) -Petrol | 998 | 23,52,290 |
---
HONDA
| | | |
| --- | --- | --- |
| Model | CC | Price in Rs. |
| Brio EMT | 1198 | 24,80,000 |
---
You may also like to read :