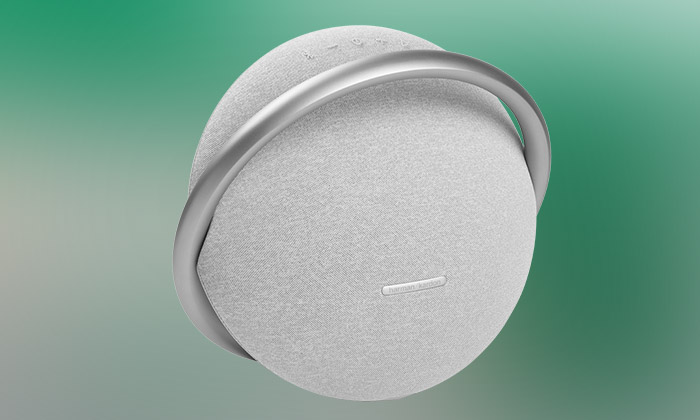 Harman Kardon Onyx Studio 7 Price in Nepal
Onyx Studio 7's visual appeal is what sets it apart from the competition. A metal ring encircles the speaker's spherical body, giving it a futuristic look and feel reminiscent of Saturn's rings in space.
Its ingenious design incorporates a handle in the form of the ring. If you want to utilize the speaker away from a wall or other flat surface, you can use the handle as a stand. The 3.295 kg of the device can't be blamed on its lack of practicality, no matter how fascinating it may appear. On the top of the speaker is an indicator light and buttons for power, playing, and adjusting the volume.
Specifications
TransducersWoofer 1 x 120mm, Tweeter 2 x 25mm
Rated output power50 W RMS
Power supply19 V / 2 A
Frequency response50 Hz – 20 kHz (-6dB)
Signal-to-noise ratio> 80 dB
Battery
Battery typeLi-ion polymer 11.70 Wh (equivalent to 3.6 V/ 3250 mAh)
Battery charge time5 hours
Music play timeup to 8 hours (dependent on volume level and audio content)
Weight3.295 kg/
Bluetooth® version4.2
Bluetooth® profileA2DP 1.3, AVRCP 1.6
Bluetooth® transmitter frequency range2400 MHz – 2480 MHz
Bluetooth® transmitter power≤ 9 dBm (EIRP)
Bluetooth® transmitter modulationGFSK, π/4 DQPSK, 8DPSK
Harman Kardon Onyx Studio 7 : Rs. 41,000 
Similar Products:
https://priceinnepal.com/anker-devices-price-in-nepal/
https://priceinnepal.com/best-home-theatre-systems-to-buy-in-2018/