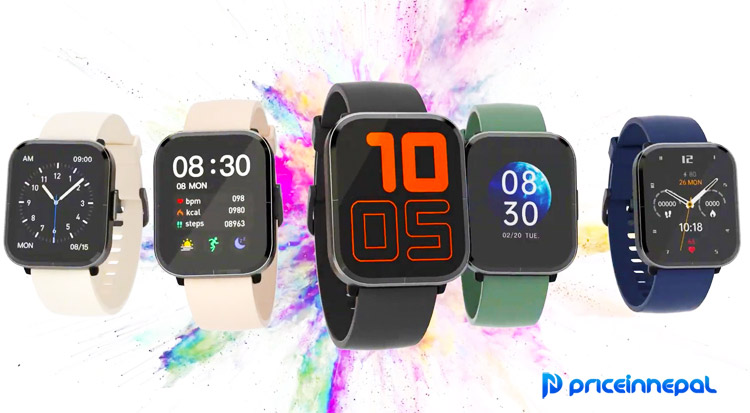 Mibro Color Smartwatch Price In Nepal
With the rest of the world more reliant on technology, smartwatches have just become popular in Nepal. All around the country, you may find retailers selling watches from different manufacturers like Amazfit, Purple, IMILAB, Haylou, and many more.
One such brand is Mibro, which was launched in Shanghai, China, in 2015. Among the several Mibro models available, we'll be focusing on the Mibro Color and its pricing, features, and availability in Nepal in this article.
Build and Design
The 1.57-inch high-definition (HD) full-color touch screen of the Mibro color watch is crafted using cutting-edge diamond technology. It also has beautiful color and is easy on the eyes. However, the screen of this watch is protected from fingerprints and oil with special anti-fingerprint technology. Weighting in at 52 grams, the Mibro color has dimensions of 43mm by 35mm by 10.2mm. It's a composite of metal, plastic (PC/ABS), silicone (liquid), and rubber.
Battery
The 270mAh battery within the Mibro color watch allows it to function for 10 days when set to Basic Mode. If you use it every day, it can last for up to a week. Mibro fit is the app it uses. Moreover, it works with iOS 10.0 and higher and Android 5.0 and higher. This timepiece is functional between -20 and -45 degrees Celsius.
Connectivity
The Mibro color watch is Bluetooth V5.0 enabled. The Acc, Blood Oxygen Saturation, and PPHG heart rate sensors in this watch are just a few of the many available.
Furthermore, it keeps tabs on your every step and tracks your heart rate, blood oxygen, and sleep pattern. Comparatively, the Mibro color has a waterproof rating of 5ATM, making it suitable for use in shallow water for activities like swimming, bathing, and so on.
Mibro Color Smartwatch Price In Nepal
Hi-Tech International Pvt Ltd is the exclusive distributor of Mibro smartwatches in Nepal. In Nepal, the Mibro Color can be purchased for about Rs.4,500, making it one of the cheapest smartwatches available.
Additionally, Mibro smartwatches purchased from Hi-Tech Nepal come with a full year of service coverage.
Also Check: