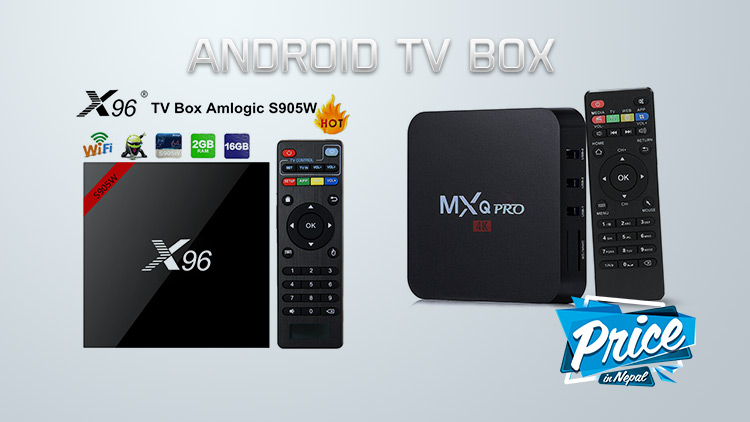 What is an Android TV box?
An Android TV box is simply a TV box running the Android operating system. This is the same operating system as the one running on your smartphone, tablet and millions of other devices throughout the world.
Usually it's a slightly older version like Lollipop (Android 5) or Marshmallow (Android 6). But, if you know how to use your tablet or smartphone, you can usually run most (if not all) of those apps on an Android TV box.
The android tv box can be a good alternative to the recent initiative taken by the government to switch all existing analog broadcast to digital.
Android TV Boxes just require internet service and almost all the content can be watched from the internet , be it television channels or any audio-video content based websites.
Android boxes work by downloading apps from the Google Play Store similar to apps that work on smartphones.
These box can be hooked on to your regular television sets via a HDMI or analog RCA cable. The box needs to be connected to the internet via a ethernet cable or a wifi and you are ready to go.
If you have multiple tv sets in your home and paying separately for each individual boxes for DTH or any similar service , you can save a lot on yearly expenses by switching to android tv boxes. These TV boxes require internet connection anything higher than 5 Mbps to operate for smooth video playback so if you have a fibre connection then you can migrate to these android tv boxes.
Through various apps one can watch TV channels from all around the world . You are not limited to watching only Hindi and Nepali channels but tv channels from any region from around the world.
For starters , you can first try the local NetTV Nepal app and Nepal Telecom's WowTime app for watching local and hindi contents. You can also subscribe on paid packages from these apps which is only Rs.100 per month.
Google play store has huge selection of apps that can give you the option to watch live tv channels from all regions.
Similarly, white labeled android tv boxes like these are sold by NetTV IPTV service from ISP like Worldlink ,Vianet and HONS under their IPTV/OTT Platform.
The price of these boxes range from Rs.3000 to Rs.9000 depending on the features and hardware specification.
Here, we are covering various models and specifications of Android TV boxes with their relative price currently available in the Nepali market.
Android TV Box Price in Nepal
---
H96 Max Android 11 2GB Ram 16GB Rom, 4K Digital Smart TV Box, Dual Band WIFI, Bluetooth, HDR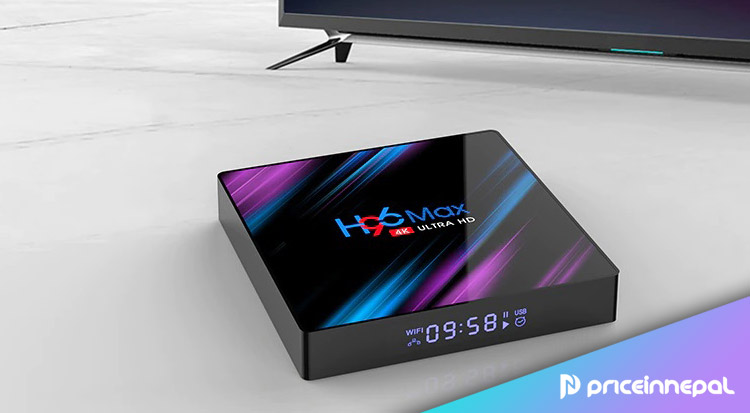 Model : H96 Max 2GB 16 GB
CPU – Rockchip RK3318 quad-core Cortex-A53 processor @ 1.5 GHz
GPU – Penta-Core Mali-450 Up To 750Mhz+
OS – Android 11
System Memory – 2GB RAM DDR3
Storage – 16GB eMMC flash,
microSD card slot up to 32GB
Video Output – HDMI 2.0 output up to 4K 60Hz with HDR support
Audio Output – Via HDMI and AV port
Video – 4K HDR H.265 and VP9
Wifi : dual band 802.11 b/g/n (2.4G+5G)
Connectivity – 10/100M Ethernet
Bluetooth 4.0
USB – 1x USB 3.0 port, 1x USB 2.0 port
digital LED display
Power Supply – 5V/2A
Dimensions – 10.00 x 10.00 x 1.80 cm
Weight – 100g
H96 Max Price in Nepal : Rs. 3799

Also Check: Sony Bravia TV Smart Android Price in Nepal
---
MXQ pro 1GB 8Gb4K Android 7.0 TV Box
1GB 8GB Android 7.0 Quad-core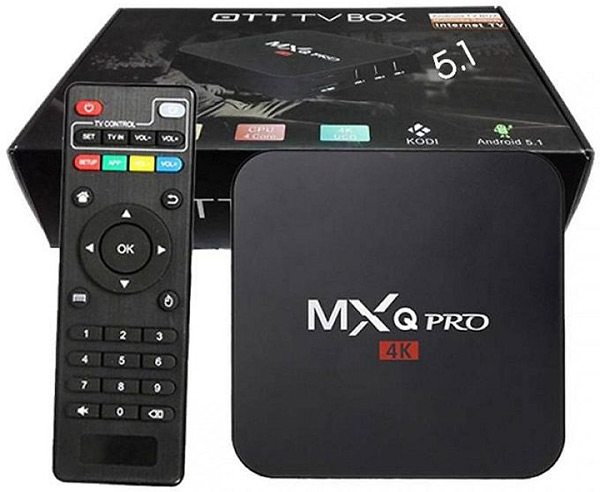 Specification:
Chipset – Amlogic S805 Quad-Core [email protected]
GPU – Quad-Core [email protected]+
FLASH – 8GB NAND FLASH
SDRAM – 1GB DDR3
Power Supply Specifications
Power Supply – DC 5V/2A
Power Indicator (LED)
Power ON :blue; Standby :Red
Main Features
OS – Android 7.0
3D – Hardward 3D graphics acceleration
Support Decoder format – HD MPEG1/2/4,H.265, HD AVC/VC-1, RM/RMVB,Xvid/DivX3/4/5/6 , RealVideo8/9/10
Support Media format – Avi/Rm/Rmvb/ Ts/Vob/Mkv/Mov/ISO/wmv/ asf/flv/dat/mpg/mpeg
Support Music format – MP3/WMA/AAC/WAV/OGG /AC3/DDP/TrueHD/ DTS/DTS/HD/FLAC/APE
Support Photo format – HD JPEG/BMP/GIF/PNG/TIFF
USB host – 4 High speed USB 2.0,support U DISK and USB HDD
Card reader – SD/SDHC/MMC cards
HDD file system – FAT16/FAT32/NTFS
Support Subtitle – SRT/SMI/SUB/SSA/IDX+USB
High Definition video output – SD/HD max.1920×1080 pixel
OSD type of languages – English/French/German /Spanish/ Italian/ etc multilateral languages
LAN – Ethernet:10/100M, standard RJ-45
Wireless – Built in WiFi
Mouse/ Keyboard – Support mouse and keyboard via USB;Support 2.4GHz wireless mouse and keyboard via 2.4GHz USB dongle
HDMI – HDMI 1.4b with CEC
AV Support , SPDIF/IEC958, Coaxial
Price  : Rs. 3200
---
X96 Mini 7.1Android 4k SmartTv Box 1GB 8GB
1GB 8GB Quad Core android 7.1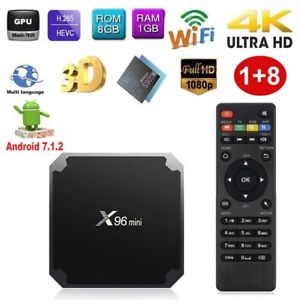 Specification:
RAM:1GB
ROM:8GB
Color:Black
Remote Control:Included
Decode Ability:4K,H.265
Connectors:HDMI 2.0
Model:X96 mini
Supported Internet Services: Google TV Skype Picasa Netflix Facebook YouTube Twitter
CPU: Amlogic S905W up to 2.0 GHz Quad Core
TVMC installed version: KD17.3 pre-installed
Quad Core Genuine Android Box: Support 1080P/AV/Dolby/3G
Android Smart TV Box X96 mini: APK,Addons/Google play install
Android system: Android 7.1.2 ready OS
GPU: Mali-450 penta-core
Price : Rs.3400
---
Tx3 Mini Android 7.1 1GB 8GB 4k Smart Tv Box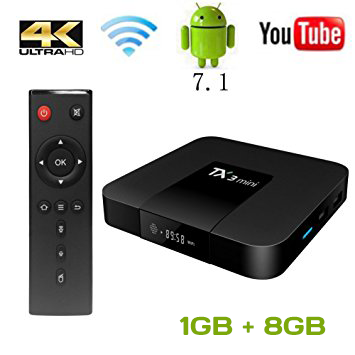 Specification:
OS:Android7.1
CPU:Amlogic S905W Quad Core ARM Cortex A53 @2GHz
GPU:Penta-core Mali-450MP GPU @ 750MHz
FLASH:8GB EMMC
SDRAM:1GB DDR3
KODI:17.3
WIFI:Built-in Wifi, 802.1.1b/g/n
3D:Hardward 3D graphics acceleration
Price : Rs.3500
---
Tx3 Mini 7.1Android 4kSmartTv Box 2GB 16GB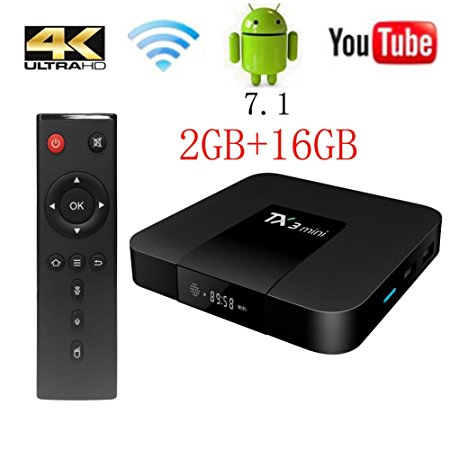 Specification:
RAM:2GB
ROM:16GB
Color:Black
Remote Control:Included
Decode Ability:4K,H.265
Connectors:HDMI 2.0
Model:TX3 Mini
Supported Internet Services: Google TV Skype Picasa Netflix Facebook YouTube Twitter Amlogic S905W Android 7.1 TV:
APK,Addons/Google play install
CPU:Amlogic S905W up to 2.0 GHz Quad Core
TVMC installed version:KD17.3 pre-installed
2GB 16GB Android TV Box:Support 1080P/AV/Dolby/3G
Android system:Android 7.1 OS
GPU:Mali-450 penta-core
Price : Rs.4500
---
X96 with Bluetooth 4k Smart Tv Box 2GB 16GB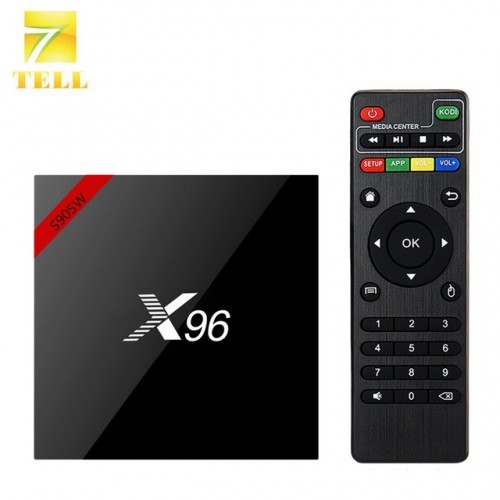 Specification:
X96 2GB 16GB Smart Android tv box with Bluetooth, S905W quad Core, Dual IR-system.
Brand Name:x96
CPU:Amlogic S905W Quad-core 64-bit
OS:Android 7.1
GPU:Penta-core Mali-450
Power:DC 5V,2A
GOOGLE Cast:Yes
Video Output:HDMI 2.0B
luetooth:yes
KODI Pre-installed:Yes
Wireless:Yes
Remote Control:Included
Internal Storage:16GB eMMC
Ethernet:100M
Memory:2G DDR3
Color:Black
System:Android 7.1
Network:802.11a/b/g/n Wi-Fi
Support:KODI 17.3HDMI:4K*2K UHD Output, HDMI 2.0A
Price : Rs:4600
---
X96 with Bluetooth 4k Smart Tv Box 2GB 16GB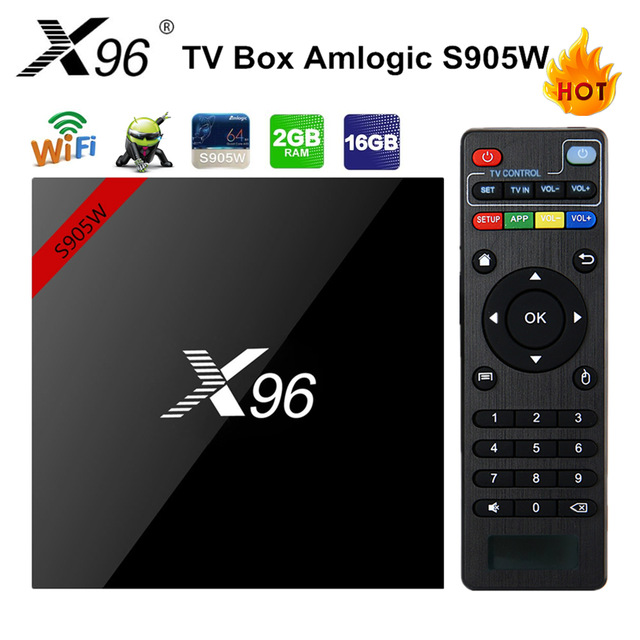 2GB 16GB+Bluetooth, Android 7.1
X96 2GB 16GB Smart Android tv box with Bluetooth, S905W quad Core, Dual ir system.
Specification:
Brand Name: x96
CPU:Amlogic S905W Quad-core 64-bit
OS:Android 7.1
GPU:Penta-core Mali-450
Power:DC 5V,2A
GOOGLE Cast:Yes
Video Output:HDMI 2.0B
luetooth:yes
KODI Pre-installed:Yes
Wireless:Yes
Remote Control:Included
Internal Storage:16GB eMMC
Ethernet:100M
Memory:2G DDR3
Color:Black
System:Android 7.1
Network:802.11a/b/g/n Wi-Fi
Support:KODI 17.3HDMI:4K*2K UHD Output, HDMI 2.0A
Price: NRs 4900
---
Z69 3GB 32GB 7.1 Android 4k Smart Tv Box Wifi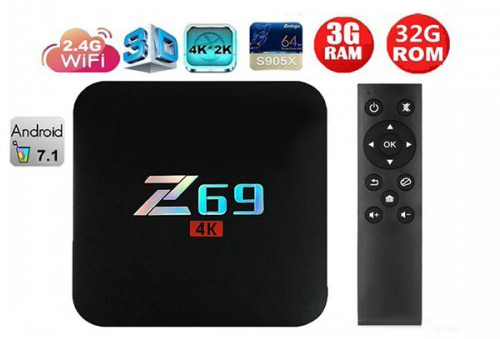 Specification:
CPU: S905X Cortex A53 Processor 2.0GHz Quad Core
GPU: Penta-Core ARM Mali-450
RAM: 3GB
ROM: 32GB EMMC FLASH
OS: Android 7.1 Nougat
Ethernet: 10/100M
WIFI: 2.4G
Bluetooth: BT4.0
Price: NRs 7500
---
MXR Pro 4gb Ram, 32gb Rom, 7.1 Android 4k Hd Tv Box , Smart Box Wifi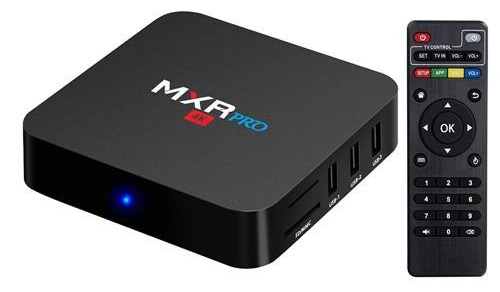 Specification:
Model No. MXR PRO
Chipset: RK3328 Quad-Core 64bit Cortex-A53
GPU: Penta-Core Mali-450 Up to 750Mhz+
FLASH:EMMC 32GB
SDRAM: 4GB DDR3
OS Android 7.1
High Definition video output-4K (4096×2160 pixel )
HDMI-HDMI 2.0a for [email protected]
3D-3D video formats
Network Function: KD 17.3 ,Neflix,Vudu,Skype chatting, Picasa,Flicker,Youtube, Facebook,Online movies,etc
Other feature-Free Internet searching,thousands of android applications,many kinds of games,etc.
Accessories-Power adaptor,HDMI cable,user manual ,remote
Option-Support mouse and keyboard via USB;Support 2.4GHz wireless mouse and keyboard via 2.4GHz USB dongle.
Features:
OS: Android 7.1
CPU:RK3328 Quad-Core 64bit
Cortex-A53
Wifi: 802.11 b/g /n 2.4g
HDMI: HDMI 2.0 up to 4k2k Output
100M Ethernet
KODI 17.3
Price: NRs 8200
---
H96 Max 4gb 32gb 4k Android 7.1 Smart Tv Box

Specification:
RAM:4GB
ROM:32GB
Color:Black
Remote Control:Included
Decode Ability:Media TV Box 4K h.265
Connectors: HDMI 2.0a for [email protected]
Model: H96 MAX Android Box
Supported Internet Services: almost all from google play store
Bluetooth: yes
CPU: RK3328 Quad-Core 64bits Quad Core
WIFI: WiFi 2.4G/5G
Android:Android 7.1
Support:4K H.265
GPU: Penta-Core Mali-450 Up to 750Mhz+
HDMI: HDMI 2.0a for [email protected]
Price: NRs 8400
---
T95z Plus 3gb 32gb 4k Android 7.1 Smart Tv Box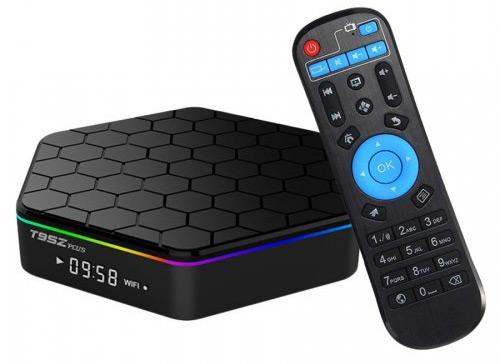 Specification:
– CPU: Amlogic S912 Octa Core Cortex-A53 Frequency: 2.0G
– GPU: Mali-T820MP3
– DDRIII 3GB, eMMC 32GB
– Android 7.1 OS
– Support H.265 HEVC
– Support WiFi 2.4GHZ/5.0GHZ
– KD 17.1 Pre-installed and Play Perfect
– Power:DC 5V,2A
– Internal Storage:32GB eMMC
– Remote Control:Included
– Ethernet:1000M
– GOOGLE Cast:Yes
– Video Output:HDMI 2.0
– Weight:0.65KG
– Memory:3G DDR3
– CPU:Amlogic S912 Octa-core 64-bit
– Model Number:T95Z PLUS
– GPU:Mali-T820MP3
– OS:Android 7.1
– CPU:Amlogic S912 Octa-core
– WIFI:dual wifi 2.4G +5G
– +Bluetooth 4.0
– Kodi: 17.1 fully loaded
Price: NRs 8500
---
H96 Pro+ 3gb 32gb 4k Android 7.1 Smart Tv Box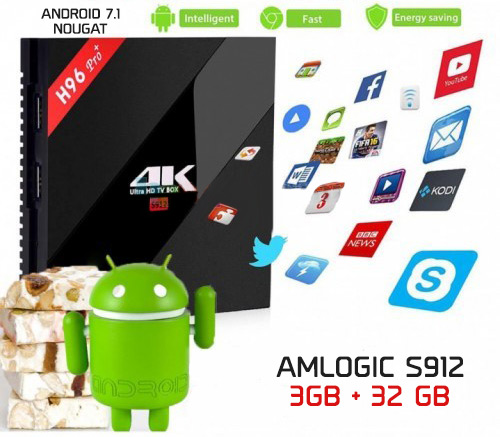 Specification:
– CPU: Amlogic S912 Octa Core Cortex-A53 Frequency: 2.0G
– GPU: Mali-T820MP3
– DDRIII 3GB, eMMC 32GB
– Android 7.1 OS
– Support H.265 HEVC
– Support WiFi 2.4GHZ/5.0GHZ
– KD 17.1 Pre-installed and Play Perfect
– Power:DC 5V,2A
– Internal Storage:32GB eMMC
– Remote Control:Included
– Ethernet:1000M
– GOOGLE Cast:Yes
– Video Output:HDMI 2.0
– Weight:0.65KG
– Memory:3G DDR3
– CPU:Amlogic S912 Octa-core 64-bit
– Model Number:H96 pro+
– GPU:Mali-T820MP3
– OS:Android 7.1
– CPU:Amlogic S912 Octa-core
– WIFI:dual wifi 2.4G +5G
– +Bluetooth 4.0
– Kodi: 17.1 fully loaded
Price: NRs 8300
---
Mini Pc Cpu Windows 10 Desktop Computer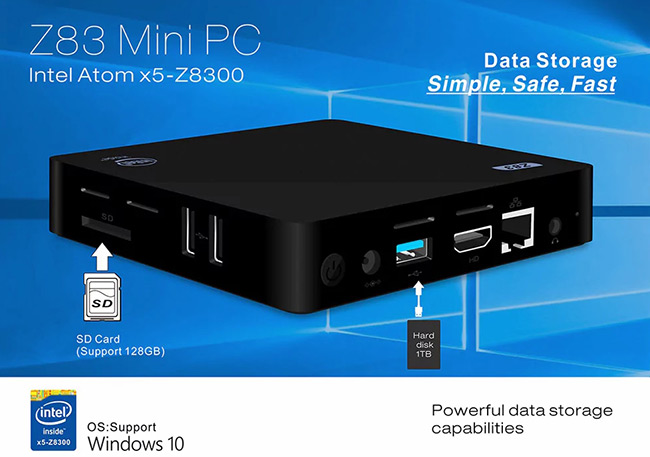 2gb Ram 32GB HD
Z83 Mini PC full specs
CPU: Intel® Atom™ x5-Z8300 Processor(2M Cache, up to 1.84 GHz)
GPU: Intel® HD Graphics (200 MHz base, 500Mhz max)
RAM: 2GB DDR3
ROM: 32GB eMMC
LAN: 10/100/1000
WiFi: 2.4G + 5.8G
USB: 1 x USB 3.0, 2 x USB 2.0
Audio/Video: HDMI, Headphone Jack, SD card (up to 128 GB)
Other: Bluetooth 4.0
OS: Windows 10
Specification:
1. connect Mini pc to your LED TV via HDMI port and make Complete Computer with inbuilt Windows 10.
2. Connect mini pc to your any monitor and run.
Dimension: 119.5mm X 119.5mm X 24mm
Price : NRs 11,500