Bike
Niu Electric Scooter Price in Nepal
Niu Electric Scooter Price in Nepal
NIU is the world's #1 smart electric-scooter company, with its core team from BMW, Microsoft, Volkswagen, Huawei, McKinsey, KKR, and Bain Capital whom are all committed to change urban commuting globally.
NIU is a venture capital backed company that has launched two of the world's top-20 most successful crowd-funding campaigns.
In 2015 the N-Series scooter raised $11 million in a fifteen-day campaign, and then again in 2016 the launch of the M-Series raised another $13 million.
The M-Series then went on to win the five top global design awards, including: the German Red Dot, the United States iDSA, the Japanese G-Mark, the Chinese Red Star, and the German IF.
In 2017 NIU went on to launch the ultra-lightweight U-Series scooter which has been well received by customers and design awards, winning the Red Dot.
NIU combines innovative technology and world-class design to create a new level of standard for personal mobility. NIU is pushing the boundaries of what riders can expect from their scooter that is connected to the cloud with its own app and other digital services.
In just three short years NIU has gone from a single product launch in China, to a truly global brand with over 500,000 riders. NIU now sells in more than 150 cities across China in over 600 NIU dedicated stores. Globally, NIU is now selling in more than 500 points of retail in 27 countries with 10 flagship stores in key European and Asian cities.
| NIU Electric Scooters Models | Price in Nepal Rs. |
| --- | --- |
| NIU MQi GT | Rs. 4,35,000 |
| NIU NQi GT | Rs. 4,45,000 |
| NIU GOVA 05 | Rs. 3,45,000 |
| NIU N Sport | Rs. 3,10,000 |
| NIU GOVA 03 | Rs. 2,55,000 |
| NIU MQi+ Sport | Rs. 2,55,000 |
| NIU UQi GT | Rs. 2,55,000 |
| NIU UQim | Rs. 1,45,000 |
---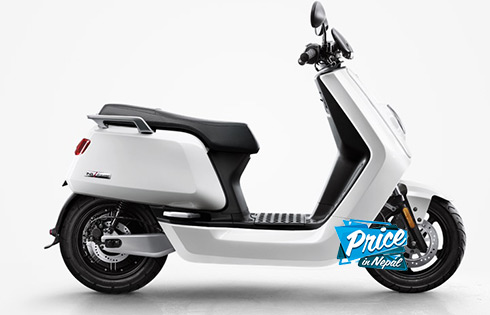 Specifications
1280mm – Wheelbase
95kg – Curb Weight
45km/h – Max Speed
80km – Est. Range(20km/h)
155kg – Max Passenger Weight
15° Max – Starting Gradeability
Battery Unit : Panasonic / NCR18650PF
Voltage : 60 V
Capacity : 29 Ah
Standard Charging Current : 4A
Max. Discharging Current : 40 A
Electromotor : Tailored Motor by Bosch GmbH
Motor Control Solution : FOC Vector Control
Rated Power : 1500 W
Maximum Power : 2400 W
FOC Controller Max. Current : 40 A
NIU N1S Price in Nepal 2018 : Rs.1,98,888/-
---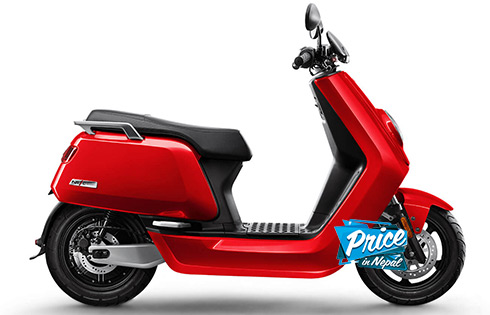 Specifications
Battery Brand :LG
Capacity : 32Ah
Voltage:48V
Battery Weight: 8.3kg
EU Homoligation Range:58km
Est. City-Riding Range:70-80km
Charger Size :181 X 84 X 42.5
Power System
Motor:BOSCH
Controller:FOC Vector Controller
BOSCH Motor:1200w
Torque : 110N.m
Incline Start :15°
Brake Type : Front Disc Brake, Rear Drum Brake
Brake Distance : Dry 1.8m, Wet 2.5m (20km/h)
Body Structure:Truss Type
Maximum Passenger Weight :100kg
NIU M1 Pro Price in Nepal 2018 : Rs.1,78,888/-
---
You may also like to read – Totolink Routers Price in Nepal