Car
Thee Go launches "Dahe" – Cheapest electric car in Nepal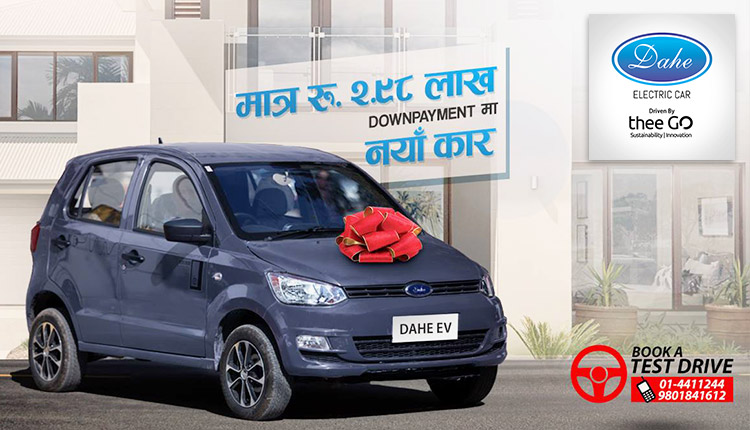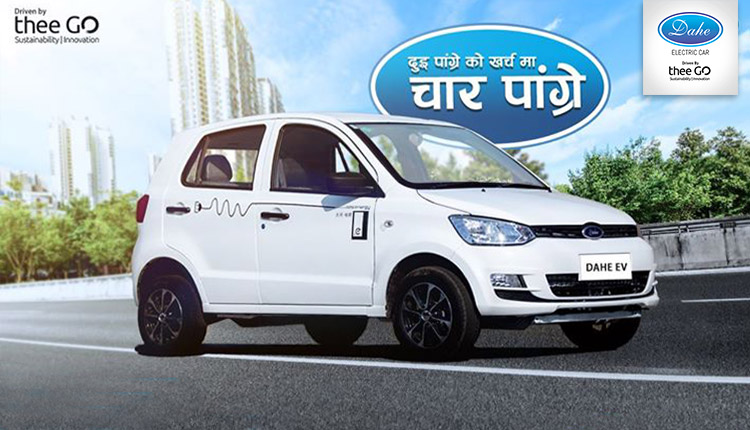 Cheapest electric Car Price in Nepal
Future Green Energy Pvt. Ltd. owned by Thee Go Group has launched in Nepal a cheapest option to own an elctric car that looks like a Hyundai Santro and is priced at around 15 Lakhs nepali rupees.
The company has imported chinese manufactured electric cars Dahe DH 350 and DH 350 L in two battery options in the Nepali market.
Nepali government has been in the process to maintain and encourage the use of an increasing number of electric vehicles in the current context where the city has been polluted by petrol and diesel guzzling new and old vehicles. The Central Bank has also been easing loan procedures to support the use of electric vehicles and support government's policy.
The electric cars brought by Thee Go Group "Dahe EV" can be purchased at an easy down-payment of just Rs 2.98 Lakhs. The down-payment of 20 percent is required on the purchase of electric vehicles.
The company has arranged a Loan Scheme with Laxmi Bank and NMB Bank , as stated.
The cars can be purchased from Thee Go Showroom located at Naxal Kathmandu at the following prices.
Dahe Electric car – Model No. DH 350 – Rs. 13,90,000
Dahe Electric car – Model No. DH 350L – Rs. 15,90,000
Currently, electric cars available in Nepali market are a lot expensive to own and costs around 30-70 lakhs from the brands like Mahindra (e2o), Hyundai (Kona electric) and Byd (E6).
"Currently we have launched variants of low speed cars in Nepali market. These cars can be driven at a maximum speed of upto 65km/hr. The models we have brought comes in two battery options with Lead acid and Lithium Ion.The cars are being tested currently and also open for bookings" said Mukunda Shah , Thee Go's Business Development Head.
Featuring a choice of option on battery, customers can choose one out of the two models DH350 or the DH 350L . The DH 350 comes with lead acid battery and is priced at Rs 13.90 Lakhs. While the higher model DH 350L comes with Lithium Ion battery is priced at Rs 15.90 Lakhs,
Both of the vairants mentioned above gives a mileage inside the city at around 100km to 150 kms.
The lead acid battery variant DH 350 gives a mileage on full charge at upto 100-120 kms while the lithuim ion battery variant DH 350L provides a range of upto 120-150 kms.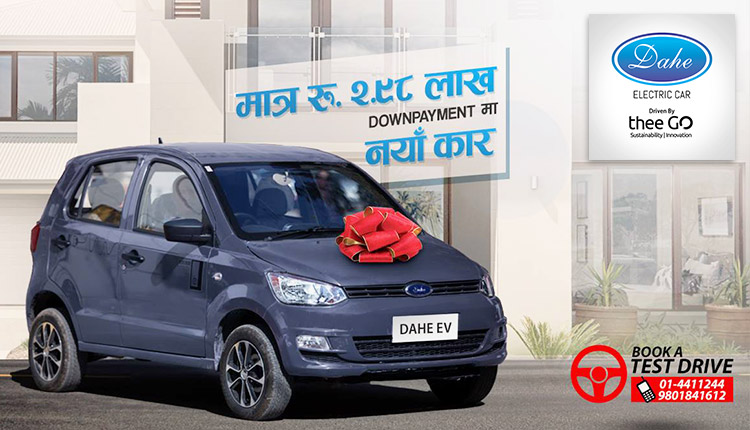 The Dahe EV comes equipped with safety features such as seat-belts, front anti-collision beams, ABS and reverse camera to assist you in parking even at tighter spots.
These cars can be driven in Kathmandu city roads at a maximum speed of 60km/hr and comes powered by 10KW engines that provide peak power to the car.
The mileage it gives is more than enough considering the busy city roads and peak hour traffic jams. The mileage it gives(100-150kms) is also more than to ask for.
The batteries of these electric vehicles can be re-charged from the normal 240V outlets at our homes which makes it convenient as it doesn't require any additional chargers.
The lead acid battery takes around 4 to 10 hours to fully charge while the lithium ion battery takes about 4-5 hours, stated the company.
The dimension of the car is at 3350 mm length, 1590 width and 1490mm height while the wheelbase is at 2170mm.
The car also comes with a 8 inch infotainment system as while as with tons of premium features such as Power Windows, Power Steering, Fog-lamps, Heater, Air Conditioner, Remote Control Lock, Reverse Parking Camera and Alloy Wheels .
Including the driver 5 persons can be comfortably seated inside this car.
The company is in the final stages of conducting technical inspection and will soon register the vehicle at Department of Transport Management.
In the meantime, interested buyers can test drive this car and also pre-book at the company's showroom located at Naxal.
Dahe EV Price in Nepal
Dahe EV DH-350 – Rs. 13,90,000
Dahe EV DH-350L – Rs. 15,90,000
Dahe DH-350 and DH-350L Specification
Drive – Right Hand Drive (RHD)
Driving Type – Rear Driving , 4X2
Vehicle Dimension – 3350×1590×1490mm
Wheelbase – 2170mm
Rated Motor Power – 10Kw Permanent magnet motor
Peak Power – 30Kw
Min. turning Radius – 5.5m
Battery – Lithium-Ion Phosphate Battery / Lead-Acid Battery
Battery Volume – 14KW.h – 22KW.h
Charging time – 5 to 10 hours
Battery life – 2000 times charging
Range – 120km to 200 km
Min. ground clearance – 150mm
Climbing capacity –  ≥ 25%
Max. Speed – 65km/h
Tire – 155/65R13
Driving type – 4×2, Front Driving
Brake Sytem – Hydraulic brake, Front disc and Rear Drum brake
Steering – Electric Power Steering
Suspension System – FR : Independent Suspension, RR: Integral Axle
Standard Equipment – Four Door Power Window, Front Anti-Collision Beam,
Heater, Safety Belts, Remote Control Lock, Reverse Camera, Bluetooth,
MP4/MP3 player, ABS, Tire Repairing kits & Fast Air Pump.
Optional – Air Conditioner