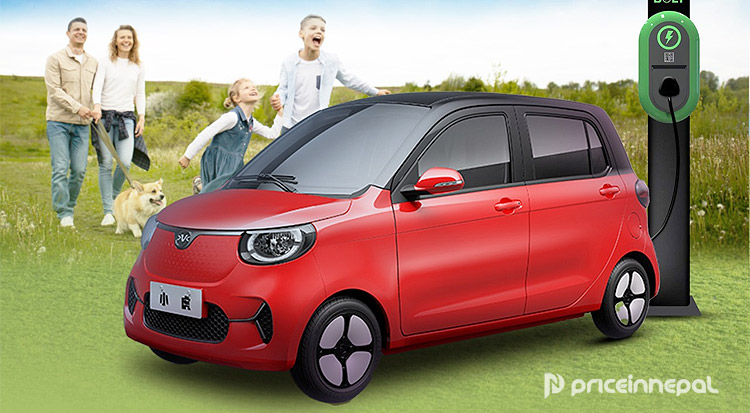 Henrey Electric Car Price in Nepal
Pioneer Group Nepal has launched Tiger Model B mini car of Henrey brand as a city car in the Nepali market. The mini electric car has a 35 KW motor and a 17 KWh battery, which gives a range of up to 150 km.
Henrey's City Car is produced by China's Henrey Automobile Technology Company Limited. It was established in Beijing Zhongguancun Science and Technology Park in May 2010. The company has taken the goal of 'making low-carbon cars and building high-quality life' and said that it is on a campaign to provide low-carbon cars to everyone.
The Henrey Tiger Model B Mini Car is based on the Small Electric Vehicle platform. It is a four-seater EV with a wheelbase of 2440 mm. Its dimensions are 3380, 1499 and 1610 mm and it has a ground clearance of 165 mm. Henrey mini car has various features including AC, heater, PU leather seat, reverse camera and sensor, control button, hill hold assist, ABS, EBD, EPS and integrated digital infotainment.
This car has a 17 kWh lithium-ion battery. The rear wheel drive car has 35 kW permanent magnet synchronous. The car can be driven at a speed of up to 100 km per hour. Its battery can be charged from 20 to 100 percent in 4 hours.
This mini car is being sold and distributed by Pioneer Worldwide Pvt. Ltd. under Pioneer Group. Its price is fixed at NRs. 23 lakh 50 thousand rupees. Currently, the car can be test driven at the Central Business Park in Thapathali. After some time, it is said that the service will also be available from Uttar Dhoka showroom.
The company has said that it will give a warranty of 5 years on the battery and 3 years or 60,000 kilometers on the motor.