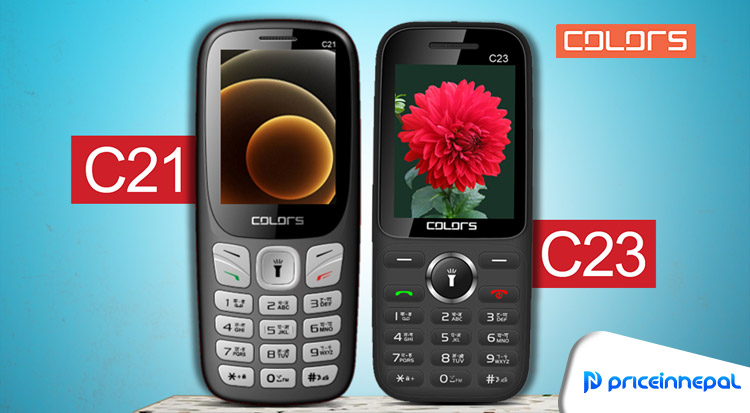 Colors Mobile Price in Nepal
Since its introduction in 2009, Colors has become the most popular mobile phone brand in Nepal. In South Asian countries, Colors is a well-liked smartphone brand. Now, Colors is well-known for its low-priced smartphones aimed squarely at the budget market.
Now that their main market is low-income customers, Colors Mobile has most smartphones running under Android Go. As a result, the most up-to-date colorful smartphones run Android Go (a streamlined and optimized version of Android), have access to 4G networks, and boast high-quality cameras and long-lasting batteries.
TeleTalk Private Limited is the sole Colors distributor in Nepal. The phone may be purchased from a number of different brick-and-mortar and online retailers in Nepal, and there are more than 40 service locations to choose from. The list below does not include any smartphones that cost more than Rs 10,000.
Color Bar Phone Feature Phone Models

Price Rs.

CL 240 Power
Rs 2,039
C-23
Rs 2,009
CL 201 Power
Rs 1,699
C-21
Rs 1,630
C-18
Rs 1,543
CL 218
Rs 1,616
CL 200 Star
Rs 1,403
CL 200 Lite
Rs 1,300
CL 200
Rs 1,300
CL 185 Music
Rs 1,329
CL 101 Power
Rs 1,282
CL 101 Lite
Rs 1,005
CL 101 Mini
Rs 1,005
CL 100 X-press
Rs 1,329
C-11i
Rs 1,223
C-11
Rs 1,127
| | |
| --- | --- |
| Colors Smartphone Models | Price Rs. |
| Colors Pride 7S | Rs 8,499 |
| Colors Pride 1X | Rs 8,495 |
| Colors Pride 5E | Rs 7,925 |
| Colors Pride 1E | Rs 6,999 |
| Colors Pride 1A | Rs 5,585 |
| Colors Pride 1 | Rs 3,995 |