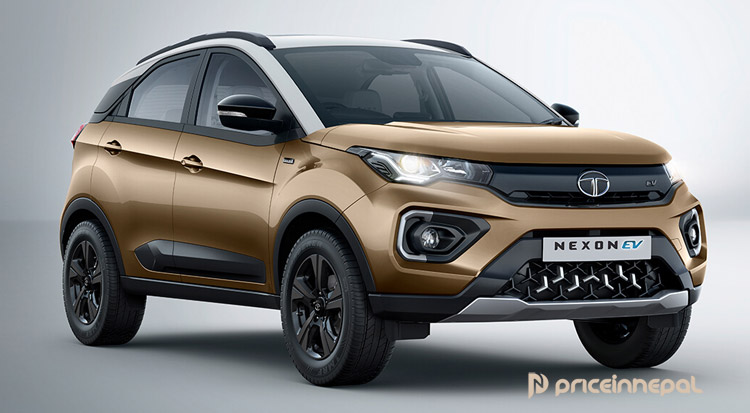 Electric Car Price in Nepal
The market for electric vehicles in Nepal is growing. Electric vehicles are becoming increasingly popular, says Rajan Babu Shrestha, chairman of the Electric Vehicles Committee. Rajan Babu is the Vice President of the Nada Automobiles Association of Nepal.
He claims that people are genuinely interested in electric cars until recently. For instance, how will mileage be calculated, how will the electric vehicle perform in the rain, and whether or not it will cause problems when climbing hills are all valid concerns. Educating the public on the concept and advantages of electric vehicles has become increasingly important in recent years.
According to Rajan Babu, Chairman of the Electric Vehicle Group in Nepal, there are currently nine brands of four-wheelers and about two dozen brands of two-wheelers supplying the electric vehicle market in Nepal.
But there are also companies that import vehicles without registration.
Dhruv Bahadur Thapa, president of the Nepal Automobile Dealers Association, adds that there has been a rise in interest in EVs in the country. He stated that 10% of all imported vehicles are electric vehicles. In the next five years, he predicts a doubling of this rate of expansion.
Both the electric Nexon and the electric Tigor produced by Tata Motors sell well in the Nepali market. Four-wheeled electric vehicles are being introduced by manufacturers including Hyundai, BYD, Neta, MG, Kia, Tesla, Changan, and Trio.
There are many different manufacturers and models of electric four-wheelers available, but here are some of the most common and well-liked ones:
Electric Car Price in Nepal
Tata Motors (Nexon EV and Tigor EV)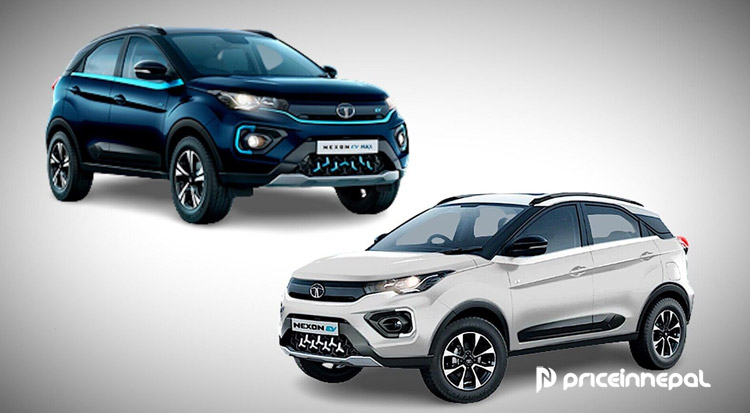 The Nexon EV's motor and battery pack, which are based on Ziptron technology, are liquid cooled and have an IP-67 certification. It can produce up to 129 PS of power and 245 Nm of torque. There are three different variants of the Tata Nexon: the XM, the XZ Plus, and the XZ Plus Lux. The company has fixed its initial market price at NRs. 37,991,000 .
Ziptron is the foundation of the Tigor EV. A 26 kilowatt, high-energy-density, liquid-cooled, and IP-67 rated battery pack provides the energy for this device. 74 brake horse power (55 kilowatts) and 170 Newton-meters of torque are produced by the vehicle's electric motor. The Global NCAP safety rating for the Tigor EV is four stars. Tigor EV will cost buyers in Nepal NRs. 29,000,000.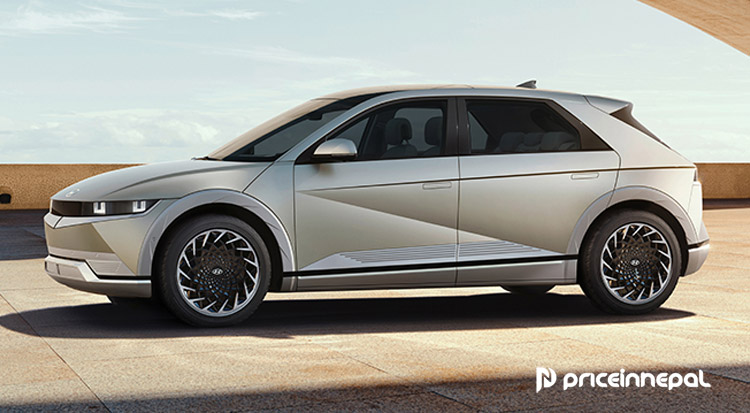 Hyundai (Kona EV and Ioniq-5)
In 2018, Hyundai debuted its electric vehicle in Nepali market. Customers favor the company's EVs. It uses PMSM (Permanent-Magnet Synchronous Motor) technology in its engine. The lithium-ion polymer battery packs a 39.2 kilowatt-hour charge and can produce 100 kilowatts of power and 395 Newton-meters of torque. Allows for a maximum range of 305 kilometers on a full charge. The manufacturer has decided to set the retail price of the Kona EV at NRs. 6,056,000 (GL 100KW) and Nrs. 6,296,000 (GLS 100KW)  . The cost differs for available variants.
In a similar vein, Hyundai introduced their Ionic-5 all-electric car back in February of 2017. And the "Top Gear Electric Best Design Award-2021" was bestowed upon it as well. The Ioniq-5 Electric was constructed using a universally applicable modular architecture. The battery packs can either hold 58 kWh or 72.6 kWh. After a full charge, it can travel 481 kilometers. The retail price of an Ionic-5 has been set by the manufacturer at NRs. 1,16,96,000.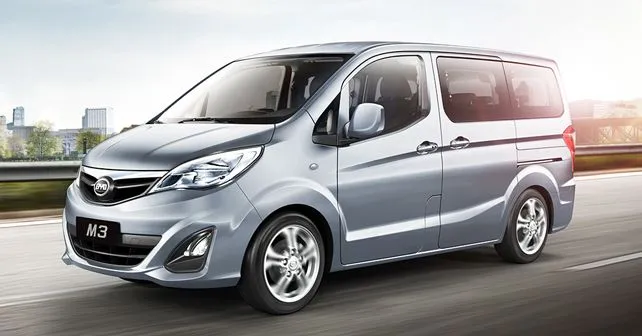 BYD (M3 and E6)
On the Nepali market, BWD offers two different electric vehicle options.
As of right now, the business is peddling two different models, E6 and M3.
Furthermore, Atto-3 and T-3 will be released by the company very soon.
Currently, BYD electric vehicles are only available through the official distributor, Cimex Inc.
A lithium-ion battery producing 44.9 kilowatt hours fuels the BYD M-3. 100 kilowatts of power and 82 newton-meters of torque are produced. On a full charge, it can travel up to 300 kilometers.
The E-6 is equipped with a 71.7 kW lithium-ion battery pack, which is similar. It can travel 522 kilometers on a single charge. An 80 percent charge can be achieved in the vehicle in just 30 minutes.
The company has determined that the appropriate market entry price for the M-3 is NRs. 45,521,000 , while that for the brand new E-6 is Rs. 59,200,000.
NETA
Recently, in May, the Neta-V electric vehicle was introduced by CG Motors, a division of the Choudhary Group.
There are two motor and battery pack configurations available for the automobile.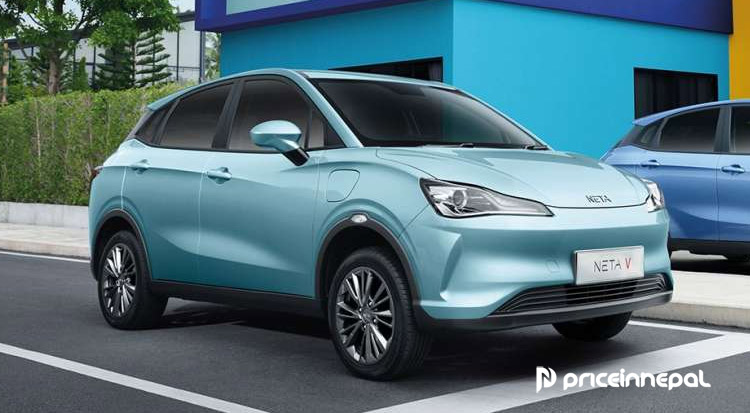 The model with the 40 kW motor comes with a battery pack rated at 31.18 KW.
The 38.54 KW battery pack in the long-range model powers a 55 KW motor in exactly the same way.
It has a maximum driving range of 401 kilometers when fully charged.
Neta-V debuted in the market with a price tag of NRs. 37,99,999 , as set by the company.
In addition to these, there are a plethora of other manufacturers offering a wide range of EV options. Customers can choose the make and model that best suits their needs. Information is also available through the company's official website and the publicly listed phone number.
Nada EV Expo 2022
From October 6th to 9th, 2022, NADA will host "Nada EV Expo 2022" to promote sales of electric vehicles in Nepali market.
There will be 51 booths at the expo, featuring everything from electric motorcycles to electric scooters. The Kathmandu fairgrounds known as Bhrikutimandap will play host to the expo. Customers can learn all they need to know about different electrical manufacturers and their products at the expo.
Since the middle of May of last year, the government has banned the import of jeeps, cars, and vans, causing a shortage of vehicles and new models in the marketplace. Therefore, popular brands in the market such as MG and Kia have decided not to exhibit at the Expo, according to Dhruv Bahadur, president of NADA.
The National Automobile Dealers Association thinks that EV Expo will help people learn more about and make better decisions regarding electric vehicles.