Car
Tesla Model 3 Price in Nepal
Tesla Model 3 Price in Nepal
The Tesla Model 3 is one of the company's newest and most reasonably priced vehicles, joining the Model S, Model X, and Model Y.
The Model 3 then appears to be a sports car, but in reality it is a standard sedan with dimensions of 4,694 millimeters in length, 1,849 millimeters in width, and 1,443 millimeters in height.
Modern electric vehicles often lack a traditional grille at the front fascia. The headlights are modern and elegant, blending seamlessly with the design of the vehicle.
There is no engine under the hood. Therefore, a little boot has been installed there. We must admit that it comes in handy. The graceful curve of the roof, as seen in profile, continues elegantly into the back of the building. Tires on the enormous BBS alloy wheels are incredibly skinny.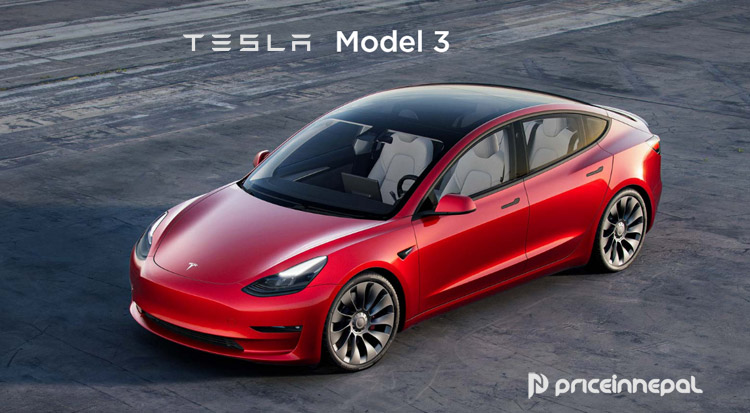 While this provides a stunning image, it is important to use caution when driving in Nepali roads. There are a lot of cool details to discover up close. If you look closely, you may see one of the many cameras mounted on the front fenders.
In the spirit of a true sports automobile, there are no support columns between the doors. A key card-accessible door lock is activated by a tiny sensor built into the B-pillar. It's a lot of fun to open doors with the sleek, satisfying handles.
However, the design of the trunk area slopes down to what appears to be a rather limited storage space. Storage capacity is generous once you open the trunk. One of the most remarkable aspects of the Model 3 is its glass roof. It reaches from one end of the roof to the other and can be opened, too.
Charging ports are located on the left rear fender. The more you push on it, the more it rises, like in a science fiction movie. There are two ports on the inside. It has two charging ports, one for a standard charger and one for a faster Supercharger.
However, Tesla's Supercharging network, which can replenish energy for a drive of up to 172 miles in just 15 minutes, has not yet been established in Nepal. This is a standard feature in the United States, Europe, and the United Kingdom, and it helps the Tesla compete as a long-distance vehicle. The paint and panel gaps, on the other hand, could use some work.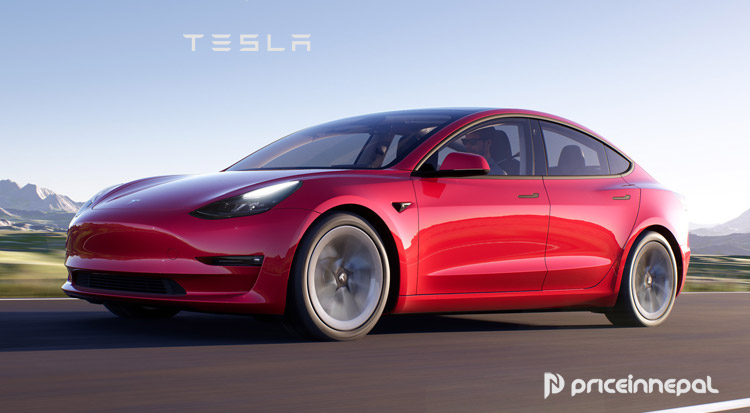 The Model 3 is powered by a 208 kW motor and a 54 kWh lithium-ion battery, which together provide 420 Nm of torque. The rear-wheel-drive variant can accelerate to 100 km/h in 5.6 seconds and reach a top speed of 225 km/h.
The Model 3 can be fully charged with an 11 kW AC charger in around 5 hours and 30 minutes, or using a 170 kW DC fast charger in about 30 minutes. The WLTP estimates the Model 3's range to be around 448 kilometers.
The luxury electric sedan has a number of high-end extras, including a 15.4-inch LCD touchscreen infotainment system, automatic keyless entry, 12-way power adjustable heated front seats, 4-wheel anti-lock brakes, automatic emergency braking, a blind-spot sensor, a collision warning system, parking sensors in the front and back, tire pressure monitoring system, and an anti-theft alarm and immobilizer.
Tesla Model 3 – Quick Specs
Battery
54 kWh
Motor power (kW)
208
Torque (Nm)
420
Drive system
Rear-wheel drive
Acceleration (0-100 km/h)
5.6 seconds
Range
448 km (WLTP)
Charging time
5 hour 30 minutes via a 11 kW AC charger
30 minutes via a 170 kW DC charger
Seating capacity
5
Ground clearance (mm)
140
Cargo volume (L)
561

Tesla Model 3 Price in Nepal
The Tesla Model 3 Standard Range Plus model costs Rs. 1,50,00,000 in Nepal.
| | |
| --- | --- |
| TESLA MODEL 3 VARIANTS IN NEPAL | TESLA MODEL 3 PRICE IN NEPAL |
| TESLA MODEL 3 STANDARD RANGE | Rs. 1,25,00,000 |
| TESLA MODEL 3 STANDARD RANGE PLUS | Rs. 1,45,00,000 |
| TESLA MODEL 3 LONG RANGE AWD | Rs. 1,67,00,000 |