Bike
Blueshark R1 Electric Scooter Price in Nepal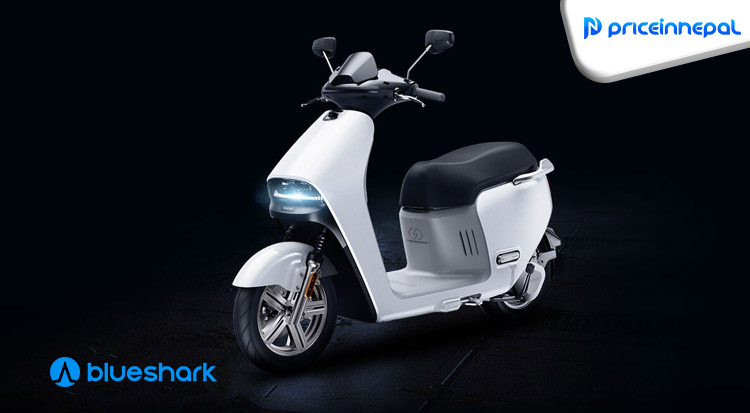 Blueshark R1 Electric Scooter Price in Nepal
The new electric scooter from Blueshark Nepal is now available. At the first NADA EV Show in Nepal, the company debuted the R1 scooter from the Blueshark brand.
Company reps claim their product has more features than any other scooter in Nepal.
The motor of this scooter is rated as 3 kW, but can produce 5 kW of power. The scooter has a torque output of 201 Nm. The manufacturer asserts that their product is the most powerful scooter on the Nepali market right now.
A lithium ion battery pack with a 2.88 kilowatt capacity is also included. It has two batteries, but you can swap them out easily. The battery can be fully charged in approximately 3.5 hours. The manufacturer claims that a single charge will get you 160 kilometers on this scooter.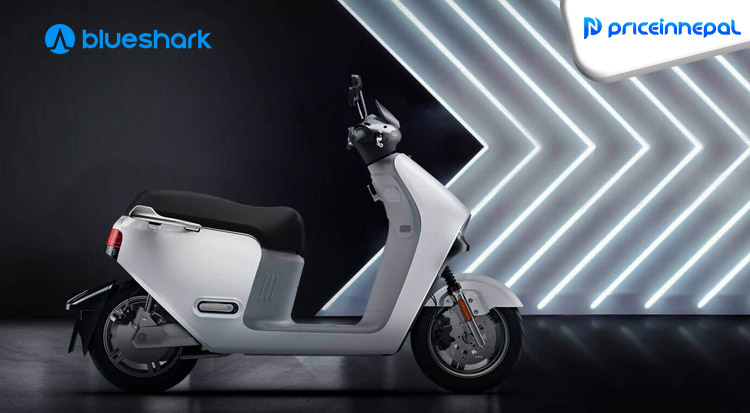 There are more than 15 safeguards in place to keep the scooter's battery from dying. There are safety features such as those against open circuits, short circuits, and overheating, as well as voltage regulation and dual battery charge management.
Even Blueshark R1's display, 10 inches in size, is fully digital and color. You can use your fingerprint to toggle a feature on and off. A finger print scanner is a first for scooters in Nepal, the manufacturer claims.
The scooter's disc brakes at both ends are a safety element, and a combined braking system is also an option. When using the brakes, the combined braking system ensures that equal force is applied to both wheels, hence enhancing braking safety.
Furthermore, it is equipped with a total of 74 different sensors including both front and rear-facing, real-time cameras. The scooter's turn signal also doubles as a camera for keeping an eye out for vehicles or pedestrians in the scooter's blind spot. When in reverse, the display shows what's behind the vehicle.
Turbo mode is one of the six riding modes available on this electric scooter. The manufacturer asserts that their product is the first of its kind among electric scooters. In addition, there are high-tech additions such as LED daytime running lights, alloy wheels, a smart connect, 4G connectivity, and stereo speakers.
Blueshark R1 Specifications : 
Rated Load Capacity : 200 kg
Weight (w/o Batteries) : 92 kg
Colors : Spindrift White, Deepsea Black, Blueshark Blue
Starting Ignition : Fingerprint Sensor
Panel Screen : 10″ Full Color IPS Display
Smart Operating System : ArkRideTM OS
Battery Capacity : 1,440*2 Wh
Range* : 160 km @ 25 km/h
Peak Power : 5,000 W
Top Speed : 80 km/h
Max Rotational Speed : 5,500 rpm
Smart Central Control System : Dual ECUs + CAN Bus
ADAS (Advanced :Driver-assistance System)
Dual Cameras + Dual Supersonic Sensors
Braking System : Front & Rear Disc Brakes
with CBS(Combined Braking System)
Blueshark R1 Electric Scooter Price in Nepal
The Blue Shark R1's base pricing has been established at Rs 4,65,000. Preorders have also begun. This pricing, according to the firm, will last until the holiday season.