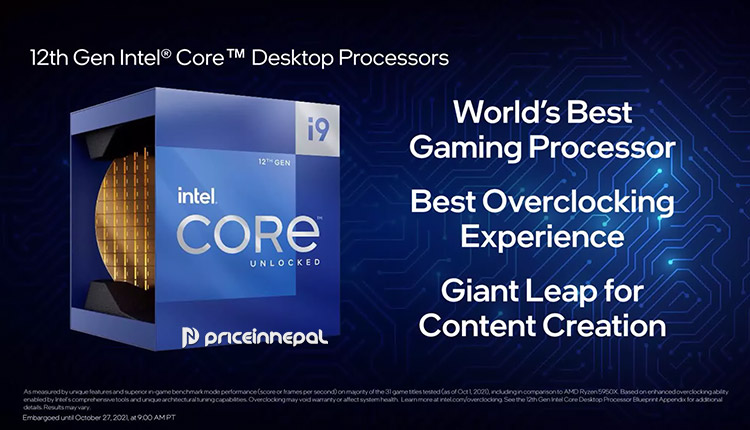 Intel Desktop Processors Price in Nepal
12th Gen Intel® Core™ processors—a generation like no other before it. With unprecedented new performance hybrid architecture, 12th Gen Intel® Core™ processors offer a unique combination of Performance and Efficient-cores (P-core and E-core). And that means real-world performance, intuitively scaled to match whatever you're doing.
Take the next evolutionary leap with the performance hybrid architecture of 12th Generation Intel® Core™ processors. Get the performance you need, where you need it—whether you're a gamer, creator, streamer, or everyday user. Whatever you're into, do more of it, whenever you want.
Intel 12th Gen Processors Price in Nepal are as follows:
Latest Alder Lake
Intel Core i5-12600K – NPR 50,000
Intel Core i7-12700K – NPR 72,000
Intel Core i9-12900K – NPR 1,06,000
Intel 11th Gen Processors Price in Nepal are as follows:
Rocket Lake-S
Intel Core i5-11400 – NPR 36,000
Intel Core i7-11700 – NPR 59,000
Intel Core i7-11700K – NPR 65,000
Other Intel Desktop Processors Price in Nepal are as follows:
Intel Core i3-8100 Desktop Processor – NPR 11,000
Intel Core i5-8400 Desktop Processor – NPR 23,500
Intel Core i5-9500 Desktop Processor – NPR 24,500
Intel Core i7-8700 Desktop Processor – NPR 34,500
Intel Core i7 9700 Desktop 9th Gen Processor – NPR 40,000
Intel Core i7 9700K Desktop 9th Generation Processor – NPR 50,000
Intel Core i9 9900K Desktop 9th Generation Processor – NPR 68,500
AMD
AMD Ryzen 9 3950X CPU / Unlocked / 16 Cores / 32 Threads / 3.5GHz base – NPR 1,15,000
Check More: