Car
Mahindra Car Price In Nepal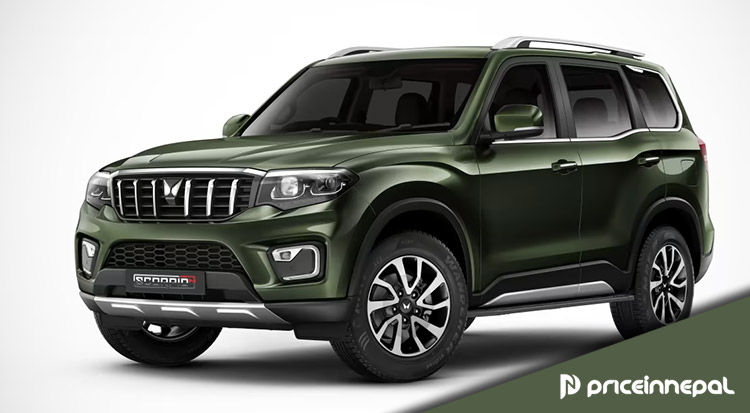 Mahindra and Mahindra Limited (M&M) is an Indian multinational car manufacturing corporation headquartered in Mumbai, Maharashtra, India. It is one of the largest vehicle manufacturers by production in India and the largest manufacturer of tractors in the world.It is a part of Mahindra Group, an Indian conglomerate.
It was ranked 21st on a list of top companies in India by Fortune India 500 in 2011.
Its major competitors in the Indian market include Maruti Suzuki, Tata Motors, Ashok Leyland and others.
Mahindra Automotive North America (MANA), the company's U.S. subsidiary, opened a car manufacturing plant in Detroit, Michigan on 20 November 2017. The plant employs 250 people, and is the first automotive production facility to open in Detroit in 25 years.
Mahindra Car Price in Nepal
Mahindra Automobiles Models in Nepal
CC
Price in NRS
Mahindra Bolero Maxi Truck Plus P/S 2WD
2523
19,75,000
Mahindra Bolero Camper SC XL FB 2WD with P/S
2523
23,00,000
Mahindra Bolero PikUp 2WD P/S 1.5T
2523
26,00,000
Mahindra Bolero Camper SC 4WD
2523
25,70,000
Mahindra Bolero Camper DC 2WD with P/S
2523
28,70,000
Mahindra Bolero Camper DC PS 4WD BSIV 5STR
2523
31,20,000
Mahindra Scorpio Pikup D/C S6 2WD
2.2 Ltr
43,00,000
Mahindra Scorpio Pikup D/C S6 4WD
2.2 Ltr
46,75,000
Mahindra Scorpio Pikup D/C S10 4WD
2.2 Ltr
50,00,000
Mahindra Scorpio S5 2WD (7/8/9 Seater)
1.99 Ltr
55,50,000
Mahindra Scorpio S5 4WD (7/8/9 Seater)
1.99 Ltr
59,90,000
Mahindra Scorpio S11 2WD (7/8 Seater)
1.99 Ltr
70,00,000
Mahindra Scorpio S11 4WD (7/8 Seater)
1.99 Ltr
75,75,000
Mahindra XUV 300 W4 PET 5STR
1197
39,75,000
Mahindra XUV 300 W6 PET 5STR
1197
43,75,000
Mahindra XUV 300 W8 PET 5STR
1197
50,75,000
Mahindra XUV 300 W8 (O) PET 5STR
1197
56,50,000
Mahindra XUV 300 W4 DSL 5STR
1497
41,25,000
Mahindra XUV 300 W6 DSL 5STR
1497
45,00,000
Mahindra XUV 300 W8 DSL 5STR
1497
51,50,000
Mahindra XUV 300 W8 (O) DSL 5STR
1497
57,25,000
Mahindra XUV 500 FWD W5
2179
62,70,000
Mahindra XUV 500 FWD W7
2179
68,65,000
Mahindra XUV 500 AWD W11
2179
86,00,000
Mahindra 275 TU SP PLUS
39HP
14,95,000
Mahindra 575 DI XP PLUS 2WD
47HP
16,45,000
MAHINDRA YUVRAJ 215
15HP
6,99,000
Mahindra JIVO 245 DI 4WD
24HP
9,95,000
Mahindra YUVO 415 DI
40HP
15,40,000
Mahindra 415 DI XP PLUS 2WD
42HP
14,50,000
Mahindra 415 DI SP PLUS 2WD
42HP
14,90,000
Mahindra 575 DI NST OIB MS
45HP
15,60,000
Mahindra 575 DI NST OIB PS
45HP
15,80,000
Mahindra YUVO 575 DI MS
45HP
16,10,000
Mahindra 575 SP PLUS SC MS
47HP
16,25,000
Mahindra YUVO 575 DI PS SC
45HP
17,35,000
Mahindra YUVO 575 DI PS DC
45HP
17,85,000
Mahindra 575 SP PLUS DC PS
47HP
16,85,000
Mahindra Arjun NOVO 605 DI MS
50HP
18,87,000
Mahindra Arjun NOVO 605 DI 2WD
60HP
20,70,000
Mahindra Arjun NOVO 605 DI 4WDMS
60HP
23,75,000
Mahindra Arjun NOVO 755 DI 4WDMS
75HP
25,85,000
MAHINDRA VEHICLES – DISCONTINUED MODELS :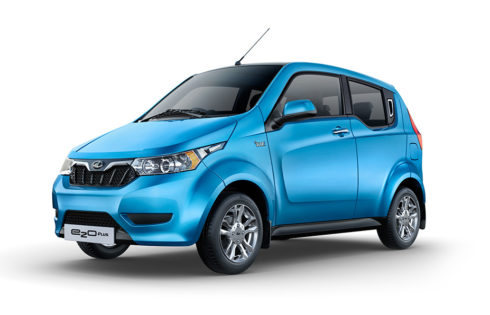 Mahindra e2o plus P8 (72V) – 31,00,000
Feature/Tech Specification
| | |
| --- | --- |
| Seating Capacity | 4 |
| Max Gross Power | 30 kW @ 3500 rpm |
| Max Gross Torque | 91Nm @ 2000 rpm |
| Wheelbase | 2258 mm |
| Ground Clearance | 170 mm |
| Boot Space | 135 Ltrs |
| Height / Width / Length | 1585 mm / 1575 mm / 3590 mm |
| Brakes | Disc / Drum / Manual |
| Driving Range | 140KM |
---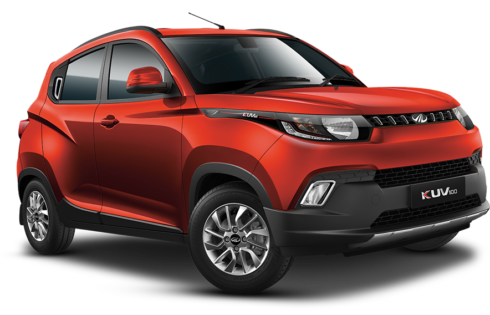 Mahindra KUV 100 K4 G80 (Petrol) – Rs. 26,95,000
Feature/Tech Specification
| | |
| --- | --- |
| Car Type | Young SUV |
| Engine | mFALCON G80, Multi Point Fuel Injection (MPFI) with Dual Variable Valve Timing |
| Fuel Type | Petrol |
| Seating Capacity | 5 and 6 seater Available |
| Fuel Tank Capacity | 35 liters |
| Cubic Capacity | 1198 cc |
| Max Gross Power | 61 kW (82 bhp) @ 5500 rpm |
| Max Gross Torque | 115 Nm @ 3500-3600 rpm |
| Drivetrain | Front Wheel Drive |
| Gear Box | 5 speed manual |
| Ground Clearance | 170 mm |
| Boot Space | 243 litres (expandable to 473 litres) |
| Height / Width / Length | 1635 / 1715 / 3675 |
| Minimum Turning Circle Radius | 5.05 m |
---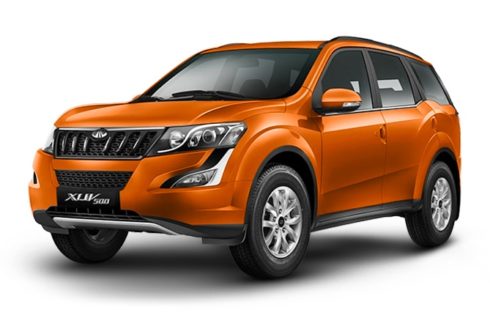 Mahindra XUV 500 AWD W10 AT – Rs. 78,50,000
Mahindra XUV 500 AWD W8 AT – Rs. 73,25,000
Feature/Tech Specification
| | |
| --- | --- |
| Car Type | Premium SUV |
| Engine | 2.2-litre 140bhp 16V mHawk Diesel Engine |
| Fuel Type | Diesel |
| Seating Capacity | 7 |
| Fuel Tank Capacity | 70 litres |
| Cubic Capacity | 2179 cc |
| Max Gross Power | 140bhp@3750rpm |
| Max Gross Torque | 330Nm@1600-2800rpm |
| Drivetrain | All Wheel Drive |
| Gear Box | 6-speed |
| Ground Clearance | 200 mm |
| Height / Width / Length | 1785 / 1890 / 4585 mm |
| Minimum Turning Circle Radius | 5.6 m |

Mahindra XUV 500 W6 FWD – Rs. 58,80,000
Mahindra XUV 500 W4 FWD – Rs. 52,50,000
Feature/Tech Specification
| | |
| --- | --- |
| Car Type | Premium SUV |
| Engine | Powerful mHawk 140 Diesel Engine, 5th Generation Variable Geometry Turbocharger (VGT) |
| Fuel Type | Diesel |
| Seating Capacity | 7 |
| Fuel Tank Capacity | 70 litres |
| Cubic Capacity | 2179 cc |
| Max Gross Power | 140bhp@3750rpm |
| Max Gross Torque | 330Nm@1600-2800rpm |
| Drivetrain | Two Wheel Drive |
| Gear Box | 6-speed |
| Ground Clearance | 200 mm |
| Height / Width / Length | 1785 / 1890 / 4585 mm |
| Minimum Turning Circle Radius | 5.6 m |
---

Mahindra Bolero XL
| | | |
| --- | --- | --- |
|  2014 |  Manual |  2523 |
|  2WD |  Diesel |  13.34 |
Rs. 27,55,000
Mahindra Bolero DI
| | | |
| --- | --- | --- |
|  2014 |  Manual |  2523 |
|  2WD |  Diesel |  13.34 |
Rs. 28,35,000
Mahindra Bolero XL
| | | |
| --- | --- | --- |
|  2014 |  Manual |  2523 |
|  2WD |  Diesel |  13.34 |
Rs. 29,15,000
Mahindra Bolero SLE M2DI CR
| | | |
| --- | --- | --- |
|  2014 |  Manual |  2523 |
|  2WD |  Diesel |  13.34 |
Rs. 29,95,000
Mahindra Bolero LX MDI
| | | |
| --- | --- | --- |
|  2014 |  Manual |  2523 |
|  4WD |  Diesel |  13.34 |
Rs. 30,65,000
Mahindra Bolero SLX M2DI CR
| | | |
| --- | --- | --- |
|  2014 |  Manual |  2523 |
|  2WD |  Diesel |  13.34 |
Rs. 31,95,000
Mahindra Bolero ZLX M2DI
| | | |
| --- | --- | --- |
|  2014 |  Manual |  2523 |
|  2WD |  Diesel |  13.34 |
Rs. 33,35,000
---

Mahindra Scorpio EX
| | | |
| --- | --- | --- |
|  2014 |  Manual |  2523 |
|  2WD |  Diesel |  13.6 |
Rs. 35,05,000
Mahindra Scorpio LX
| | | |
| --- | --- | --- |
|  2014 |  Manual |  2179 |
|  2WD |  Diesel |  13.6 |
Rs. 37,10,000
Mahindra Scorpio LX
| | | |
| --- | --- | --- |
|  2014 |  Manual |  2179 |
|  4WD |  Diesel |  13.6 |
Rs. 42,35,000
Mahindra Scorpio S4 2.2L [NEW]
| | | |
| --- | --- | --- |
|  2015 |  Manual |  2179 |
|  2WD |  Diesel |  15.4 |
Rs. 38,50,000
Mahindra Scorpio SLE
| | | |
| --- | --- | --- |
|  2014 |  Manual |  2179 |
|  2WD |  Diesel |  13.6 |
Rs. 42,95,000
Mahindra Scorpio S6+
| | | |
| --- | --- | --- |
|  2015 |  Manual |  2179 |
|  2WD |  Diesel |  15.4 |
Rs. 45,50,000
Mahindra Scorpio S4+ | 2.2L | 4WD [NEW]
| | | |
| --- | --- | --- |
|  2015 |  Manual |  2179 |
|  4WD |  Diesel |  15.4 |
Rs. 46,50,000
Mahindra Scorpio VLX
| | | |
| --- | --- | --- |
|  2014 |  Manual |  2179 |
|  2WD |  Diesel |  13.6 |
Rs. 47,60,000
Mahindra Scorpio S10 | 2.2L [NEW]
| | | |
| --- | --- | --- |
|  2015 |  Manual |  2179 |
|  2WD |  Diesel |  15.4 |
Rs. 51,50,000
Mahindra Scorpio VLX
| | | |
| --- | --- | --- |
|  2014 |  Manual |  2179 |
|  4WD |  Diesel |  13.6 |
Rs. 53,95,000
Mahindra Scorpio S10 | 2.2L | 4WD [NEW]
| | | |
| --- | --- | --- |
|  2015 |  Manual |  2179 |
|  4WD |  Diesel |  15.4 |
Rs. 56,75,000
---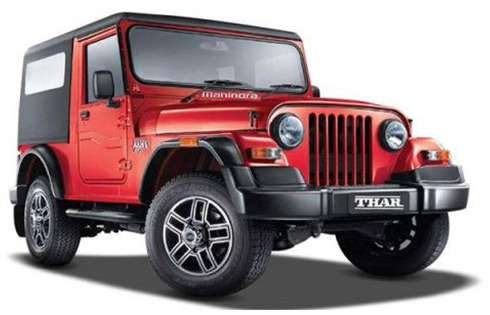 Mahindra Thar
| | | |
| --- | --- | --- |
|  2014 |  Manual |  2498 |
|  4WD |  Diesel |  16.8 |
Rs. 31,30,000
Mahindra Thar CRDe 4WD
| | | |
| --- | --- | --- |
|  2014 |  Manual |  2498 |
|  4WD |  Diesel |  16.8 |
Rs. 37,85,000
---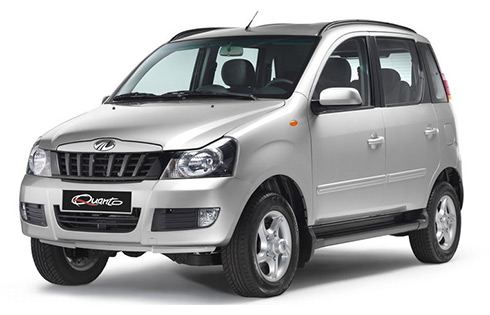 Mahindra Quanto C4
| | | |
| --- | --- | --- |
|  2014 |  Manual |  1500 |
|  2WD |  Diesel |  16.1 |
Rs. 33,15,000
Mahindra Quanto C8
| | | |
| --- | --- | --- |
|  2014 |  Manual |  1500 |
|  2WD |  Diesel |  16.1 |
Rs. 37,55,000
---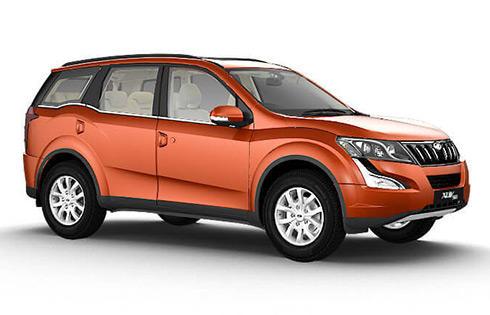 Mahindra XUV 500 W4
| | | |
| --- | --- | --- |
|  2015 |  Manual |  2179 |
|  2WD |  Diesel |  14.3 |
Rs. 49,50,000
Mahindra XUV 500 W6
| | | |
| --- | --- | --- |
|  2015 |  Manual |  2179 |
|  2WD |  Diesel |  14.3 |
Rs. 55,65,000
Mahindra XUV 500 W8
| | | |
| --- | --- | --- |
|  2015 |  Manual |  2179 |
|  2WD |  Diesel |  14.3 |
Rs. 61,35,000
Mahindra XUV 500 W8
| | | |
| --- | --- | --- |
|  2015 |  Manual |  2179 |
|  4WD |  Diesel |  14.3 |
Rs. 64,80,000
Mahindra XUV 500 W10
| | | |
| --- | --- | --- |
|  2015 |  Manual |  2179 |
|  4WD |  Diesel |  14.3 |
Rs. 69,95,000
---