Shoe Rack Price in Nepal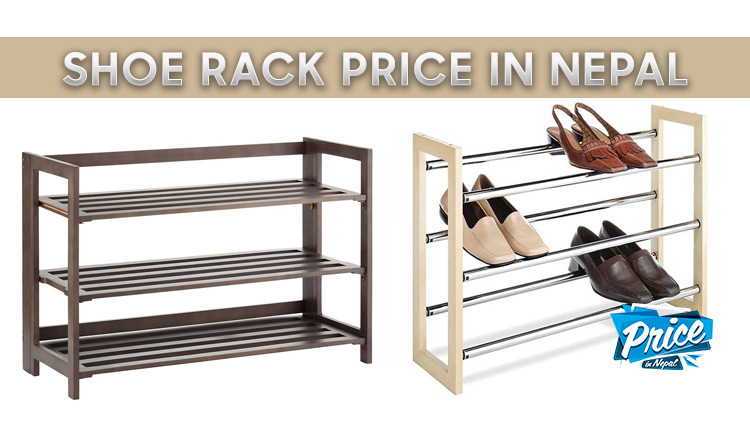 Here's a stylish way to keep your fashionable heels and groovy sneakers organized. This spacious and durable shoe rack can hold your many shoes, sneakers, slippers, heels, and even clothes, in style! It comes with a boot compartment to store your boots. It is also lightweight and easy-to-assemble so you can move it around the house easily.
The shoe rack features an array of colorful, non-woven fabric covers which give a splash of excitement to your home while keeping your cherished footwear safe and dry.
Shoe Rack Price in Nepal
Shoe Rack With Boot Compartment
Key Features
9 Layers
Easy installation
Sturdy construction
Wipes clean
Perfect way to organize your shoe collection
Cover material: Non-woven
Size-L-130 cm x W-30 cm x H-118 cm
Price : Rs. 3,499
---
Six Layers Double Compartment Shoe Rack
Key Features
6 Layers
Easy installation
Sturdy construction
Wipe clean
Perfect way to organize your shoe collection
Size-L118 cm X W 30cm X H120 cm
Price : Rs. 2,999
---
Shoe Rack With Cover
Key Features
10 Layers
Easy installation
Sturdy construction
Wipe clean
Perfect way to organize your shoe collection
Size-L65 cm x W26 cm x H156 cm
Price : Rs. 2,800
---
Coffee Brown Ten Layer Shoe Rack
Key Features
10 Layers
Easy installation
Sturdy construction
Wipe clean
Perfect way to organize your shoe collection
Size-L60 cm x W30 cm x H160 cm
Price : Rs. 2,499
---
Ten Layer Shoe Rack
Key Features
10 Layer
Easy installation
Sturdy construction
Wipes clean
Perfect way to organize your shoe collection
Size-L-65 cm x W-26 cm x H-156 cm
Price : Rs.

 2,400
---
6 layer Shoe-rack Multicolor
KEY FEATURES
Fabric:Thickened non woven fabric
Material: Non woven fabric, steel pipe
Steel pipe:Thickened tube
Storage:Shoes/boots
Zipper:Double zipper
Installation: fast installation combined cloth cover on both sides with a small side pocket
Size: 118*30*120 cm
Price : Rs. 2,000
---
Shoe Cabinet 4-5 Layer- Shoe Rack Organiser
KEY FEATURES
Holds up to 15 pairs of adult shoes
Comes with cover to keep dust out
Adjustable tilt angle
Can also fit flat items such as shoe boxes and flat shoes
Available in Blue, Brown, Dark Red, Grey & Pink Colour
Durable steel construction
Waterproof surface
Eco-friendly, non-woven fabric
Price : Rs. 1,499
---
7 Layer Shoe Cabinet
KEY FEATURES
7 Layers
Easy installation
Sturdy construction
Wipe clean
Perfect way to organize your shoe collection
Size-L60 cm x W30 cm x H126 cm
Price : Rs. 1,350
---
6 Layer Shoe-rack
KEY FEATURES
Fabric:Thickened non woven fabric
Material: Non woven fabric, steel pipe
Steel pipe:Thickened tube
Storage:Shoes/boots
Zipper:Double zipper
Installation: fast installation combined cloth cover on both sides with a small side pocket
Size: 60*30*108 cm
Price : Rs. 1,188
---
5 Layer Shoe-rack
KEY FEATURES
Fabric:Thickened non woven fabric
Material: Non woven fabric, steel pipe
Steel pipe:Thickened tube
Storage:Shoes/boots
Zipper:Double zipper
Installation: fast installation combined cloth cover on both sides with a small side pocket
Size: 60*30*90 cm
Price : Rs. 1,025
---
Shoe Rack 7 Steps, 21 Pair
Key Features
Holds 21 pairs of shoes
Easy to assemble
Free standing
Easy to clean and maintain
Assembled dimensions: 95cm x 54cm x 25cm
Price : Rs. 999
---
Black Four Layers Shoe Rack
Key Features
4 Layers
Easy installation
Sturdy construction
Wipes clean
Perfect way to organize your shoe collection
Size-L60 cm x W35 cm x H60 cm
Price : Rs. 999
---
Five Layered Shoe Rack Varied
Key Features
5 Layers
Easy installation
Sturdy construction
Wipe clean
Perfect way to organize your shoe collection
Size-L60 cm x W35 cm x H75 cm
Price : Rs. 999
---
Four Layered Shoe Rack – 4 layer
Key Features
4 Layers
Easy installation
Sturdy construction
Wipe clean
Perfect way to organize your shoe collection
Size-L60 cm x W35 cm x H60 cm
Price : Rs. 899
---
4 Layer Shoe-rack
KEY FEATURES
Fabric:Thickened non woven fabric
Material: Non woven fabric, steel pipe
Steel pipe:Thickened tube
Storage:Shoes/boots
Zipper:Double zipper
Installation: fast installation combined cloth cover on both sides with a small side pocket
Size: 60*30*72 cm
Price : Rs. 890
---
Portable 4-Layer Shoe Rack
KEY FEATURES
4 Layers, Easy installation, Sturdy construction, Wipe clean, Perfect way to organize your shoe collection, Various Colours Available.
Size-L-60 cm x W-35 cm x H-60 cm
Price : Rs. 500
---