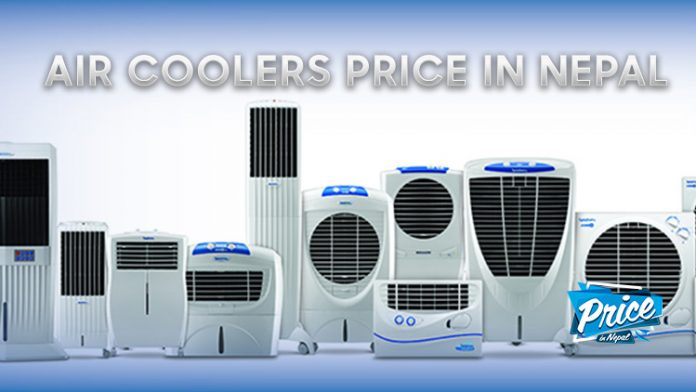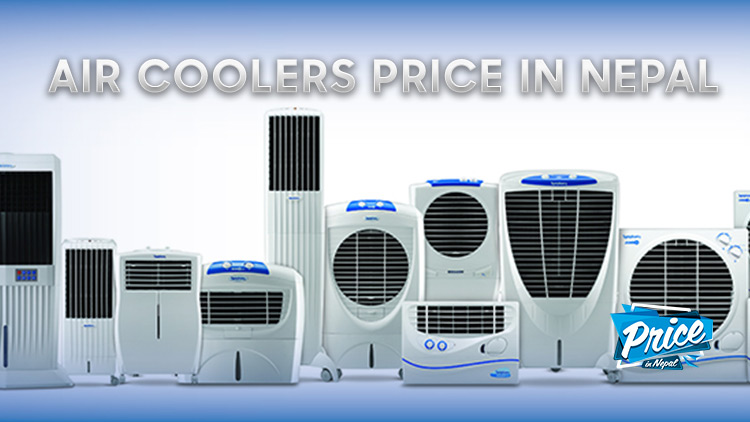 Air Coolers Price in Nepal
The indoor air coolers has a built-in washable air filter which is very light and small in size. It also has an air purifier cooler features. It is quiet and clean because it does not use freon and CFC's and also help saving energy. It can also lower the particular area of up to 12 degree Celsius. Therefore it is very useful when using at home, offices and outdoors, etc. this indoor air coolers consume much less power and water, and they are lightweight and easy to move.
On occasion, it is also known as a `Swamp Cooler'. Nowadays, these coolers arrive with all the needed installation hardware. Evaporative coolers may be used successfully if you keep in arid locations, like the Terai region. Portable coolers are extremely much in demand since they may be fitted any place in the room according to our convenience. The most frequent coolers are made from sheet metal materials and plastic. Should you be employing these coolers to supply makeup air there's absolutely no need to supply water to the unit. Air coolers utilize no refrigerants and supply an electricity effective, green means of cooling your room.
Symphony 8 Liter Diet 8i Air Cooler with Remote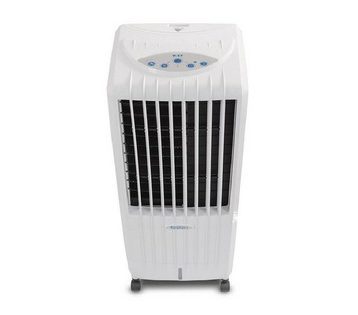 HIGHLIGHTS
✔ Ideal for a room size of 80 Sq ft within the maximum temperature range of 36 Degree
✔ Full function remote with 7 hour timer system.
✔ Restore function and dura pump technology.
✔ Auto louver movement, SMPS technology and ice chamber.
✔ Mosquito net/dust filter.
✔ High efficiency honey com pad
✔ Inbuilt remote dock and for room cooling up to 800 sqft
✔ Multi Directional Castor Wheels for easy movement of cooler.
Rs. 9,991
---
Symphony Kaizen Jr. 22-Litre Air Cooler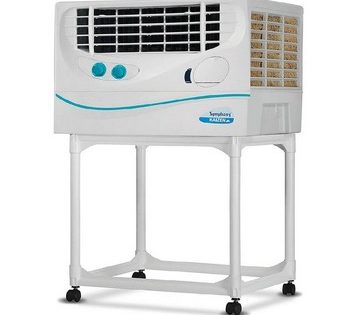 HIGHLIGHTS
✔ Ideal for a room size of 100 Sq ft within the maximum temperature range of 38 Degree
✔ Always allow for CROSS-VENTILATION in your area/room, else cooler won't work effectively
✔ Cool flow dispenser and powerful 3-speed motor
✔ Easy removable side grills and auto louvers
✔ Powerful air throw and powerful blower
Rs. 12,791
---
Symphony 22 Ltr Diet 22i Air Cooler with Remote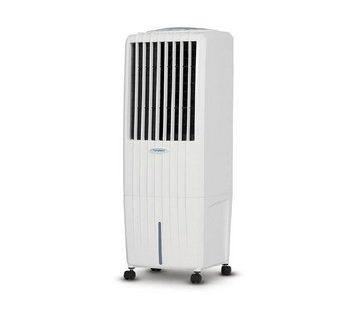 HIGHLIGHTS
✔ For Rooms Up To 200 Sq.Ft/20.Sq.M.
✔ High Efficiency Honeycomb Pad
✔ Ice Chamber for Enhanced Cooling
Rs. 14,991
---
Symphony Jumbo Jr. 22-Litre Air Cooler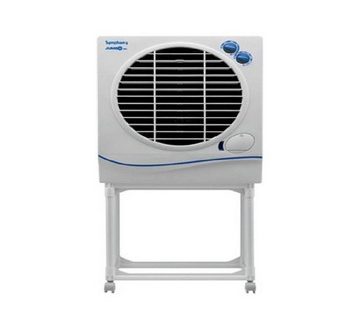 HIGHLIGHTS
✔ Always allow for CROSS-VENTILATION in your area/room, else cooler won't work effectively
✔ Dura-pump technology and cool flow dispenser
✔ Powerful 3-speed motor and powerful fan
✔ Capacity: 22 liters   ✔ Power: 110 watts    ✔ Operating voltage: 110-230 volts
Rs. 14,991
---
Symphony Sumo Jr. 45-Litre Air Cooler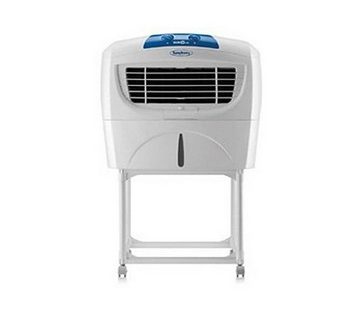 HIGHLIGHTS
✔ Cool flow dispenser and powerful 3-speed motor
✔ Always allow for CROSS-VENTILATION in your area/room, else cooler won't work effectively
✔ Powerful air throw with auto swing and 4 way air deflection
✔ Water level indicator
✔ Powerful 46 Ft. Air Throw
Rs. 14,991
---
Symphony Hicool i 31-Litre Air Cooler with Remote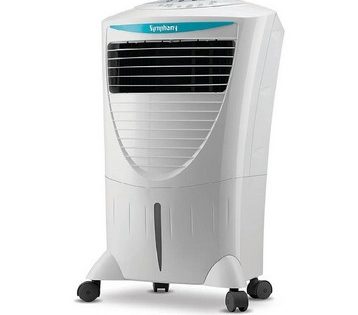 HIGHLIGHTS
✔ For rooms up to 50 m3/ 1750 ft3 within the maximum temperature range of 42 Degree
✔ Always allow for CROSS-VENTILATION in your area/room, else cooler won't work effectively.
✔ Dura-pump technology, empty water tank alarm and system restore function
✔ Full function remote with 7 hour timer
✔ Powerful air throw with auto swing
Rs. 15,291
---
Symphony WINDOW 41 XL Air Cooler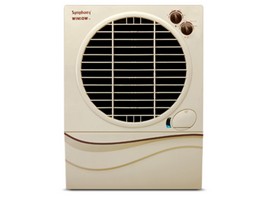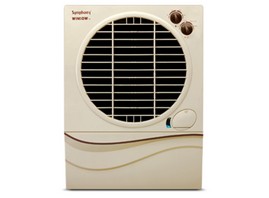 HIGHLIGHTS
✔ Specially designed exhaust fan
✔ Also works on inverter, always allow for cross-ventilation in your area/room, else cooler won't work effectively
✔ Inbuilt float valve for auto water refill
✔ Large 41-liter tank capacity
Rs. 15,991
---
Symphony Diet 50i 50-Litre Air Cooler with Remote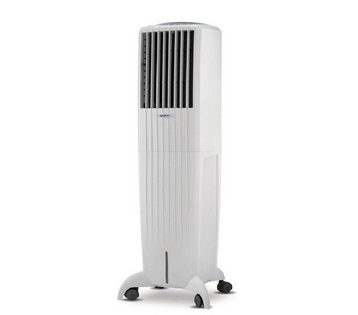 HIGHLIGHTS
✔ Ideal for a room size of 200 Sq ft within the maximum temperature range of 44 Degree
✔ Dura-pump technology
✔ Always allow for CROSS-VENTILATION in your area/room, else cooler won't work effectively
✔ Empty water tank alarm        ✔ System restore function
Rs. 17,691
---
Symphony Siesta 45-Litre Air Cooler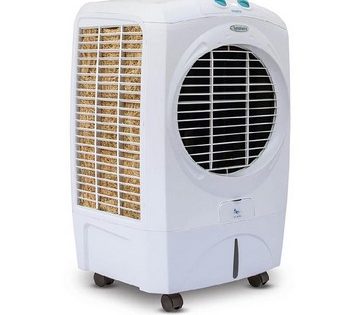 HIGHLIGHTS
✔ Ideal for a room size of 350 Sq ft within the maximum temperature range of 44 Degree
✔ Always allow for CROSS-VENTILATION in your area/room, else cooler won't work effectively
✔ Power full air throw with auto swing dura pump technology
✔ Auto louver movement and aspen cooling media
✔ Cool flow dispenser, mosquito net/dust filter and high efficiency wood wool pad
Rs. 17,891/-
---
Symphony Sumo 45-Litre Air Cooler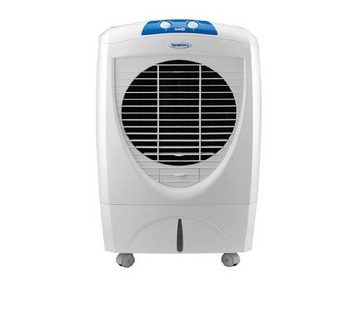 HIGHLIGHTS
✔ Always allow for CROSS-VENTILATION in your area/room, else cooler won't work effectively
✔ Dura-pump technology, cool flow dispenser and powerful air throw
✔ With castors, trolley not required
✔ Powerful 16-inch fan and cooling area (Mtr.3/Ft.3): 99/3500
✔ Capacity: 45 liters
Rs. 17,991/-
---
Symphony Storm 100i 270-Watt Air Cooler with Remote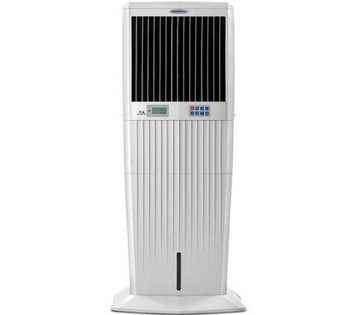 HIGHLIGHTS
✔ Always allow for CROSS-VENTILATION in your area/room, else cooler won't work effectively
✔ Dura-pump technology, empty water tank alarm, on/off timer and system restore function
✔ Space saver and powerful air throw3 side high efficiency honeycomb pads
✔ Powerful fan and inbuilt remote dock
Rs. 33,991/-
---
You may also like to read : Sony Action Camera Price in Nepal