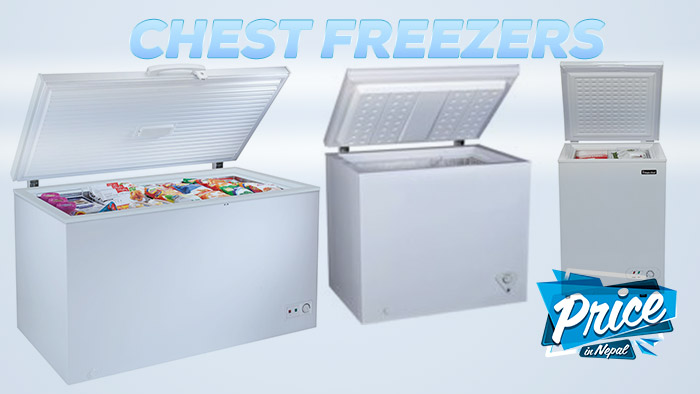 A glass lid chest freezer is freestanding kitchen appliances featuring considerable amount of space for the storage of frozen food and other perishable items. A lot of homeowners prefer to buy it as a substitute to investing in a refrigerator with a larger freezer compartment. One of the major advantages of having a commercial glass lid chest freezer is that the bulkier food items can be stored in it and thus leaving ample amount of space in the refrigerator's freezer section for other small items.
While buying freezer, it's very important to know what style of freezer you actually want and what will work better for you by keeping in mind your storage requirements. In point of fact, there are some tradeoffs to each type of freezer while choosing such as the price of the freezer, storage capacity, convenience it offers, energy-efficiency and installation of the freezer. Always remember both upright and chest freezer models are generally available in 5 – 25 cu feet sizes, though there are capacity differences in the same size units.
These chest freezers come with at least one wore-basket in order to organize the content perfectly. With the help of cardboard boxes, you can ideally manage different types of food contents. There are various chest freezer models that come with a bottom drawer that is accessible from outside of the freezer for your convenience.
In this article, we are featuring various models of chest freezers available in nepali market.
Chest Freezers Price in Nepal
---
Hisense 100 Ltrs Hard Top Chest Freezer (FC-13DD4SA)
International standard design
Quick and deep freezing
Mechanical temperature control with adjustable thermostat
Environment-friendly technology
Low energy consumption
Water disposal device
Rs.24,600
---
Hisense 145 Ltrs Hard Top Chest Freezer (FC-9DD4SA)
Capacity : 145 Ltr
Type : Hard Top
Control : Electromechanical
Refrigerator Style : Stand Alone
Freezer Defrost : Manual
Fast Freeze
Rs.28,200
---
Hisense 200Ltr Hard Top With Glass Chest Freezer FC-25DD4SA
200L Gross capacity
Quick And Deep Freezing
Mechanical Temperature Control With Adjustable Thermostat
Number of Doors : 1
Door Type : Single
Controls : Mechanical
Noise Level : Low noise Design
1 Year Service Warranty
Rs.34,500
---
Hisense 213 Ltr Curved Glass Chest Freezers FC-28DD4SA
Brand: Hisense
Model: FC-28DD4SA
Capacity: 213 Ltr
Dimension: 946 x 825 x 567 mm
Type: Single Door
Noise level: 42 dB
Rs.51,000
---
Hisense 227 L Chest Freezer (FC-30DD4HA)
Total Capacity 277 L
Dimension 1125 x 709 x 842 mm
Number of Doors 1
Door Type Chest
Controls
Noise Level N/A
Rs.44,500
---
Hisense 250 L Top Loading Chest Freezer FC-33DD4SA
Total Capacity 250 L
Dimension 1115 xx 832 x 607 mm
Number of Doors 1
Door Type Chest
Controls –
Noise Level N/A
Rs.40,800
---
Hisense 295 Ltr Hard Top With Glass Chest Freezer FC-38DD4SA
Brand: Hisense
Model: FC-38DD4SA
Capacity: 295Ltr
Dimension: 1125 x 842 x 709 mm
Noise level: 42 dB
Rs.45,000
---
Hisense 510Ltrs Top Loading Chest Freezer FC-66DD4SA
Total Capacity: 510 L
Dimension: 1702 x 842 x 709 mm
Number of Doors: 2
Door Type: Chest
Rs.65,800
---
Hisense Chest Freezer (FC-26DD4SA)- 205 L
Brand: Hisense
Model: FC-26DD4SA
Capacity: 205 Litres
Color: White
Cooling Type: Direct Cooling
Number of Doors: 1
Refrigerant: R600a
Mechanical temperature regulator
Rs.32,000
---
Hisense Chest Freezer (FC-34DD4SA)- 250 L
Brand: Hisense
Model: FC-34DD4SA
Capacity: 250 Litres
Color: White
Cooling Type: Direct Cooling
Adjustable Selves: Yes
Rs.36,800
---
Hisense Chest Freezer (FC-94DD4HA)-725 L
Brand: Hisense
Model: FC-94DD4HA
Capacity:725 Litres
Color: White
Adjustable Selves: Yes
Rs.113,300
---
Hisense Chest Freezer 410 Ltrs FC-53DD4SA
Brand: Hisense
Model NO:FC-53DD4SA
Door type: Single
Gross capacity (Ltrs): 410 Ltrs
Dimension: 44.1×70.9×84.2cm
Controls: Mechanical
Rs.54,800
---
Hisense Hard Top Single Door Chest Freezer 310 Ltrs FC-40DD4SA
International Standard Design
Quick and Deep Freezing
Mechanical Temperature Control with Adjustable Thermostat
Environment-friendly Technology
Low Energy Consumption
Low Noise Design
Fashionable Appearance
Elegant and Exquisite
Rs.42,800
---
Whirlpool Chest freezers 400 ltrs -CF420T
Brand: Whirlpool
Color: White
Height; 916 mm
Depth; 698 mm
Model Number: CF420T
Width: 1180 mm
Material; Stainless Steel
Capacity: 400 Litre
Rs.62,700
---
Whirlpool Chest freezers 550 ltrs -CF600T
18 Cu.Ft Chest Freezer
220-240 Volt ~50 Hertz
White Color
Manual Defrost
CFC Free
4 star rating
Aluminum interior
Anti-scratch lid top
Easy-grip handle
Counter-balanced lid with lock
Interior light
Rs.71,500
---
You may also like to read :
https://priceinnepal.com/refrigerators-price-nepal-2018/