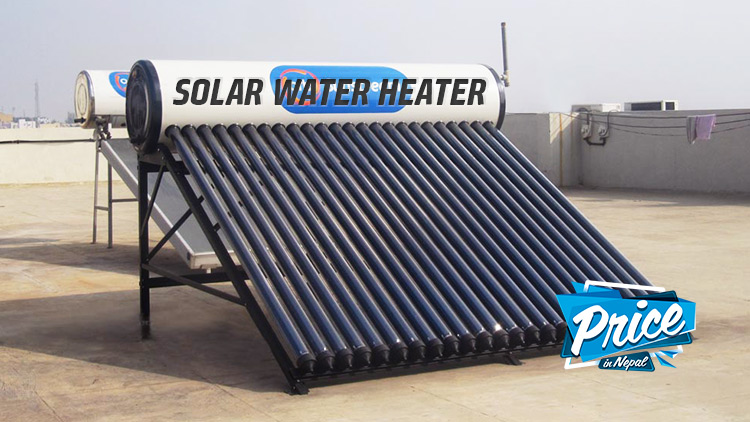 Solar Water Heater Price In Nepal
Solar Water Heating Technologies are simple, reliable and cost-effective method of harnessing the sun's energy. Demand for Solar energy has increased exponentially in recent years as heating, cooling and energy costs continue to skyrocket. Olizstore can help you with fitting a solar water heating system both pressurized & non-pressurized to meet your specific needs, allowing you to realize immediate energy cost savings, lock in your long term energy costs, and helping protect our environment. Solar Water Heater Price In Nepal ranges from Rs. 30 thousand to Rs. 75 thousand.

Technical Specifications of Solar Water Heating system 'Solar Plus™
Flower design pressed on stainless steel shell for better looks and durability.
Inner water tank made of super SUS304 food-grade stainless steel plates welded by  argon arc (keep water hot for up to 72 hours).
50 mm Polyurethane cellular padding insulation.
Stainless steel supports that connect using nuts and bolts for firmness, stability and  easy installation.
Milk-White silicon glue ring seal where the vacuum tube connects to the inner water  tank.
Adjustable tubes and support to ensure long life of vacuum tubes.
Features of Construction
Insulation material: 50 mm thick polyurethane insulation to keep water hot for upto 72 hours.
Water tank cover: Highest quality anti-rust stainless steel for long life.
Innter water tank: Corrosion resistant food grade SUS 304 stainless stell hot water storage tank for your helath.
Gasket: Made from h igh quality silicon rubber to ensure long life and durability.
Bracket frame: Heavy duty rust proof stainless steel frame for long durability.
Vacuum Tube: Borosilicate glass vacuum tube with German high heat absorbing coat for fast water heating.
Heat reflection board: Anti-rusts stainless steel profilled reflection board for higher heat reflection.
Base: Stainless steel base plate for frame fixing.
Technical Data of SolarPlus Water Heater Vacuum Tube
| | |
| --- | --- |
| Material | High boron silicon glass(Special Hard) |
| Model | Glass Vacuum Tube |
| Glass Tube diameter | 47mm / 58mm |
| Thickness of Vacuum | 5mm |
| Vacuum Tube Length | 1.5 meter / 1.8 meter |
| Single Tube Weight | 1.5 kg / 2.4 kg |
| High vacuum, long-term stability | 5*10 pa |
| Absorber Material | Aluminum |
| Coating | Aluminium Nitride |
| Absorption Coefficient |  a>/ 0.94 |
| Wind resistance | 30 m/s |
| Freezing Tolerance | -30° C |
| Hail Resistance | 25mm hail |
| Insolation Temperature | 250° C |
| Start-up Temperature | <25° C |
Fitting Diagram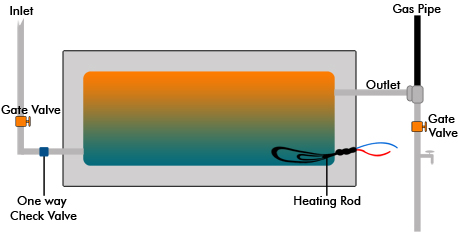 Troubleshooting
Always turn off hot and cold tap handle after use hot water.
Check the installation of Inlet and Outlet valve in solar.
Main water tank should be kept to atleast 18 inches height from the height of the solar.
Solar Plus Solar Water Heater 20 Tube XL 240 Lt. Price in Nepal- Rs.52,000
Solar Plus Solar Water Heater 24 Tube XL 300 Lt. Price in Nepal- Rs. 63,000
Solar Plus Solar Water Heater 30 Tube XL 360 Lt. Price in Nepal- Rs. 78,000
---
Neo Solar Water Heater  – 15 Tube/ 200 Litre. Price in Nepal- Rs. 32,300
Neo Solar Water Heater  – 20 Tube/ 250 Litre. Price in Nepal- Rs. 42,700
Neo Solar Water Heater  – 24 Tube/ 300 Litre. Price in Nepal- Rs. 51,300
Neo Solar Water Heater  – 30 Tube/ 375 Litre. Price in Nepal- Rs. 64,000
Neo Solar Water Heater  – 36 Tube/ 450 Litre. Price in Nepal- Rs. 75,990
---
You may also like to read :  Dogs Price in Nepal